Chelsea vs Liverpool. Prediction and Preview. Probable Lineups, Team News, Stats and more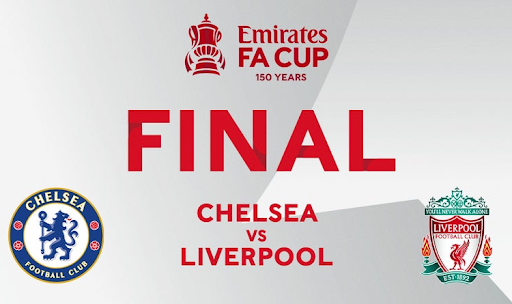 Chelsea will сlash with Liverpool at Wembley Stadium in the long-awaited final of Football Association Challenge Cup. The match will take place on May 14, beginning at 21:15 IST.
Thomas Tuchel has been given a unique opportunity to get even with Jurgen Klopp after losing the League Cup final on penalties. The compatriots will meet again in the cup final to decide the fate of England's second most important trophy. The FA Cup final will traditionally be hosted by Wembley, Britain's premier football stadium.
Stock up on popcorn. Parimatchnews will tell you everything you need to know ahead of the upcoming match.
Chelsea News & Current Form:
How do the Aristocrats approach the end of the season? In the 35th round against Wolverhampton (2-2 draw), the Blues suffered another setback that could have cost them third place. With Arsenal just one point behind, the situation was volatile. However, the Gunners failed to seize their chance, losing to Tottenham in season-deciding derby, while the Aristocrats easily sent Leeds United to the Championship, picking up the all-important points (0-3) for their personal peace of mind and confidence.
In the Champions League, Chelsea, despite all the football and non-football difficulties, reached the quarterfinals, where they lost in a beautiful and dramatic two-match clash to Real Madrid (3-2 away win, 1-3 home loss). There, the incredible Karim Benzema shone, and it was simply impossible to do anything with him. After Manchester City's elimination, we can be sure that those Los Blancos victories only looked accidental – in fact, Carlo Ancelotti did something incredible with the team. Therefore, the Pensioners' exit from the UCL can't be called a great embarrassment.
On the whole, from an aesthetic point of view, the season has been very good and upbeat. But the trophy count is nil right now: in the League Cup Chelsea lost on penalties 11:10 to the same Liverpool. Not much to look forward to in the Premier League as Liverpool and Man City are too powerful too compete with.
We'll also briefly remind you of all the teams the Blues have beaten on their way to the FA Cup final. The Pens entered the competition in the 1/32 finals, demolishing Chesterfield 5-1, and at the 1/16 final stage they hardly beat the little-known Plymouth 2-1. In the 1/8 finals, they narrowly defeated Luton Town 3-2 (these two matches have proved to be the toughest of the tournament). The quarter-finals were easier as the Blues took on former EPL side Middlesbrough 2-0 and, in the semi-finals, they did the same to this season's resilient Crystal Palace. Thomas Tuchel has just one chance to win something this season – and he is clearly determined to make the most of it.
Liverpool News & Current Form:
Not every team in the world has a practical chance of winning as many as four trophies by the end of the season. Here, Liverpool have a great opportunity to take the Champions League, the league and the FA Cup, with the Carabao Cup already on the shelf.
But how precise and accurate do the calculations have to be – multiplied by luck – to make it a reality? In 2002, Bundesliga`s Bayer 04, being in the same situation, lost absolutely everything by making completely wrong decisions, and it is, for sure, still fresh in the minds of the Aspirin supporters. And here, Liverpool will have to try their luck and spread their forces to hit the absolute jackpot. The next steps are to survive a head-to-head clash against Chelsea in the Cup and against Real Madrid in the Champions League final, plus a neck-and-neck battle with Manchester City… In the EPL, though, let's be honest, it all seems clear already.
And everything else is in Klopp's hands. A recent frustrating 1-1 draw with Tottenham cannot be a reason to give up at this moment.
Don`t miss out 👉: Liverpool handed hammer-blow in title pursuit, Watford relegated back to the Championship, and more…
As for the Cup, let's briefly run through the Reds' path: they crushed Shrewsbury 4-1 in the 1/32 finals and outplayed Cardiff City 3-1 in the 1/16 finals (recall that Cardiff played in the 2018/2019 EPL season). In the 1/8 finals, Klopp had to struggle to beat 2-1 Norwich, which had already been relegated from the EPL this season. In the quarter-finals, they faced the once great Nottingham Forest (who smashed Arsenal and Leicester on the way), and here, too, Liverpool had to go to great lengths to score just one goal. Well, the semi-final was a great battle against Manchester City, during which Klopp led 3-0 and Pep managed to reduce the gap to 3-2 only in injury time, but no more than that.
Chelseal season form guide (all competitions): L-W-D-L-D-W
Liverpool season form guide (all competitions): W-W-W-W-D-W
Chelsea vs Liverpool Head-To-Head Record:
| | | |
| --- | --- | --- |
| Chelsea | Draw | Liverpool |
| 83 | 43 | 65 |
The opponents have played each other three times this season, all games ending in a draw in regulation time. In the championship it was 2-2 and 1-1. And in the League Cup final, Liverpool won only in the penalty shoot-out after 0-0 in the regular time.
Chelsea vs Liverpool Predicted XI:
Chelsea Predicted XI (3-4-3): Ferland Mendy; Cesar Azpilicueta, Antonio Rudiger, Thiago Silva; Marcos Alonso, Reece James, Ruben Loftus-Cheek, Jorginho; Mason Mount, Christian Pulisic, Romelu Lukaku.
Liverpool Predicted XI (4-3-3): Alisson Becker; Andrew Robertson, Virgil van Dijk, Joel Matip, Trent Alexander-Arnold; Jordan Henderson, Naby Keita, Thiago Alcantara; Luis Diaz, Mohamed Salah, Sadio Mane.
Statistical preview of the match Chelsea vs Liverpool:
The Londoners have not lost in regulation time in 11 of their 15 previous head-to-head encounters in the EPL, FA Cup, League Cup and UEFA Super Cup (4 wins and 7 draws).
Liverpool's unbeaten streak is now 15 matches (12 wins and three draws).
Teams have exchanged goals in 13 of the 19 previous head-to-head encounters in all official tournaments.
The last three matches between the teams ended in a draw in regulation time.
The average productivity of each team's last 10 matches: Chelsea have scored an average of 1.2 goals per game and Liverpool 1.6.
What has been said before the match:
"'Anything else will surprise me. It started with last season's win at Anfield and very early in this season with a draw at Anfield, then a draw at Stamford Bridge and then a draw over 120 minutes and 20-something penalties. So very close matches, very intense matches and we needed always our very highest level to compete. But we found it in the matches and I don't expect crazy new things from them, and actually also not from us. So the game is on tomorrow, it's a big final, a big competition and we want to be spot on.'"
"It's a big achievement to be in the finals and there has to be a loser in these finals. There is a special momentum you have to catch and a bit of luck. The atmosphere is right and the momentum is ok after the reaction at Leeds and everyone knows what we're up to. We want to arrive to give Liverpool a hard fight."
"We have a chance to win something tomorrow domestic. We have been to a Carabao Cup final and a World Club Cup. There are seasons out there and there are teams who have had worse seasons out there."
"We better play really good, that's true. Chelsea are a really well, well coached team, I have to say. They have an idea for all different areas of the game. Play a similar system to other teams but a different level. They are very organised defensively, they have, offensively, incredible talent. We have no idea how Thomas will line up.."
"Very interesting to prepare, to be honest. We play an FA Cup final – it would be a real surprise if we meet a weak team in that final. I'm not sure how it was in the past but since I'm here all the big guns are really going for it. We just didn't have the power to keep us in the competition but now we had it and now we are there and now we want to have the full prize."
"Here we go and there's only one chance to find out who will win the FA Cup – by playing it. And we will give it a real go, that's the plan, against an opponent who will do the same and that's why it's football and such a great game to watch. It will be 50-50 in the stadium blue and red, fantastic. We had only a few weeks ago another final which felt like a World Cup final, to be honest, how both teams played it, how both teams approached it. Now we are a few weeks later in the season and another massive one. I'm pretty sure a lot of people around the world will watch this game and a lot of them are Liverpool supporters, so that's cool. Hopefully we can use that power."
Chelsea vs Liverpool Prediction:
With the Aristocrats so unpredictable, let's try to predict the Liverpool side. The team has been living with a crazy schedule of games for a long time and will only be able to breathe a little after the Cup final and the match in round 37 against Southampton, which will take place on May 17, three days after the final. The last round in England will be played on May 22 and the Champions League final will be played on the 28th. The Reds are exhausted at the moment, although Mo Salah was given a break and only played 20 minutes against Aston Villa. It's far from certain that they will have the power to cope with Chelsea in regulation time – and we won't speculate about what happens beyond 90 minutes. That said, the final is certain to be a hectic one, as most of the matches between these two teams were. We probably won't see a goal-scoring fiery, and whether goals will be scored in the 90 minutes of the match is a big question.
Don`t miss out 👉: Top 5 possible destinations for Paul Pogba
Parimatch News staff prediction:
We say: Chelsea will not lose in regular time and the match total less than 3.5 – Yes.