Charming West Ham ended Liverpool's 25-game unbeaten run to go third in Premier League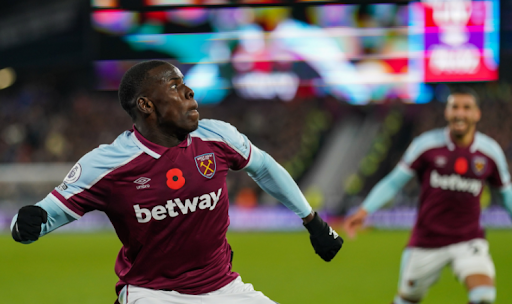 Kurt Zouma celebrates making it 3-1 after set-piece
West Ham United unexpectedly defeated Liverpool FC in a very tough English Premier League 11th tour clash (3-2). David Moyes' Hammers overcame the Merseysiders to continue the remarkable run that has seen them climb to third place in the league.
Prior to this matchday, there was only one team in the EPL that had gone unbeaten from the start: Liverpool had six wins and four more draws. But today, they faced cheeky West Ham, which is showing interesting football under David Moyes for the second year in a row. This defeat looks sensational to some degree, but if you follow the Hammers` development – it's not such a surprise.
The Londoners' excellent physics and stamina with a deep defensive style which is combined with sudden lightning-fast counter-attacks showed everyone how you can beat impeccable Reds. Moyes` signature emphasis on set-pieces is what appears to be making the difference though: two goals were netted after the corners, it was like Jürgen Klopp just wasn't prepared for it.
Goals: Alisson, 4 – own goal (1:0). Alexander-Arnold, 41 (1:1). Pablo Fornals, 67 (2:1). Zouma, 74 (3:1). Origi, 83 (3:2).
Essential Reds` center-back Virgil van Dijk is calm and already minding the next game:
"It's a proper knock. We have to pick ourselves up, obviously we just focus on the next game but now it's the international break. Everyone is going away so it's just make sure that you recover well, play well, play for your country and come back fresh and healthy and clear-minded for a very tough game against Arsenal. That's the only thing we can do."
David Moyes' team looks very promising, but are they capable of seriously contending for the title?

https://twitter.com/JNorthcroft/status/1457421345126502409?s=20
West Ham boss David Moyes is satisfied with the recent team performances:
"It is a brilliant victory against a really good team. What the supporters really want to see is a winning team and they're beginning to see a team that's winning a lot more now. It was a terrific effort from the players and we even could have scored a couple more."
The head coach believes they can seriously contend for the Eurocup zone at the very least:
"This result shows that we're really in with a good chance of challenging for the top places. I am very proud of all the changes since I joined the club. The way the players have gone about it, you talk about me turning it around, these players were close to relegation. We can challenge the top four but whoever they are I want to see if we can give us an opportunity, we missed out on Champions League football by two points in the last season so why can we not be there? Now we're pushing for Europe."
Don`t miss out 💥: Former Arsenal manager Unai Emery turned down the job proposal from new Newcastle United bosses

Since David Moyes' first game back in charge of West Ham in January 2020, they have scored 32 Premier League goals from set-piece situations, which is six more than any other side.
West Ham lost points in the 4th round of the Europa League group stage, but have nevertheless secured an early play-off place.
Liverpool suffered their first defeat in 26 games across all competitions (W18 D7), ending what was their joint-longest unbeaten run since they joined the Football League in 1893. It also ended the last remaining unbeaten record in this season's Premier League.