Aston Villa vs Liverpool. Prediction and Preview. Probable Lineups, Team News, Stats, and more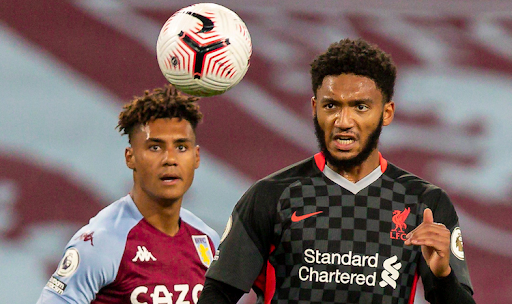 Watkins and Gomez are fighting for the ball
Aston Villa will host Liverpool in the English Premier League 17th-tour match at the Villa Park Stadium in Birmingham. The fixture will take place on Monday, December 26, beginning at 23:00 IST.
The Premier League is back! Unai Emery, perfectly familiar with England, is determined to continue the upward trend with his charges, while Jurgen Klopp risks losing face in case of suffering a second defeat in a row after a frustrative exit from the EFL Cup.
Parimatch News will tell you everything you need to know ahead of the upcoming match.
Don`t miss out 👉: 2022 FIFA World Cup Best XI ft. Messi, Mbappe, and more…
Aston Villa News & Current Form:
Despite their abysmal start, the Lions have managed to get closer to the equator since then as they re-starting the season from 12th position, just four points behind Liverpool.
The Villans have picked up 18 points in 15 rounds of the English championship. 66% of those points were gained in the last 4 matches (3 of them were won). Overall, there have been five wins, three draws and seven defeats. Talking about conversion rate: Aston Villa scores at the level of the Premier League mid-tier clubs – 16 goals.
But in defence they have numbers of the last third of the EPL teams – 22 allowed in 15 matches played. The Lions conceded a goal in 7 of their last 8 games in all tournaments.
It is difficult to name one particular reason for this systematic decline. The management decided to solve the problem by firing Steven Gerrard, despite the fact that last season was very successful for the coach. Unfortunately in football at this level it's all brutal and straightforward, if you don't show results, someone else will take your place.
He was replaced by Unai Emery, who was lured from Villarreal and won two games in a row in the EFL before the break – against Manchester United (3:1) and Brighton (2:1). 
When it comes to Aston Villa's individual statistics, the team's top scorer is Danny Ings, who has scored six goals in his club's 16 games. Ollie Watkins is the team's top assistant, having netted three assists in 16 games.
Also, Aston Villa have managed to rest almost the entire squad while Unai had a chance to introduce the squad to the new plan and tactics as the squad players were not involved in the World Cup, with the exception of phenomenal goalkeeper Emiliano Martinez, who recently made a fuss thanks to his scandalous behavior.
Don`t miss out 👉: Lionel Messi finally wins FIFA World Cup despite Mbappe's hat-trick
Former Scotland and Liverpool footballer, Graeme Souness has commented on Martinez's behavior after winning the best goalkeeper award in the World Cup:
"Does anyone really find this sort of behavior amusing? Martinez has discredited himself and his country. He looked like a vulgar clown.I like his performance for Aston Villa and the national team. But to think his act was appropriate is pathetic. I can't understand how he dared to do it in front of the whole world. After all, he was also at the awards ceremony with dignitaries and the Emir of Qatar.
What respect did he show for the hosts of the tournament? Or himself? He will not be proud of it in the future".
However, he returned to the team and the league in the status of the world champion, something that will certainly flourish the morale in the camp of the Lions.
Coach Emery says about Martinez:
"We are so proud of him. He won the World Cup with his national team and it's amazing. Fans of Aston Villa must be very proud of him".
"He's coming back next week. I want him to rest now because after a lot of emotions and hard work, he has to have some days off to rest then he'll come back to work with us".
"For me, as a coach, I knew him in Arsenal before when I worked with him. I'm so happy to be here and working with him again".
Midfielder Jacob Ramsey with a hamstring injury is sidelined for Villa, with defender Diego Carlos a long-term absentee.
Liverpool News & Current Form:
The Reds have picked up 22 points in 14 rounds of the English Premier League. They are in sixth place with six wins, four draws and four defeats. Liverpool players are good at scoring, with 28 goals (5th best in the league). Team concedes at the level of the league average: 17 goals.
Liverpool already had a chance to resume the official part of the season after the World Cup, playing in the 1/8 finals of the English League Cup. The resumption did not turn out very well, although the opposition was very serious – Manchester City. Neither team's line-up was perfect, but still, the three goals scored by the Citizens and the various mistakes by defense did not look very encouraging. Even if in the EPL the defense will immediately look ideal in terms of squad, there are still issues of different form and mood after the World Cup, and there is also a need to restore some of the game bonds that have been forgotten.
As for individual statistics, Mohamed Salah has scored the most goals for the Reds – 13 goals in 20 games. Andrew Robertson, the team's top assist man, has six assists in 15 games.
At the same time, The Reds' defense often failed even before the break for the Mundial. You can recall Napoli (1:4), Brighton (3:3), Arsenal (2:3), modest Leeds (1:2). Yes, there have been goalless games too, including against Man City in the EPL.
In general, the team has a lot more problems than it had last season. Virgil Van Dijk is not playing at the level that we expect from him, and the other defenders are also looking weak. Everything mentioned above makes it difficult to expect Liverpool to be successful this season.
Roberto Firmino and James Milner will be absent from the Reds' matchday squad. Ibrahima Konate, meanwhile, will return to training with the Reds after the trip to Villa, having helped France reach the World Cup final.
Aston Villa form guide: L-W-L-D-W-L
Liverpool form guide: W-D-W-L-W-L
Aston Villa vs Liverpool: Head-To-Head Record:
| | | |
| --- | --- | --- |
| Aston Villa | Draw | Liverpool |
| 59 | 40 | 100 |
July 5, 2020: Aston Villa 0-2 Liverpool (Premier League);
October 4, 2020: Aston Villa 7-2 Liverpool (Premier league);
January 8, 2021: Aston Villa 1-4 Liverpool (FA Cup);
April 10, 2021: Aston Villa 1-2 Liverpool (Premier League);
December 11, 2021: Aston Villa 0-1 Liverpool (Premier League);
May 10, 2022: Aston Villa 1-2 Liverpool (Premier League).
Aston Villa vs Liverpool Predicted XI:
Aston Villa's possible starting lineup (4-2-2-2): Olsen; Cash, Konsa, Mings, Digne; McGinn, Kamara, Luiz; Buendia, Ings, Bailey.
Liverpool's possible starting lineup (4-3-3): Alisson; Alexander-Arnold, Matip, Van Dijk, Robertson; Henderson, Fabinho, Thiago; Salah, Nunez, Carvalho.
Statistical preview of the match Aston Villa vs Liverpool:
Aston Villa's First XI average age 27.0 yrs.
Liverpool's First XI average age 29.5 yrs.
In the last 5 games, Aston Villa conceded an average of 1.40 goals per game.
Aston Villa score 1.20 goals per game in their last 5 games.
Aston Villa conceded in 7 of the last 9 games.
Liverpool are winning their last four games against Aston Villa.
Liverpool score an average of 2.00 goals per game in their last five games.
Liverpool concede an average of 1.20 goals per game in their last five games.
Liverpool have scored and conceded in their last three games.
Aston Villa are currently 12th in the standings, while Liverpool is 6th.
Aston Villa's total value of the squad – $467 mln.
Liverpool's total value of the squad – $868 mln.
What has been said before the match:
Coach Unai Emery on facing Liverpool:
"I started playing against them in 2016 in the Europa League final during their first season with Jurgen Klopp. We won a very good match".
"Since then, I lost. I haven't won again – sometimes a draw with Arsenal – but it's always a very difficult match against them. They're a difficult team with the amazing way they play. Last year, I played against them with Villarreal in the Champions League semi-finals and we lost two times".
"On Boxing Day, I think it's going to be different. They started the league with some doubts; they have 22 points and we have 18".
"If we think we can win against them, we can be really close to them. If we get our best performance, I think we can do it. We will be with our fans in our stadium at Villa Park and I think it's going to be a very special match".
"If we get our best performance, I think we can do it. It will be a special, special match, at Villa Park with our supporters".
Jurgen Klopp about the upcoming match:
"They[Aston Villa] have other good strikers other than Ingsy and one or two games they have played with Ollie Watkins and Buendia up front. That's massive speed. We will see how they play, but when Ingsy is on the pitch, he's a massive threat. He's a real goal-getter in the pure sense and that makes him really dangerous for each opponent".
"This is how he [Emery] wants to organize his team. Yes, we don't know exactly what to expect, but you never know exactly what to expect anyway. "At least we have an idea of how they will want to cause us problems, so that's what we prepare for. We have our analysis that's obviously started already, so now we have two days to create a plan to cause them problems".
Aston Villa vs Liverpool Prediction:
Klopp's side remain motivated to fight for a place in the top five of the English league, while Aston Villa are battling to retain their place in the elite division. The upcoming encounter will likely see a hard-fought contest with the visitors looking favorable on paper.
However, anything can happen on the pitch. A change at the coaching helm of the Birmingham side (which in principle is not all that rare), has had a positive effect on the club which has started to show signs of life. Perhaps they now manage to claw at least one point from the Reds.
Given that both teams have also been productive in their recent EPL and English League Cup games, it seems reasonable to assume that a lot of goals will be scored. As for the result, Liverpool shouldn't leave Birmingham without a point – the team has problems, but the level of performers in the attack will make the difference.
Parimatch News staff prediction:
We say: Liverpool will not lose and the match total will be over 2.5 – Yes.
Don`t miss out 👉: 5 Biggest Upsets of the 2022 FIFA World Cup