Arsenal legend Thierry Henry believes Mbappe will stay at PSG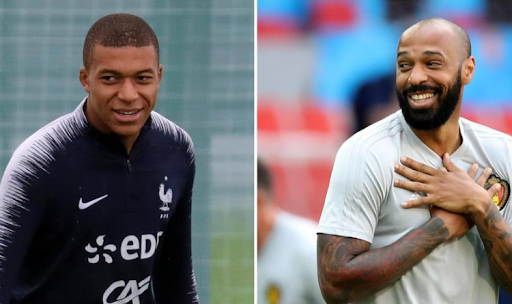 Mbappe and Henry, French stars from different decades
Thierry Henry gave several pieces of advice to Kylian Mbappe amid speculation about his contract with PSG and a possible transfer.
According to one reliable newspaper, the Parisians have rolled out another offer to Mbappe – contract for 5+1 years with a significant wage increase, which is still the number three in terms of earnings after Messi and Neymar. Kylian told the club's sporting director Leonardo, with whom he has a 'cold relationship', that he is again rejecting the offer. After four years of playing for the French giant PSG, the 22-year-old French prodigy received an offer to switch from Ligue 1.
Be sure to read the story👉: French championship isn't the best in the world, but it's my responsibility, as a flagship player, to help the league grow ー Mbappé
Now PSG are not sure if it is worth keeping Mbappé and not selling him until August 31. After all, the Parisians risk losing the player next summer for free.
Arsenal legend and French football icon spoke out against the move, saying it is not yet time to take the next step:
"I don't know what is happening with Kylian Mbappé. We can always speculate and say a lot of things. Me, what I see is that he is still there, that he is training, he is walking, he is running and he is trying to create chances for his teammates. He scores, I know that well. He is a player who is also honouring his contract, he is doing nothing bad and he is responding on the pitch, so be happy. Like I often say, with an exceptional player we are always looking for the little things wrong. I hope that he will stay at PSG, I hope that he will be good and we will see what the future will bring him because it is normal to evaluate things. But is he lacking in respect towards someone? No, I have not yet seen that. He is there, he is present and he is even playing well."
Recently, Сarlo Ancelotti, the current head coach of Real Madrid, spoke out about the possible arrival of the French striker to the Los Blancos camp:
"I don't know. It really doesn't matter to me what's going to happen in the next ten days before the transfer window closes because I have a really good, strong squad. I'm excited and happy about coaching them, I'm focused on that."
"This squad, as it is, can compete for everything. This squad is full of stars. Those stars have to work together… A star on its own is just a star. A star who's capable of working for others is a star that wins trophies."

the experienced Italian added.
Don`t miss out 💥: Karim Benzema signs new two-year Real Madrid contract until 2023
Some other reputable sources confirm that Mbappe's transfer from PSG before August 31 is not ruled out, the main option is Real Madrid.
Mbappe's contract with Paris Saint-Germain expires in June 2022.
Spanish sports magazine, AS, reports that the Madrid office will send the first offer on August 30, a day before the close of the transfer window.