Karim Benzema signs new two-year Real Madrid contract until 2023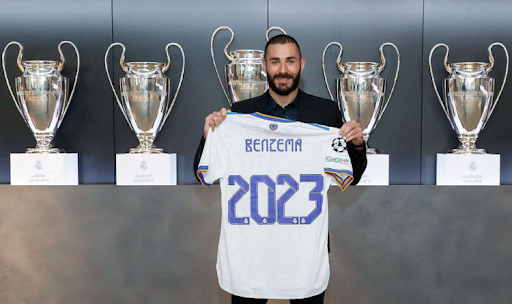 Benzema closes the circle of renewals after a few frantic months in which Real Madrid has ensured the continuity of other important players
Blues striker Karim Benzema has extended his contract with Real Madrid until 2023, he is now the only 'boss' since the departure of Sergio Ramos.
Benzema joined Real Madrid in 2009. During his time at the club, the player became an essential part of the squad winning 3 La Liga titles and the Champions League 4 times.
In the last season, the 33-year-old played 34 games in the Spanish league, scoring 23 goals and providing nine assists
"If the president wants to renew me, my door is open"

– the Frenchman said in the middle of the last season, ensuring his loyalty to the club
Read the story👉: Real Madrid's aged stars will renew their contracts and stay at the club
"The story continues for me in the biggest club in the world. What an honor to be here today, thank you for the trust that I have received for so many years… Never Give up. Hala Madrid!"

– said Karim on Twitter.

Here's how Real Madrid's new head coach Carlo Ancelotti commented on the key player's magnificent performance after he scored twice in the Week 1 match against Alaves (4-1):
"You can't just label Benzema as a striker. He's a perfect player and also a great person. If you compare him to what he was under my guidance for six years, now he's more diverse and versatile."
Don`t miss out 💥: UEFA Player and Coach of the Year nominees announced: revealing shortlists
Karim has started his thirteenth season at Real Madrid with 560 games played in total.
The transfer value of the 33-year-old player is estimated at €25 million.