Arsenal could sign Odegaard on permanent deal as Zidane targets Haaland and Mbappe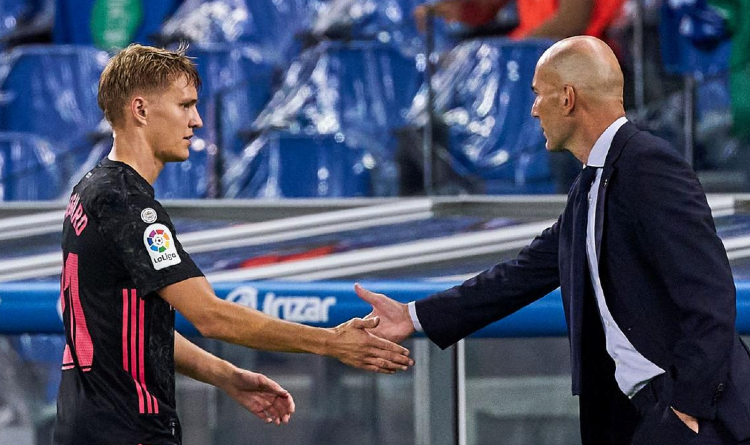 Real loanee Martin Odegaard feels great in London while Madrid need funds to sign Haaland or Mbappe
It has been reported that Real are considering the sale of Norway's Martin Odegaard in order to get money for Erling Haaland or Kylian Mbappe. Arsenal want to keep their loanee and will explore any options, as he is essential for Arteta`s system.
London manager Mikel Arteta is impressed by the Norwegian's performance.
"He's got a real stamina and he's so talented, but his work-rate is incredible,"

said Mikel Arteta after the derby.
"Not only that, he's intelligent. The timing of his runs, when he presses, his body shape. I'm really impressed and he had an incredible performance today. He's giving us something different and it's making us better."
In a dream week for Odegaard, he scored his first goal for the club in last Thursday's win over Olympiacos and followed that up with another in the win against Tottenham on Sunday.
Don`t miss out 💥: Lacazette guides Arsenal to win over 10-men Tottenham.
Meanwhile, Martin recently spoke about his feelings during the loan:
"I have felt at home since the first day, I am happy to be here and feel great. The mentality in this team is great. Very pleased with everything. We showed the spirit in the team and the way we back each other. If one player makes a mistake then we react. That is what it is about, being a team. When one player makes a mistake you have to strike back as a team."
Arsenal`s management is ready to discuss both the option of another rent as well as the possibility of a permanent deal. Much will depend on Arsenal's financial situation by the end of the season. It is claimed that the Madrid side may consider selling their Norweigian youngster as they look to invest in world stars of Borussia and PSG.
It seems that the Paris club management are not going to let their player go, at least easily as they will demand to offer very large funds for the wunderkind.
Don`t miss out 💥: PSG president is optimistic about Neymar and Mbappe staying at the club.
One large Spanish media has estimated the cost of signing, there is not much difference between Mbappé and Haaland, who have a similar market value.
It is said that the French striker is entering his final year of contract with PSG and presumably would cost around 150 million euros – a similar price to Haaland, who has hit 23 goals in 23 games this season, 39 in 41 since he joined Borussia Dortmund. The main difference, as far as Real Madrid are concerned, would be Mbappé's salary. There is no way that Madrid could match the 37 million euro net salary which the player would earn to bring him in line with Neymar; but the 12 million which Haaland would command is within their budget.\
Sergio Ramos commented it:
"Haaland or Mbappe? I would like to have both of them. Perhaps, due to the circumstances, today I think it would be a little easier to sign Haaland. Mbappe is talked about as the Cristiano and Messi replacement, and the circumstances are more complicated."
Ødegaard needs only 53.7 minutes to create a chance from open play. It proves that he is the most creative player in Arsenal right now.
The 22-year-old made 25 appearances for Norway, making his debut in August 2014 when he became the youngest debutant for his country's senior national team at the age of just 15 years and 253 days.
Arsenal has agreed to pay a £1.8 million loan fee for the creative midfielder plus his wage of £38,000 a week, which would make the total outlay about £2.5m until the end of May.
Dani Ceballos is another Real Madrid player on loan at Arsenal, he is spending his second season in London.