PSG president is optimistic about Neymar and Mbappe staying at the club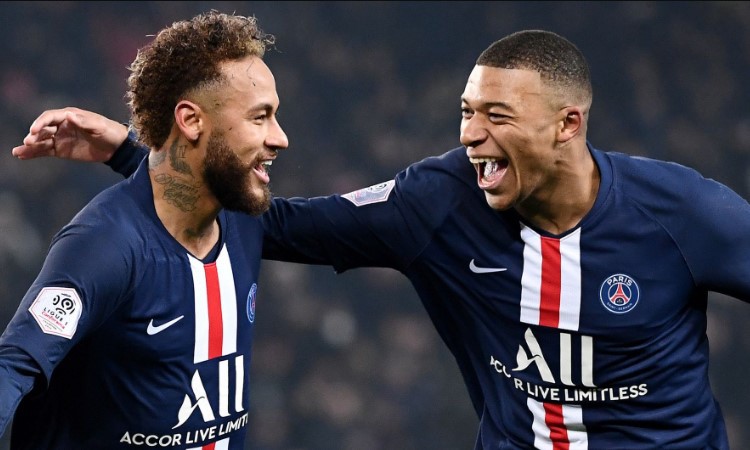 Neymar and Mbappe celebrating the goal
Wednesday evening French club beat Barcelona on aggregate, defeating the Catalans 4-1 away and drawing 1-1 at home.
After a brilliant first leg, PSG just needed to calmly play the next game without any excesses to secure their place in the next round. And so they did. FC Barcelona tried hard but managed to score just one goal as Lionel Messi shot his bow from 25m.
He had more opportunities, one of them was a penalty in the first half, but former Real Madrid goalkeeper Keylor Navas was just superb making a save from the line in the 44th minute.
Navas was frank about giving joy to the fans:
"I am very happy to help my team. I have spent several years in Madrid and I have won titles for an incredible amount of time. I love the club and the fans very much, but that's another story and now I give everything to PSG."
It is very symbolic that, aged 22 years and 80 days, Kylian Mbappé has become the youngest player in UEFA Champions League history to reach 25 goals in the competition, taking the mantle from Lionel Messi. He converted a penalty in this match to overcome the Argentinian 'magician'.
Don`t miss out 💥: PSG turn the second leg against Barcelona into a formality as a stunning Mbappe A+ performance decided the match outcome.
Nasser al-Khelaïfi, the president of the PSF, emotionally spoke out after the team reached the Champions League quarter-finals:
"It is a pride to be in the quarter-finals of the Champions League. I forgot what happened four years ago. The story is going to stay, but we played well and we beat the great Barcelona, we are happy. Neymar and Mbappé are Parisian, they will always remain Parisian".
The Brazilian and the Frenchman's current contracts with PSG expire in the summer of 2022. The club is in talks to extend the players' contracts.
After a run of three consecutive last 16 eliminations from 2016-17 to 2018-19, Paris St-Germain have reached the quarter-finals and beyond in consecutive campaigns.
Due to Cristiano Ronaldo's elimination with Juventus last night, and Lionel Messi's tonight with Barcelona, this will be the first season since 2004-05 to see neither's side reach the quarter-final stage of the competition.
Barcelona had 10 shots on target in this match, their most in a Champions League game they failed to win since March 2010 against Arsenal (also 10).
Lionel Messi has scored 19 goals from outside the box in the UEFA Champions League.