Combat Gaming Announces Fornite Charity Tournament with $50,000 Prize Pool, Set to Start on January 28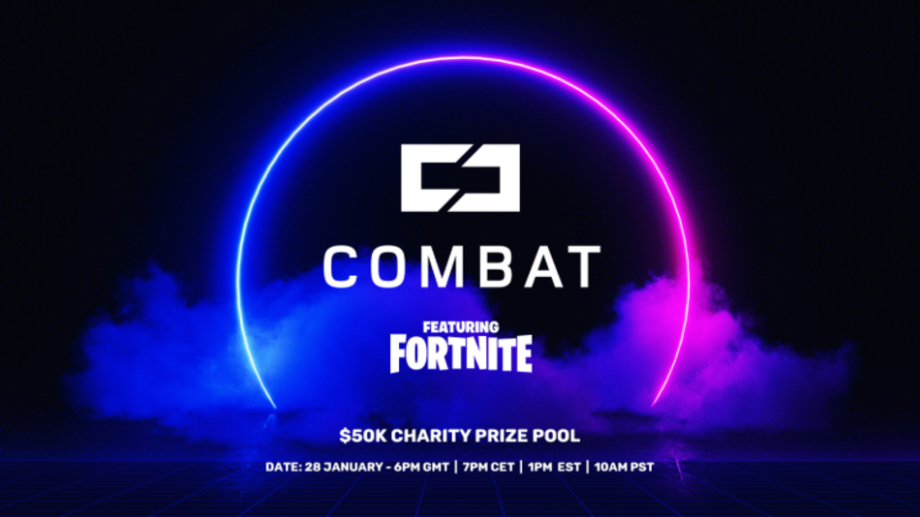 Combat Gaming, the up and coming eSports organization owned by the famous 38 Entertainment Group, has revealed on Tuesday that it will host an exciting new Fortnite charity event and tournament, that will be played online, featuring some of the biggest names of the global entertainment scene including sports and eSports superstars, popular gaming content creators, and several other celebrity figures.
The tournament, set to start on January 28, will feature internationally renowned professional footballers including Pierre-Emerick Aubameyang (Arsenal) and Daniel James (Manchester United). They will compete alongside the likes of:
Benjy "Benjyfishy" Fish (Gamer, NRG),
David "Grefg" Cánovas Martínez (Game Streamer),
James Arthur (Musician) and many more.
These famed entertainment entities or individuals will fight it out against one another to lay claim to different parts of the championship's whopping $50,000 (£36,513 approx.) prize pool. The winning values for each of the top placed players in the tournament will be donated to the organizations of their choice.
38 Entertainment Group's Co-Founder, Jonathan Kark, stated his excitement about the tournament, by saying:
"We are really excited to bring our popular charity tournaments back to your screens. This time featuring Fortnite and a $50,000 Prize Pool to charities and causes that matter right now."
In a bid to make the tournament a success, the 38 Entertainment Group has teamed up with popular virtual entity "Gaming Bible", a valued part of the legendary LAD Bible Group. They will now broadcast live coverage of the live event throughout 38EG's vast online network.
The official Twitch channel of Combat Gaming will also broadcast all the games live. Twitch, being a partner for the tournament, will be promoting the tournament on its jam-packed homepage. The live streams of the tournament are scheduled to start from 18:00 GMT.
Combat Gaming and 38 Entertainment Group are planning something big, as they are contemplating the chance of hosting four different charity events with four different gaming titles, with the first one amongst them being Fortnite.
38 Entertainment group, the co-owners of the famous eSports group named Ellevens Esports, only launched Combat Gaming last year, as a brand new eSports membership club and gaming collective. In 2020, Combat Gaming successfully pulled off a variety of charity gaming tournaments and events, including the revolutionary event "Combat Corona", which was formed to raise sufficient funds to help the ones suffering from the diverse effects of the global pandemic.
The initial two tournaments of Combat's eSports timeline featured a host of celebrity entities competing against each other in the titles Call of Duty: Warzone and FIFA 20. The tournament successfully raised more than $25,000 (or more than £18,231 approx.) for the UN subsidiary UNICEF.
The other biggest attractions of the upcoming Fortnite event or tournament include:
Mason Mount (Footballer),
John 'Manny' Brown (Gaming Content Editor),
Jaden 'Wolfiez' Ashman (British Fortnite Player), and
Manuel Lanzini (Footballer), among many others.