We had an intent to score runs and Pujara really showed that – Rohit Sharma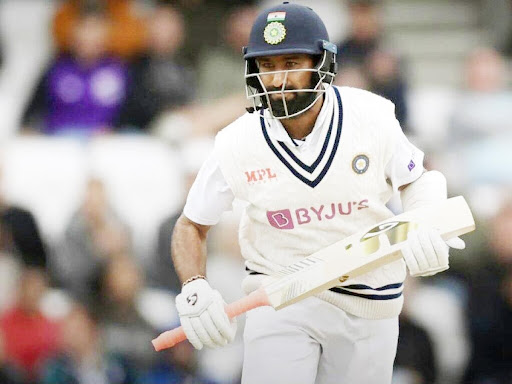 TOI Sports/ Twitter
Indian right-handed batsman, Cheteshwar Pujara finishes day 3 of the third Test at Headingley on 91* to answer all the criticism he has been facing recently over his form.
Rohit Sharma backs his teammate, Cheteshwar Pujara, and answers all the criticized questions he has been facing recently. He said that Pujara was always there at the crease after the two batsmen frustrated England as they were racing to get the speedy victory at Headingley on Friday.
Rohit scored 59 before Pujara struck remarkable innings of 91 to put India at 215/2 in their second innings before stumps, day 3 after being bundled out on 78 in their first innings.
But all of it went in vain as Ollie Robinson struck with the second new ball to claim his second five-fer of the series to get England a series leveling victory by an innings and 76 runs.
Meanwhile, Pujara has been praised by Rohit Sharma for his resilient efforts. He has played at Headingley for Yorkshire and scored 18 hundred in his previous 88 Test matches.
But he has failed to reach three figures till now after a brilliant 193 against Australia at Sydney in January 2019.
His innings of Friday was the best of the series alongside Indian skipper, Virat Kohli who finally reached his half-century to score the highest in the campaign.
"This innings of ours was never about survival,"

said Rohit. 
"We had an intent to score runs and Pujara really showed that…Anything loose he was ready to pounce on it. 
"Pujara, we have seen over the years, is a very disciplined batsman. Of late, the runs haven't come, but that doesn't mean the quality of Pujara has gone missing. The quality is always there."
"The way he batted shows the character of an individual and shows the mindset of an individual,"

he added.
"But the team's job is not done yet. We've got a crucial couple of days coming. Hopefully, he can still put his head down and keep batting as he does." 
Pujara returning in form started from Lord's where he scored crucial 45 runs and earlier this year when India won a dramatic series against Australia and the 33-year-old absorbed a couple of blows from the fearsome pacers of Australia.
"Those were crucial innings for us, winning that historic Test series,"

said the opener. 
"Sometimes our memories are a little bit short. It's not about one or two series, it's about what he's done in an entire career." 
"They (England) bowled pretty good balls but it was definitely not a 78 pitch. As a batting unit, we accepted we batted poorly and we corrected our mistakes in the second innings,"

Sharma replied when asked about the difference in first innings and resistance build in second innings.
India had won the second Test by 151 runs at Lord's, the third Test match has gone in the favour of England with an innings and 76 runs. Both the teams will now lock horns on September 2 for the second last Test at The Oval.
Click here to watch: England's crowd reaction against Indian players