The Universe Boss, have no respect for Curtly Ambrose whatsoever – Chris Gayle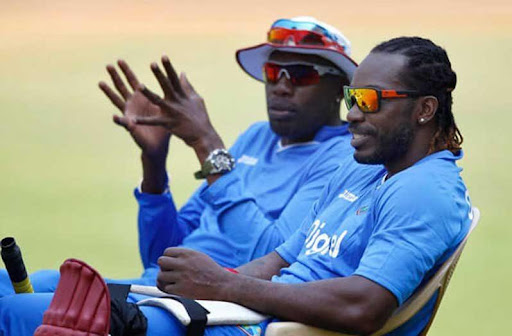 Courtesy the Guyana Chronicle
Just ahead of the T20 World Cup, questions are being raised about the selection of Chris Gayle in the West Indian squad for T20 World Cup, and Universal Boss replies to them all.
Chris Gayle could not held his mouth closed when his usefulness in the West Indies team being at the center of public discourse, particularly, Curtly Ambrose who said that Gayle does not have a position in the World Cup squad.
The 42 years old Caribbean left-hander hits back at those bouncers, especially at Curtly Ambrose who he said is seeking attention.
"I can tell you personally and you can let him know that Chris Gayle, the Universe Boss, have no respect for Curtly Ambrose whatsoever,"

Gayle (42) told a radio station, The Island Tea Morning Show, in St Kitts on Tuesday morning, hitting out against Ambrose, who had said that the veteran opener is not an automatic choice in the West Indies XI for the World Cup.
"I am speaking about Curtly Ambrose. I am singling out Curtly Ambrose, one of your own. I highly respected him when I came into the West Indies team…Those negative things he has been saying within the press, I don't know if he is looking for attention but he is getting the attention. So I am just giving back the attention which he requires and which he needs,"

Gayle said.
After being asked to respond to Gayle's statement, the legendary bowler said that he needed some time to get his thoughts together.
Do not miss: India add major changes in WC squad
"I will respond but I want to absorb the things he said, get my thoughts together and I will message you when I am ready to respond,"

Ambrose expressed.
Gayle went on.
"I am finished with Curtly Ambrose. I have no respect, any time I see him I will tell him as well — 'Stop being negative, support the team ahead of the World Cup.' This team has been selected and we need past players to support us. We need that, we don't need negative energy. In other teams, their past players support their teams, why can't our own support us in a big tournament like this?
"We have won the tournament twice and we will be going for the third title. The team has seen what is happening. It is going to reflect on the team. If the past players continue being negative, I am Chris Gayle Universe Boss is going to be disrespectful, disrespectful verbally in their face. In the media as well. I am not going to take anything from any senior player. Curtly Ambrose pull your socks up, alright? Support for West Indies, ok? Support West Indies, that is the thing."
Gayle's angry comments were a reaction to Ambrose's comment to a radio station in Barbados a few days ago.
"No, he (Gayle) is not an automatic choice for me. The few home series (West Indies) just played, he had no scores of significance…If he gets it going on the day, he can be destructive, but he has not done much in the last 18 months or so to really make me think he will set the World Cup alight,"

Ambrose had told the Mason & Guest show, which was also attended by another former West Indies pacer Kenny Benjamin. He too had similar views on Gayle.
Chris Gayle was not at his best later. He did not participate in any PBKS game citing bubble fatigue and left IPL to start the preparations for the T20 World Cup.
West Indies currently hold two T20 World Cup titles and will be looking for their third one. The T20 WC starts on October 17 and the West Indies who have qualified for round 2 of Super 12's will play their first match against England on October 23.