Spoon-feeding doesn't really help the captain – MS Dhoni on R Jadeja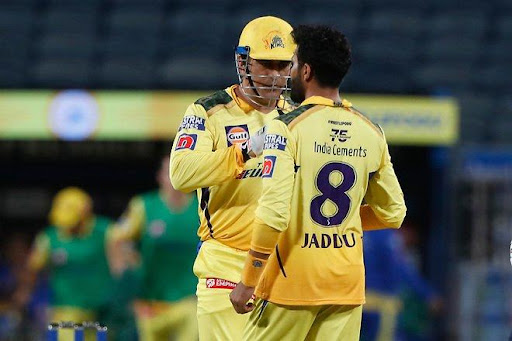 On the field you have to take those crucial decisions and you have to take responsibility for those decisions
'Nothing different' is how MS Dhoni responded when he was asked what Chennai Super Kings (CSK) have done to return to the winning ways after taking back the role of captain.
The veteran CSK skipper MS Dhoni responded with a silent answer when asked what Chennai Super Kings (CSK) have done to get back on the track after the wicketkeeper batter took back the captaincy.
Dhoni was given the hot seat back after eight games and CSK immediately managed a victory over SRH on Sunday (May 1) in Pune after eight games into the season.
In the post-match presentation, Dhoni told the broadcaster Star Sports host that the victory was simply set by the opening pair who made a 182-run stand for the first wicket.
"When you're in the same dressing room, you keep saying the same thing. It's not like when you change the captain, a lot of things change. You know it's one of those coincidences where we got off to a very good start, you make the most of a good wicket, force the bowlers to bowl in areas where we wanted to hit, so I feel the kind of target we got was a very good one and after that, we needed some very good bowling because a bit of dew comes later and makes it slightly difficult."
Dhoni also revealed that he only offered to help out R Jadeja at the start of the season to make things go smoothly and after that, he had to trade things himself.
"Between me and Jadeja, he knew last season itself that he will be given a chance to captain this year,"

Dhoni recalled. 
"So he knew about it, got enough time to prepare. What's important is you want him to lead the side. I wanted that transition to happen so in the first game and second game there was a bit more information going into Jaddu but after that, I left it to him because, at the end of 5-6 (games) or the full season, you don't want him to feel that the captaincy was done by somebody else and I was just going for the toss. 
"So it was a gradual transition where I said 'ok this is what I will do, I will take care of the fielding angles for the first game, second game and after that, you have to decide because that's the only way you will learn what captaincy is. Spoon-feeding doesn't really help the captain, on the field you have to take those crucial decisions and you have to take responsibility for those decisions."
However, after losing six out of their eight games of the season, Jadeja decided to give back the duties of captaincy to Dhoni so that he can focus on his game.
"What's important is once you become the captain, you have to take care of a lot of things and that also includes taking care of your own game and with him, his mind was working a lot," out. 

Dhoni pointed
"And it's not easy to control your mind, it's the strongest feature. Once the mind starts working, it doesn't really stop. So what really happens is the individual is not able to relax.
"What I felt was it was having an effect on his game. When he was going into a bat or when it comes to his preparation he is putting this burden which is affecting his game because I would love to have a Jadeja as a bowler, as a batter, and a fielder. Even if you relieve captaincy and you're at your best that's what we really want because we were also losing a great fielder, we are struggling for a deep midwicket fielder. We have dropped 17-18 catches and it's a matter of concern."
Dhoni was also hopeful that some of the younger bowlers in the squad are stepping up to prove themselves in the remaining five games of the league.
Even though they didn't have Dwayne Bravo in the playing XI on the Sunday game, Mukesh Choudhary and Maheesh Theekshana stepped up to play their part in the crucial victory.
"These are tough games and hopefully we will come back stronger,"

he said.
"We have some new bowlers and they need to keep learning from every game because we don't want our bowlers to be lost.
"If you see a Bravo or a Pretorius (Dwaine) they know what they are doing so you give them information and back off. But with younger bowlers, you don't really know what they will come up with so you have to give them a field, you have to talk to them, you also have to tell them that in this field these are the variations you can also use. Because it's a very lonely place, once they have the ball in their hands, they are on their own."