Shane Warne reacts to the verbal fuss between Ravi Ashwin and Eoin Morgan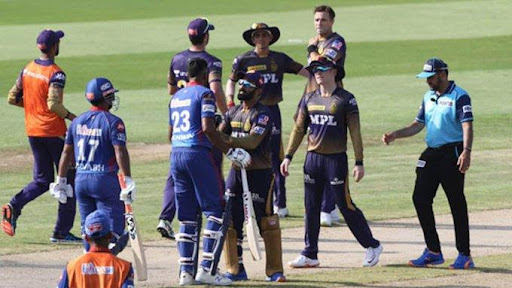 Cricket NDTV/ Twitter
Australian star cricketer, Shane Warne took it to Twitter to share his views on the heated verbal spat between Ravichandran Ashwin and Eoin Morgan on Tuesday.
Ravichandran Ashwin's verbals with Kolkata Knight Riders (KKR) skipper, Eoin Morgan have caught the attention of the cricket fraternity throughout the world.
Recently, the former Indian opening batsmen, Virender Sehwag made fun of Eoin Morgan regarding the controversial ending of the 2019 World Cup in which England won the final, courtesy of superior boundary count.
The Australian leg-spinner, Shane Warne called the act 'disgraceful' as it went viral on social media.
Warne said in his tweet that Morgan 'had every right to nail him' after the verbal bouncers exchanged by both of them on the field on Tuesday.
Warne was clear in his mind and he decided to go against the off-spinner, who is playing for Delhi Capitals (DC) in this season of IPL.
Warne wrote:
"Why does Ashwin have to be that guy again?" 
"The world shouldn't be divided on this topic and Ashwin. It's pretty simple – it's disgraceful & should never happen. Why does Ashwin have to be that guy again? I think @Eoin16 had every right to nail him,"

Warne quoted a tweet from Fox Cricket.
The topic was given the heat on Tuesday when Ashwin tried to sneak a run off an overthrow by Rahul Tripathi when DC was batting against KKR.
The throw was struck at Rishabh Pant at the non-striker's end.
As Ashwin tried to sneak another run, Eoin Morgan was not happy with his attitude, and both the players ended up having a heated verbal exchange.
Dinesh Karthik and Nitish Rana from KKR intervened to split them both.
While defending the target, Ashwin got rid of Morgan on the second-ball duck and celebrated the wicket with some passion. However, KKR won the match by 3 wickets.
After the match, Karthik revealed the reason behind the verbal volleys between both the cricketers.
"I know that Rahul Tripathi threw the ball and it hit Rishabh Pant and then it ricocheted of that and Ashwin started to run. I do not think Morgan appreciates that, he is someone when the ball hits the batter, he expects them not to run because of the spirit of cricket. It is a very grey area, a very interesting topic. I have my own opinion on it but I can just say I am happy to play peacemaker and the thing has come to a good standstill right now,"

Karthik said.
Catch here: The Latest Updates on IPL