It's the right time to walk away and let the next generation come in – Dwayne Bravo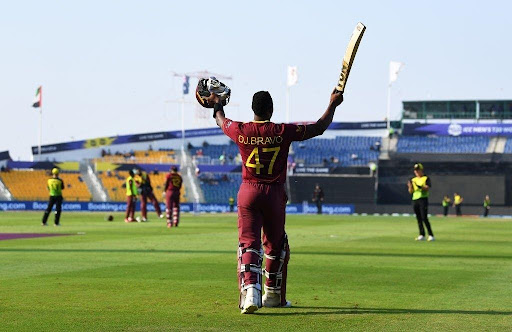 Twitter
West Indian all-rounder Dwayne Bravo has ended his international career in the last World Cup match and he feels that the timing of him walking away from the international is perfect for the next generation to do well for the West Indies.
West Indies all-rounder Dwayne Bravo ended his international cricket career with an 8 wicket defeat to Australia on Sunday. He said that he was grateful to get a chance to represent the West Indies at the International level.
He revealed that he would continue his cricket career by playing with the leagues but couldn't proceed more with his International career in the future. He feels now it is time to give the chance of young generation to show their skills.
"I aimed was to retire a few years ago, but with a change of presidency and change of leadership comes a change of heart, and I wanted to give back to West Indies because I was still in a good place physically and enjoying my cricket,"

Bravo admitted.
"I had a brief chat with Pollard and said, would I like to come back and play in the shortest format, which is my specialty. And they allowed me the opportunity to play again, and I'm very grateful for that"
"one year was hampered by the pandemic which none of us had control over but I commit myself to play for another two years for West Indies and one was spoiled by the pandemic.
"So I think this was the right moment for me to walk away from the game, and allow the next generation and young players who I share a very good friendship with to come through. They'll still see me around but more passing information around and trying to give my experience back to the next group of players, and hopefully they can also have a 12 to 18-year career as well."
In his last match, Bravo scored 12 off 10 balls and deliver 4 over with 36 runs. However, he remembered the contribution of those who had helped him a lot to become a world-class cricketer.
"I'm going to say thanks to Charles. I think he saw my talent at the age of six, and who knows, I don't know where I would have been if it wasn't for Charles spotted me in Santa Cruz playing amongst my friends on a tennis court and allow me the opportunity to join the best cricket club in the country which is Queens Park Cricket Club.
"So at an early age, I had my foundation and discipline built into me and the love for the game was always there. Charles, wherever you are, thank you very much from the bottom of my heart and on by half of my family as well.
"There's a lot of people that have played a big part in my career. Growing up,  Lara, my childhood mentor, Bridget Smith (ph), my first captain for the international team, and the Broad brothers, these people play a big part in my upbringing as a player, and instilled early discipline and get me to understand the importance of playing the game hard and fair, with passion, with a lot of pride. And as a kid, that is all I wanted to do is play cricket and I'm very grateful that I was able to fulfill my childhood dream."
Read full article: India's chances to qualify for the semi-final diminishes
Kieron Pollard, West Indies Skipper highlighted the bravo's contribution to the West Indies team over the years.
"What Bravo has done for West Indies cricket and sort of bringing all-rounders in the Caribbean when he started is paramount. He spoke about the discipline that was instilled in him and he was able to bring that discipline and enthusiasm and courage to each team he represented. We are fortunate to have an individual like him amongst us the last 18 years or so,"

Pollard said.
"My sort of first interaction with him would have been Queens park and Trinidad and Tobago cricket, but watching him before, as I said, I'm younger than him, the way that he celebrated his wickets, the play that he batted with, those are the things that I remember the most. Getting an opportunity now to share a friendship with him, I think that has exceeded everything that I've thought about.
"So for me personally, wish him all the best. We'll still be seeing him on the cricketing circuit and I'm sure he has a passion to give back to West Indies Cricket, especially. Long may his career continue outside of international cricket, and thank you for being a great role model and mentor for us in the Caribbean. I'm sure there are youngsters in the Caribbean still looking up to you and want to tap into the brain and knowledge that you have over these past 18 years."
Bravo said he would not mind taking up a coaching role in the future.
"Definitely at some point, if I decide to walk away from the game finally, I would love to get back in the coaching department, so I already started to put things in place for when it's that time. You will see me around. Like, I said, cricket has given me everything. Cricket has given me the life I always wanted for myself and my family. So I think it's only fair that I love to give back to the game that has given me so much,"

Bravo said.
When asked about Chris Gayle's international career, Bravo said he isn't sure about his career what he will do in the future.
"He said half of it,"

Bravo said.
"He halfway retires. He still has some cricket left. I'm not sure what he's decided yet, but yeah."