India on top of England after Ravichandran Ashwin picked up a fifer on day 2 of the second Test at Chennai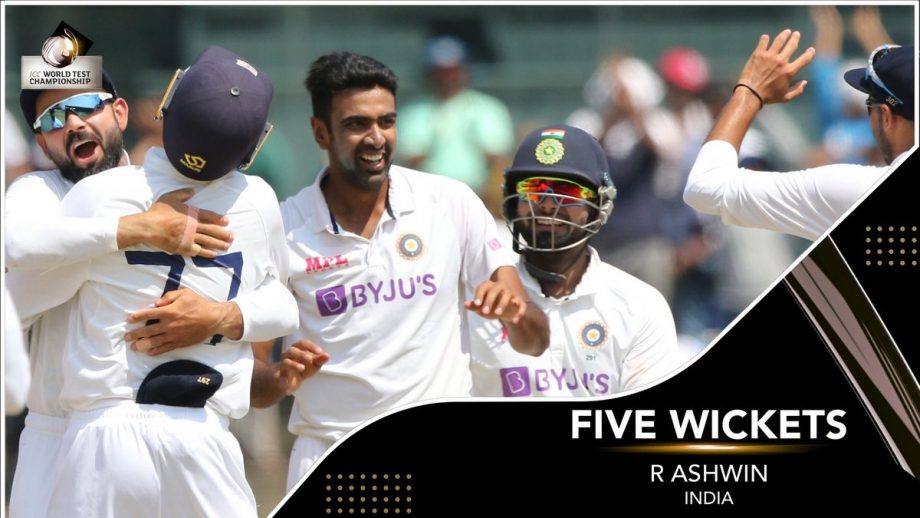 ICC/ Twitter
Ravichandran Ashwin claimed the 29th five-wicket haul to bowl out England on 134 before India extended their lead by 249 runs on day 2 of the second Test at Chennai.
India kept striking in Chennai on day of the second Test to level the series against England and then building on the steadily 195 runs lead. Fifteen wickets fell for the day and Ravichandran Ashwin claimed five of them, 29th time in his Test career. England's hope of a comeback faded as a result of lousy batting in the two sessions.
England was in trouble from the start when Rory Burns and Joe Root fell. Joe Root, who was alone responsible for three consecutive wins in Sri Lanka and India before he managed the double and let alone the triple figures.
England hardly managed to avoid the follow-on, thanks to a sneaky knock from Ben Foakes, who scored an unbeaten 42 but India was fearless to bat again on the commanding lead and left England to worry for the outcomes of day 3 and 4.
England now needs more than a spark to turn things towards their side in the third innings. Jack Leach picked up Shubman Gill cheaply but Rohit Sharma marched for India to once again prove his worth in the team.
He was called for a DRS twice in the innings, Moeen Ali called for an lbw and it was given not out, Ali reviewed it and failed. In the following over, Leach won an lbw call but the decision was overturned as the ball edged to bat while he was sweeping.
India has already put them in the driving seat following a masterclass knock of 161 by Rohit Sharma on day 1. Although they only managed 29 runs to their midnight 300/6, the bowlers tied their shoes to keep up their work.
Ishant Sharma trapped Burns on the third ball for the openers second consecutive duck and Ashwin struck twice for the dismissal of Root to leave England trembling on 39/4 at lunch.
Ashwin on his home ground gave an exemplary display of how to get the benefit of favourable home conditions in regards to variation, line of attack, pace and method of delivery to keep England batsman in the limit. Dom Sibley was his first customer after he tried to sweep at short leg and ended being caught.
Dan Lawrence could not get much of his 52 ball innings, he too got caught in the same position the last ball before lunch. He slumped over his bat handle and caught it easily.
With Ben Stokes not getting many runs to get accustomed to the conditions, England continued to score 2 runs an over. But it ended there when Ashwin struck again to dismiss Stokes for the ninth time in Test career.
India had lost a review before lunch when Ashwin hit the ball on the back leg of Stokes which was shown in the review that the ball went clearly over the wicket but short after that Ashwin bowled a brilliant delivery which defeated Stokes and shudders off his stumps.
From 52/5, England made some resistance with Ollie Popes and Foakes putting up a 35 runs stand, highest from England in the innings. But after hard bowling spells of 40 overs, Mohammed Siraj finally produced a wicket, Pope getting caught behind the gloves of Rishabh Pant.
Moeen Ali and Olly Stone got going cheaply before tea which put the responsibility on Foakes who was playing the first Test after two years, to get past his team across the follow on. Pant then caught another stunner to dismiss Leach and Stuart Broad swept to dislodge his team to complete Ashwin's 29th five-wicket haul.
Talking about Ashwin, Twitter was full of appreciation from cricketing stars all over the world.
"Reality bites, as have India's spinners. Pant, Ashwin and Foakes outstanding today. Pitch very tricky but worth repeating point made y'day, it has been very tricky from the start. Toss not decisive,"

tweeted Mike Atherton.
"Indian spinners have shown us how to bowl on this pitch. Keeping pace on the ball & not a freebie insight. Well bowled @ashwinravi99 with yet another 5fer,"

Matt Prior Twitter.
There were few umpiring errors in the game which can be clearly seen in the replays. The contradictions went on to Twitter and everyone gave their opinion.
"I'm all for a good contest between bat and ball in test match cricket but this pitch in Chennai is unacceptable at test match level. You can't have the ball going through the top of the surface on day 1 from the main part of the pitch. Ie not from the footmarks,"

tweeted by Mark Waugh.
India is now 54-1 with Jack Leach dismissing Shubman Gill in an lbw call. Starting from a steady lead of 249 runs, England will have a real test on day 3 of the second Test at Chennai.