India, England are fined and penalized 2 points each for slow over-rate in the WTC match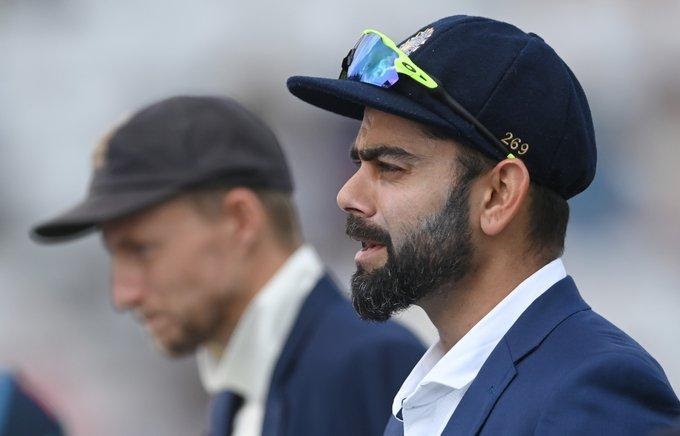 ICC/ Twitter
England and India have been charged 40 per cent of their match fee and the deduction of two points from the World Test Championship after following a slow over-rate in the series opener at Nottingham, ICC announced it on Wednesday.
ICC match referee, Chris Broad, the former England Test cricketer and father of England pacer, Stuart Broad imposed the sanction after finding out that both sides were two overs short of their allotted time after time allowances were taken into consideration.
A rain-interrupted series opener at Trent Bridge ended in a draw after the fifth day Test match being completely washed out to rain and the second of five-match Test series to be started from Thursday at Lords.
Following the ICC's rules and regulations, each player is fined 20 per cent of his match fee after their side failed to bowl the given overs in the allotted time and docked one point each from the WTC points table for each over short.
"In accordance with Article 2.22 of the ICC Code of Conduct for Players and Player Support Personnel, which relates to minimum over-rate offences, players are fined 20 per cent of their match fees for every over their side fails to bowl in the allotted time. In addition, as per Article 16.11.2 of the ICC World Test Championship playing conditions, a side is penalized one point for each over short,"

ICC said in a release.
The England skipper, Joe Root, and the Indian skipper, Virat Kohli has pleaded guilty and accepted the charges against them which means that there is no need for formal hearings to level the charges imposed by the umpires.
The points deductions could impact each side depending on whether England or India qualify for the second WTC Final in 2021-23 cycle of Test matches.
Australia also faced the consequences in the first WTC leg of matches when they missed the final of Test Championship after being docked points for slow over-rate during 2020 Boxing Day Test against India, which after 2-1 loss moved New Zealand to second place on the points table.
"It wasn't until after the game that we realized our over rate was down. Now, that's really slack on our behalf,"

said Australia coach Justin Langer in March.
"At the time, we probably thought it's not that big a deal — the players get fined — but that cost us the World Test Championship (final)."
New Zealand won the first-ever World Test Championship Final after beating India in the final at Southampton in June.