Hayden backs Pakistan in a history-making opportunity against India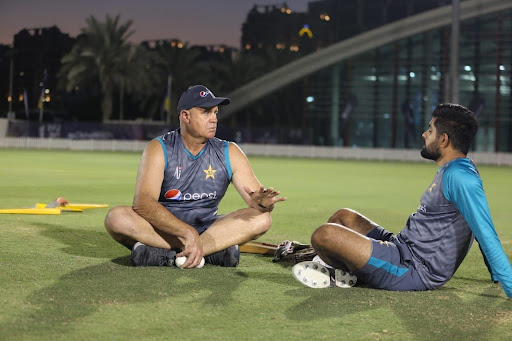 CricWick/Twitter
Pakistan will play the T20 World Cup under the guidance of Mathew Hayden that will face India in their first match and the pressure will be on Babar Azam who will lead the team.
Hayden does not have any coaching experience before. This is his first major coaching assignment with the Pakistan team at the T20 World Cup.
Under his coaching, Pakistan will face India in the first game at the tournament and that would be a high voltage game.
After Misbah and Waqar's resignation, Mathew Hayden and Vernon Philander were assigned to the coaching staff of the Pakistan national team.
Neither Hayden nor Philander have much coaching experience in the past.
"Nothing that I've ever seen through the various elements of our game ever matches the rivalry of India and Pakistan,"

Hayden admits. 
However, he is confident that players in the camp are calm and they are not taking the pressure for the first match against India.
"We can present all the stats, do all our homework and research, but nothing can replace all the stuff that we all dream about, or coach about and commentate on – which will be the game itself. I can sense that the players are waiting for that opportunity. I can sense that there is a sense of calm about that. It's now the opportunity of playing the game."
He feels that pressure will be on Babar Azam – both as a captain and a batsman and he is confident that Babar will handle it in such a good way.
"As you've seen in the IPL, with the two dominant captains – MS Dhoni and Eoin Morgan,"

he said.
"Even though their performances weren't as good, (compared to how) they have previously done within their statistical record, the way they led their troops and conducted themselves, became an important part of UAE.
"One side is not going to run away with the game here. It's a dogfight. The conditions and margins for error will be very little. And so, good leadership will be the key. Babar commands that presence and commands that role. In the batting sense as well, he is the premium player. He will be targeted. He will be the person who every player would want to put in his pockets. There will be pressure on him both as a captain and as a batsman. But I sense that the way he will go about with it will be spot on."
He added that Pakistan has a strong batting lineup that can defeat India. He highlighted the top-order batsmen which include Babar Azam, Mohammad Rizwan, and Fakhar Zaman.
Read full article: How Scotland qualifies for the Super 12s stage
With this strong batting combination, Pakistan can put a great total on the board.
"If you look at the way Fakhar is going about the preparation for this match. Not to single him out, but to look at the way he has expanded himself in the two warm-up matches. It is exciting to know that it can happen a few days ahead of the India match. Babar and Rizwan too. The top three are such a critical part of the performance in the UAE.
"Powerplays have been such a significant part of the game in UAE. There have been a few exceptions but most teams that win the powerplay, win the match. And you don't necessarily win the powerplay by being overly aggressive. We have a very strong batting combination, including Hafeez as well.
He is assured that Fakhar can play anywhere in the top 4 who is playing very smart cricket and looking in a good form.
"Fakhar can play anywhere in the top four. He commands that through his performances. In the two (warm-up) games he has played in the UAE, he has been very solid. His strike rates were above 160 – even though it's typically around 130 here. He is also playing very smart cricket. I quite like him at No 3, that sheet anchor role. He can assess the conditions very quickly but he can also advance based on the partnership with Rizwan and Babar. I like him at No 3."
"Big totals here are never going to be achieved. It would take something extraordinary to happen for 200-plus totals to be achieved. Average scores roughly would be 170 in Abu Dhabi, 150 in Sharjah, and 170 in Dubai potentially. We are not talking about 10-an-over from the start of play. We've got a balanced and strong batting lineup."
He wants his batters to put a score above 170 that would help the players to remain
"calm, in control and stay in the present,"

he says.
"World Cups are such a challenging thing. Playing multiple world cups has been such a part of my life. For some reason, you're always under pressure. You don't need to create environments additional to what the game demands,"

he concludes.