England 77-0 in chase of 368 against India in 4th Test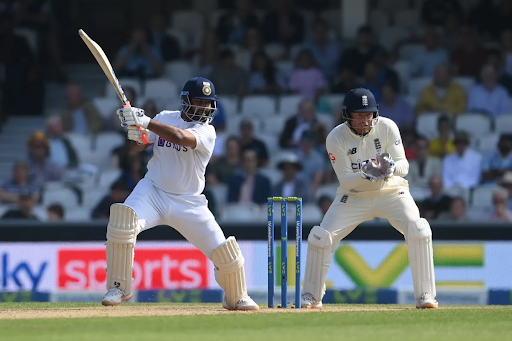 Rishabh Pant recorded his first fifty on this tour of England
England made a strong start to the second innings as they reached 77–0 in the chase of 368 against India in the fourth cricket Test match on Sunday with their openers Haseeb Hameed and Rory Burns doing a fine job with the bat on the fourth day of the contest. On the final day, while India needs 10 wickets to record an unassailable victory, all four results are possible as England are 291 runs away from victory to take a 2-1 lead. 
Hameed was batting on 43 from 85 balls with the help of six boundaries whereas Burns was on 31 not out from 109 balls with the help of two fours as the English opening pair once again provided their team with a strong start against India, after they had done so in the third test match of the series at Headingley.
But the day, however, belonged to the visiting team which once again dominated from the bat despite their middle-order not chipping in with runs once again. A stand of exactly 100 runs from 155 balls for the seventh wicket between Rishabh Pant and Shardul Thakur was the reason India were able to extend their lead to as far as 368 runs in the second innings, as they finished at a huge total of 466.
After Rohit Sharma had scored a fine 127 on the third day of the match and Cheteshwar Pujara contributing with 61, it was the turn of the middle-order which was supposed to provide India with the required runs to bat England out from the contest. However, India captain Virat Kohli was dismissed for 44 from 96 balls with the help of seven boundaries whereas Ravindra Jadeja and Ajinkya Rahane both were dismissed by Chris Woakes, who had them leg-before.
It was a disastrous outing for India vice-captain Rahane who was dismissed for 0 from 8 balls, whereas Jadeja did well to hang around for 59 balls to make 17 with the help of three boundaries. Kohli was dismissed at the score of 312 which was the sixth wicket for India to fall, which brought about the pair of pant and Thakur together.
Thakur, who scored a half-century in the first innings for India, was once again belligerent in his innings as he cracked seven boundaries and 16 to make 60 from 72 balls, and on the other hand, Pant recorded his first half-century of the tour when he was dismissed for exact 50 from 106 balls with the help of four boundaries.
While England hoped for a quick end to the Indian innings, there was further frustration in store for the home team. A stand of 36 runs between Umesh Yadav for the ninth wicket kept England in the hunt for another hour or so and then when they finally ended their partnership, Umesh partnered with Mohammed Siraj to add another 16 for the final wicket which frustrated the home team further.