BCCI chief Sourav Ganguly reveals reason behind replacing Virat Kohli with Rohit Sharma as India ODI captain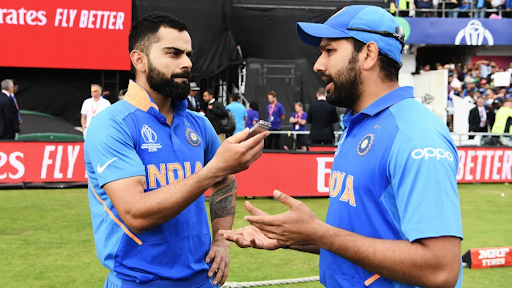 Virat Kohli has been replaced by Rohit Sharma as India's captain in ODIs and T20Is
Former India captain and the current chief of the Board of Control for Cricket in India (BCCI), Sourav Ganguly has revealed the reasons behind the replacement of Virat Kohli with Rohit Sharma as the captain of the Indian ODI team. Kohli was replaced by Rohit as the leader of the ODI team ahead of the tour of South Africa, which starts on December 26 in which the team will play three 50-over matches along with three Tests.
While speculations were doing around regarding the future of Kohli as the captain of the Indian team in ODI cricket, no one saw it coming that the decision will be taken as early as for the South Africa tour. Rohit had earlier replaced Kohli as the captain of Indian team in T20Is after the latter relinquished the captaincy role citing workload.
It all began when Kohli decided to step down as the captain in the shortest format after the conclusion of the ICC T20 World Cup 2021, as he also gave up a similar role with Royal Challengers Bangalore (RCB) in the Indian Premier League (IPL). Kohli wanted to continue as a captain in the other two formats but Indian selectors were not in agreement.
The selectors decision to remove Kohli as the captain of ODI cricket team has not been welcomed by Indian fans and critics who are of the opinion that the cricketer was dealt harshly and the board should have been more informative and open about the decision.
But Ganguly, who himself was unceremoniously removed as a captain of the Indian team, claims that the selectors were not of the opinion of having split captaincy in limited-overs cricket. It must be noted that Kohli continues to be the captain of the Indian cricket team in the longest format.
Ganguly was quoted as saying by news agencies,
"We had requested Virat not to step down as T20 captain but he didn't want to continue as captain. So, the selectors felt that they cannot have two white-ball captains in two white-ball formats. That's too much of leadership."   
The BCCI boss said he was in agreement with the decision of the Indian national selection panel, headed by former pacer Chetan Sharma. Ganguly said that the board did consider Kohli's record as captain in ODI cricket — an impressive win-loss ratio of 2.407 (in a minimum 50 matches).
"Yes, we did consider that but if you look at Rohit's record in whatever ODIs he has captained for India [eight wins in ten games], it's very good. Bottom line — there can't be two white-ball captains,"

Ganguly said. 
"I can't explain more about what all was discussed and what selectors have said, but this is the primary reason for having Rohit as white-ball captain, and Virat accepted it,"

Ganguly added.