Australia paceman Josh Hazlewood ready to exploit in ICC T20 World Cup 2021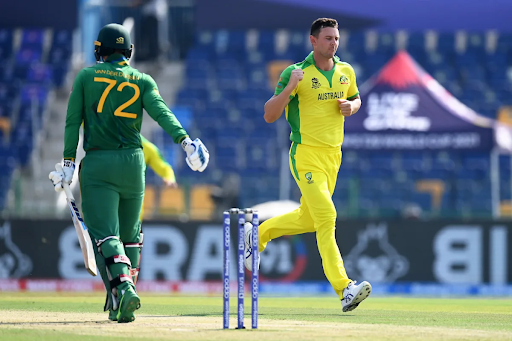 Josh Hazlewood's stocks have been on the rise in T20 cricket
For one of the most disciplined, accurate and economical fast bowlers in the world, it was certainly a challenge for Josh Hazlewood to bring his skill sets in the Indian Premier League (IPL) and produce strong performances which would help him chart his way back into the national team. But so far all the signs and returns have been positive for Hazlewood who began the ICC T20 World Cup 2021 with a scintillating spell against South Africa in a narrow win for his team Australia. 
The right-arm lanky fast bowler Hazlewood produced a fine opening bowling spell of 4-1-19-2 in which his first-spell figures read 2-1-1-2 against South Africa, in a low scoring contest in which Australia faced troubles getting past the finish line, which they eventually did with 5 wickets to spare.
Hazlewood set up the victory for Australia after a superb first bowling spell at the start of the match which set the tone in favour of his team. The performance against South Africa comes at the back of a successful stint in IPL 2021 with the title winners Chennai Super Kings, which has helped Hazlewood expand his talent base as well as exploit everything that he has in his arsenal as a bowler.
It has been revealed that Hazlewood worked closely with Chennai Super Kings coach Stephen Fleming, the former New Zealand captain, and Eric Simons, the bowling coach from South Africa who was also a part of the Indian coaching staff at one point in time. These sessions certainly helped Hazlewood to learn more about bowling in the shortest format of cricket.
Hazlewood said,
"Chatting about how batters are probably expecting that you to change if you are hit for four or six. Think the wickets are a little different here as well (in the UAE), but it's about keep doing the same thing and make them hit fours and sixes off your good deliveries — just above the stumps, a hard length. That seemed to work for the last few weeks in the IPL and again [against South Africa]. You have to weigh it up and move forward with what works best."
"Every game is different and that's what I've learned over the last few weeks. It's about getting everything in order at training and preparing yourself for anything, then summing it up as a bowling group once you are out there,"

Hazlewood said. 
The rise of Hazlewood as one of the best bowlers in the format will certainly be a promising sign for Australia as they desperately seek first title victory in T20 cricket after winning the other titles in the distant past.