Yan vs Sterling: will Aljo take the UFC title away from Petr?
Yan to face Sterling
Petr Yan is set to defend the bantamweight title against Aljamain Sterling at UFC 259 on March 6. Does Aljo have a chance to take the belt away from the Russian champion?
Petr Yan stats
Yan began his MMA career in 2013 and amassed an impressive record of 15-1. No Mercy won the ACB Bantamweight Grand Prix in 2015. He became the ACB champion in 2017 and transitioned to the UFC next year. Petr gained 6 victories in the promotion and took on Jose Aldo for the vacant title at bantamweight in 2020. He knocked Aldo out and captured the crown. Yan suffered the only defeat in 2016. He is currently riding on a whopping 10-fight winning streak.
Aljamain Sterling stats
Sterling has been competing in MMA since 2011. His record stands at 19-3. At the beginning of his career, Aljo won the Ring of Combat and CFFC belts. He defended the CFFC gold thrice and signed with the UFC in 2014. Aljamain lost a contest against Bryan Caraway, cut off a 12-bout winning streak and dropped out of a championship race in 2016. However, he won 5 consecutive clashes in 2018-2020. Last year, Sterling submitted Cory Sandhagen in a title elimination match and got a shot against Yan.
Yan vs Sterling stats
Petr lands 17% more shots per minute, but Aljamain takes 38% fewer strikes.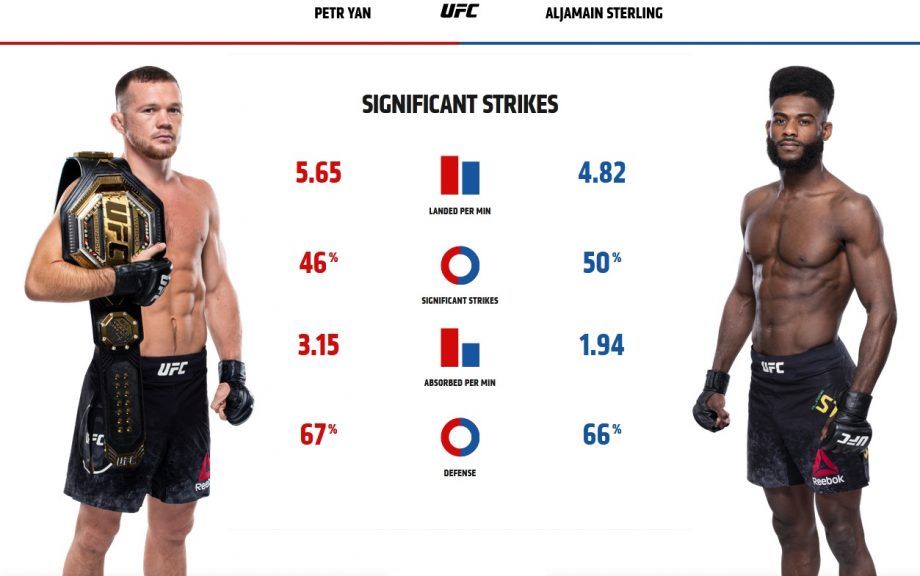 Sterling performs takedowns 9% more frequently and outnumbers Yan's submission attempts 4.5 to 1. But Petr is more accurate, and his defence is much better.
Yan vs Sterling preview
Petr went in for Taekwondo and Muay Thai. He is also a Master of Sport in boxing. Aljamain coached in striking martial arts only during his MMA training. Consequently, No Mercy is a much more experienced and proficient striker. Due to his boxing and Muay Thai background, Yan employs a wider range of shots and throws different combinations. Sterling absorbs fewer shots and hits the target more often; however, his punches lack power. Aljo failed to make his rivals wobble even when he landed clean strikes to the chin.
Sterling competed in NCAA Division III wrestling tournaments and got a black belt in BJJ. While Petr earned a blue belt in BJJ. Therefore, Aljo is more dangerous on the ground. But Sterling is not exactly a master of submissions, because he sticks exclusively to chokes and eschews locks. Hence, it will be easier for Yan to defend himself on the mat.
Aljo's main forte lies in grappling. Nevertheless, given his low takedown accuracy and Petr's outstanding defence, the American has low odds to bring the fight to the canvas. Sterling will not be able to compete head-to-head with Petr on the feet despite his 4-inch reach advantage and various kicks. Yan has a crisp boxing technique – his hands are fast and heavy. Considering Petr's advantage in striking, he is poised to win the showdown.
Yan gained 47% of victories by KO/TKO and knocked 2 last opponents out. In view of these facts, No Mercy will likely defeat Aljo by KO/TKO. Petr's average fight time is 11:32. Thus, the contest is expected to be over within 4 rounds at most.
The most probable fight results
Petr Yan to win by KO/TKO/DQ (57/20);
Total rounds under 4.5 (17/20).
Disclaimer: Fight analysis is not a betting tip or a gambling advice of any sort. Our experts determine the most likely outcome of a sporting event based on statistics and personal views. Therefore, the actual result of a competition may differ from the predicted.