PKL 9 Matchday 26: Preview and Prediction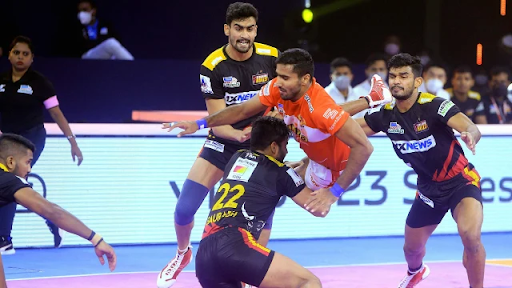 Bengaluru Bulls and Gujarat Giants competing against each other in one of the PKL games
Two spectacular matches are set to take place on Super Sunday of the Pro Kabaddi League Season 9. Current table toppers Bengaluru Bulls will compete against Gujarat Giants in the first game of the day whereas Puneri Paltan will face Tamil Thalaivas in the second battle.
Bengaluru Bulls are the table toppers and a win from here can take them one step closer to the playoffs whereas Gujarat Giants are in the seventh position with four victories so far. They need to work on their strategy to climb up in the points table.
Puneri Paltan, who is second in the points table, showed a tremendous improvement in the past five matches. They haven't lost a single battle in the past few games and their confidence is right at the top.
Tamil Thalaivas, on the other hand, is in the tenth position with just three victories in nine games. The Thailaivas played well in their last three encounters but are still in search of more victories to gain momentum.
Let us take a look at the previews and predictions for the Day 26 matches:
Match 62: Bengaluru Bulls vs Gujarat Giants
The Bengaluru Bulls are all set to win another battle, this time against the Gujarat Giants. Though they lost their previous battle against Haryana Steelers, they played really well in the tournament so far with six victories in ten games. The battle against Haryana was a tough game for the Karnataka-based franchise as no one was able to perform apart from Bharat who scored a Super 10.
Star raider Vikash Khandola failed miserably and could score only one point. Skipper Mahender Singh scored a couple of points as well but could live up to the expectations. On the other hand, the Gujarat Giants' loss against Patna Pirates surprised every PKL fan. Star players Parteek Dahiya and Mahender Rajput gave their best but failed to grab victory for their side. The defense failed badly which cost them the game.
This is going to be a crucial encounter for Gujarat Giants as a victory from here can take them higher in the points table. Talking about the battles so far between Gujarat Giants and Bengaluru Bulls, both have won four matches each out of total of nine games being played to date. One encounter finished at a tie.
Parteek Dahiya will be the man to look at in this battle, especially after his all-rounder performance against the Steelers. On the other hand, Vikash Khandola will be the player to watch out for. He can change the scenario of the game anytime, if in form. Keeping in mind the kind of performance Bengaluru Bulls have shown, they will be the favourites to win this match.
Predicted Starting Seven
Gujarat Giants: Rakesh, Sourav Gulia, Arkam Shaikh, Parteek Dahiya, Mahendra Rajput (C), Shankar Gadai, Rinku Narwal
Bengaluru Bulls: Vikash Khandola, Mayur Kadam, Mahender Singh (C), Bharat, Neeraj Narwal, Saurabh Nandal, Aman
Match 63: Puneri Paltan vs Tamil Thalaivas
If there's any team who has made a remarkable comeback in this league, then it has to be Puneri Paltan. After losing initially, they came back with a bang. Star player and captain Fazel Atrachali proved to be lucky for the franchise as they started performing well after his inclusion in the side.
Tamil Thalaivas, on the other hand, must work hard from here if they have to finish in the top six. The match against Puneri Paltan is going to be a tough battle but a victory here can boost their confidence to another extent.
With no Pawan Sehrawat in action, it has been a terrible time for the Sagar and Co. in the league. The tied encounter against Bengal Warriors must have given them some motivation to play the upcoming games. Narender and Ajinkya Pawar are the two hopes for the side if they want to do well further.
Puneri Paltan and Tamil Thalaivas have faced each other six times with two victories for Puneri Paltan and the same number of wins for Tamil Thalaivas while two battles have been drawn.
Narender and Ajinkya Pawar will be the players from Tamil Thalaivas to look at in this match. On the other hand, captain Fazel Atrachali will be the player to watch out for when it comes to Puneri Paltan.
Puneri Paltan is the clear favourites to win this battle keeping in mind the home crowd. On the other hand, if Tamil Thalaivas will win this game, then it's going to be one of the biggest upsets in this year's Pro Kabaddi League. For that to happen, Narender has to score as many raids as possible.
Predicted Starting Seven
Tamil Thalaivas: Narender, M. Abhishek, Mohit, Himanshu, Ajinkya Pawar, Sagar (C), Sahul Gulia
Puneri Paltan: Mohammad Nabibakhsh, Abinesh Nadarajan, Sanket Sawant, Akash Shinde, Mohit Goyat, Sombir, Fazel Atrachali (C)