Veterans of football at the 2022 FIFA World Cup: revealing the most senior players of the tournament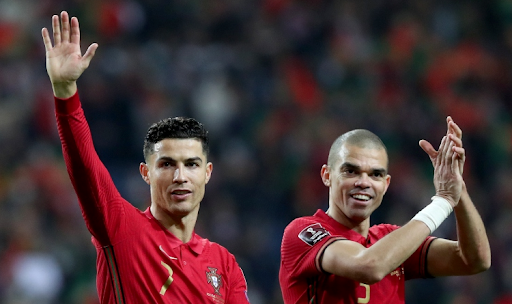 Ronaldo and Pepe applaud the fans after the match
The World Cup is in full swing and you already know which talented youth players everyone should be keeping an eye on. Now it's time for the most experienced players of the Mundial, we bring you all the details about the old guard, for whom this WС will probably be the last championship in their career.
Don`t miss out 👉: Golden Boys of FIFA World Cup 2022: Best young prospects to watch during the tournament
National team: Mexico
Club: FC Juarez
Position: Goalkeeper
Age: 40 years – 18.09.1982
Current market value: $800.000
Remarkably, Mexico can boast as many as two of the oldest players currently playing football among the first leagues of all countries. Mexico's Cruz Azul goalkeeper José Corona is given the crest of the world's most experienced player. Corona's career began back in 2002 – during which time he took Olympic gold at London 2012 and became a Cruz Azul legend. He got in there back in 2009 and is still in action: 18 games in the 2021/22 season, in six of which Corona did not concede. However, the 41-year-old veteran was not taken to the World Cup and is not included in this list – after all, he hasn't shown his best form for a long time.
Yet we mentioned Mexico for a good reason, as it is from there that another experienced goalkeeper Alfredo Talavera arrived in Qatar. The number one plays in the FC Juárez of Liga MX and wears the captain armband. Last season, he played in 37 games, 13 of them were clean sheets. Talavera also spent his entire career in Mexico, a total of 11 years he played for Toluca, with which he even won the title in 2010.
Honourably, this is the one and only player at this World Cup edition that has passed the 40-year mark.
National team: Canada
Club: Beşiktaş JK
Position: Midfield
Age: 39 years – 08.02.1983
Current market value: $200.000
Having made his debut for the national team as far back as 2003, Atiba, with an armband on his arm, finally leads Canada's golden generation to their first World Cup in 40 years. By doing so he has become the second-oldest player at the Mundial.
He stands as Canada's record holder for goals and is the first Canadian male footballer to reach 100 goals. The Canadian midfielder enjoys a lengthy career and has been playing in Europe for almost 20 years. Hutchinson has played at Sweden's Öster and Helsingborg, Denmark's FC Copenhagen, the Netherlands' PSV and now defends the colors of Turkey's Besiktas. Unfortunately, Hutchinson has only recently recovered from injury, but it looks like the player is in decent condition — his place in the center of the pitch is rightfully up his sleeve for at least 2 games.
For him, as well as for all his partners, the World Cup is a special event – the Canadians have not made it to the world soccer forum since 1986.
National team: Japan
Club: Strasbourg
Position: Goalie
Age: 39 years old – 20.03.1983
Current market value: $200.000
Eiji Kawashima was Japan's primary goalkeeper at the World Cups in 2010, 2014 and 2018. For the fourth World Cup of his career, Kawashima is going as a reserve. However, the 39-year-old Kawashima is ready to play if there is an opportunity or a need.
4. Dani Alves
National team: Brazil
Club: Pumas MX
Position: Defense – Right Back
Age: 39 years old – 06.05.1983
Current market value: $1.000.000
Another veteran Brazilian is the legendary former FC Barcelona right-back – Alves.
Dani remains the most titled player in the world. Since the summer of this year when he left Barca, the Brazilian has been playing in Mexico for the Pumas, however, even now he remains in the vanguard ranks of the Brazilian national team. 39-years-old defender came to the tournament having the hope of helping his team win the most-desired trophy, which the country has been waiting for years nowю
5. Pepe
National team: Portugal
Club: FC Porto
Position: Defender – Central Defender
Age: 39 years old – 26.08.1983
Current market value: $1.000.000
The Portuguese central defender Pepe has had a brilliant career both at clubs and in the national team. End even now, despite his age, with so much experience under his belt, the player still holds the bar high and remains very valuable in the ranks of both the national team and Porto.
Mostly, Képler Laveran Lima Ferreira (his full name) is well remembered by everyone for his performances for Real Madrid. Pepe moved to Porto in 2019, and from season to season he helps his teammates fight for the top spots in the Portuguese elite and even plays regularly in the UEFA Champions League. Stats in the 2021/22 season: 31 matches (2,557 minutes), one goal and two assists.
The World Cup in Qatar will be also the fourth in his career.
National team: Netherlands
Club: AFC Ajax
Position: Goalie
Age: 39 years old – 08.11.1983
Current market value: $250.000
On November 8, Pasveer turned 39 years old. At such an age many GKs are reaching their peak – so is the case of the Dutch, who is now managing to be number one at Ajax for the second season in a row. Curiously enough, Pasveer debuted for the Netherlands national team only in September this year at the age of 38. Now Remko has the opportunity to fulfill a childhood dream and play in the World Cup in Qatar. This is a great example of how you just have to be persistent and hardworking to find success sooner or later.
7. Aymen Mathlouthi (aka Balbouli)
National team: Tunisia
Club: Étoile Sportive du Sahel
Position: Goalie
Age: 38 years old – 14.09.1984
Current market value: $50.000
Balbouli is recognized not only as the greatest Tunisian goalkeeper, but also as one of the best African goalkeepers of all time. In addition, his dribbling and control of the ball skills in the penalty area are remarkable, he knows how to entertain fans.
Balbouli was Tunisia's starting goalkeeper against Panama in the last group stage game of the 2018 World Cup, which was also his World Cup debut. Called up for the 2022 World Cup, he is representing his country for the second time.
8. Thiago Silva
National team: Brazil
Club: Chelsea FC
Position: Defender
Age: 38 years old – 22.09.1984
Current market value: $2.500.000
The Brazilian veteran is not just continuing to play at some mediocre club, but is a player in Chelsea's main squad. In the national team, Silva also has the status of a starting player. In Brazil, they hope Thiago's experience and skills will help the Celesão win a World Cup trophy for the first time in 20 years.
National team: Portugal
Club: Free Agent
Position: Forward
Age: 37 years old – 05.02.1985
Current market value: $20.000.000
The world's most popular player achieved a remarkable achievement this year. Having led his national team onto the pitch in Qatar, free agent CR7 has joined an elite clique of players who have featured in five World Cup editions during their career. Previously, only Lothar Matteus, Antonio Carbajal and Rafael Marquez managed to do so. Most likely, this will be the last World Cup for Ronaldo, he is currently the top scorer in international soccer with 118 goals.
The whole world is eagerly watching his idol, as there's no certainty what his fate will be after the tournament as he had parted ways with Manchester United just before the start of the Mundial. Hopefully, his performances with the Navigators will provide a ray of positivity for the striker, given the very difficult background and the series of events that haunt the endlessly ambitious player, despite the passing of the years.
Don`t miss out 👉: Cristiano Ronaldo washes his hands and leaves the Red Devils' сamp while owners put the club up for sale
10. Guillermo Ochoa
National team: Mexico
Club: CF America
Position: Goalie
Age: 37 years old – 13.07.1895)
Current market value: $1.200.000
Not only does Ronaldo join the club of players that can boast of participating in 5 World Cup editions, Guillermo Ochoa is also already a veteran of the Mundial. The Mexican favorite has played in 22 games this season (including 2 WCs), recording 8 clean sheets.
Don`t miss out 👉: ATK Mohun Bagan bounces back with a 1-0 win over Hyderabad