Two mighty sides clashed at Anfield in front of fans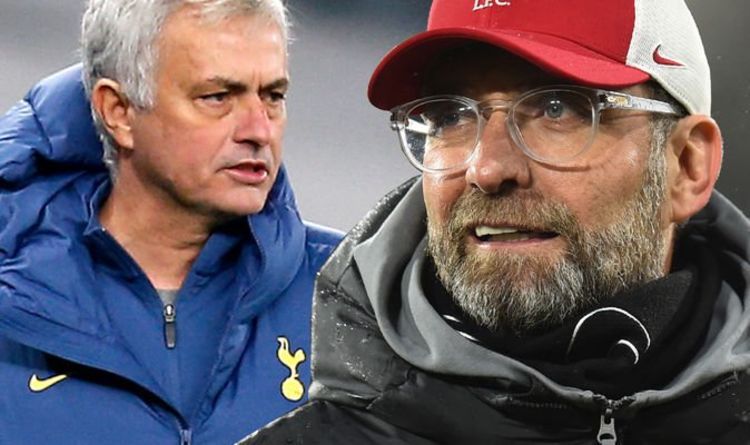 Jose Mourinho and Jurgen Klopp
The leaders of the table played the match of the month and set off another heated confrontation in the EPL. Thanks for that to "The Special One" and Anfield stadium.
It was a tight match and the outcome was only decided in the very end.
As a matter of fact, Liverpool city remained among the lucky ones: after London were sent to quarantine level-3 area on Wednesday (the "Gunners" and "Saints" match was played behind closed doors yesterday, 1-1), only the Merseyside clubs, as well as Southampton and Brighton, are allowed to let fans into the stadium.
Anfield was obviously one of the stadiums that suffered the most from the lack of spectators. The spectators always created a terrific atmosphere during the match, which greatly energised Liverpool.

In total there were about two thousand fans at the match:
The match was played in the typical style of the two teams, an attacking Liverpool and a defensive counter-attacking Tottenham Hotspur.
Surprisingly, Tottenham ended up applying more goal potential, as reflected in xG (1.29 – 1.65).
Still, all the main stats are showing that the Merseyside team was better. For example, totals shots: 17 – 8. Liverpool attackers could not get a shot past the Londoners' goalkeeper. It is reflected in the Best players of the match table below, Huho Lloris has 8.1 rating (3rd overall).
It all ended with Liverpool's brilliantly executed сorner.
That was a 90th minute header from Bobby Firmino sends Liverpool top:
Liverpool boss Jurgen Klopp speaking:
"A good game against a counter-attacking monster, we had great possession, we did incredibly well. Yes, they have scored a goal, had two chances, apart from that we controlled the game and it is a massively deserved three points and I am happy."
"For me, it is offside [the Spurs goal]. They watched VAR 20 times, but when I saw it, it is offside. There is nobody to blame, the best way to defend against Tottenham is to keep the ball all the time. It was just a really good game and I am so happy we scored that goal because it felt like 70% of the ball against a top side. Bobby , what a header, I am over the moon for him. What a game he played, those movements, he opens up all the other gaps."
On his chat with Mourinho:
"Nothing serious, he said it himself so I don't have to repeat it. No argument."
"The best team lost"

– said Jose:
Tottenham boss:
"So close to winning, yeah, not so close of a draw – so close of winning, but we missed the chances. Very good performance, of course some mistakes, some things to improve, a very unfair result. My team told me I am right when I say from the beginning of the season we go to every match to win. We played against the champions in their stadium and we had the best chances to win.
Goals:
| | |
| --- | --- |
| 1:0 | 26` Salah |
| 1:1 | 33` Son Heung-min |
| 2:1 | 90` Firmino |

Squads:
| | |
| --- | --- |
| Liverpool | Tottenham |
| Alisson, Robertson, Alexander-Arnold, Williams, Fabinho, Wijnaldum, Jones, Salah, Henderson, Mane, Firmino. | Lloris, Aurier, Davies, Alderweireld, Dier, Lo Celso (Lucas Moura, 58), Sissoko, Bergwein (Reguillon, 76), Højbjerg, Son Heung-min (Alli, 87), Kane. |

Best players:
| | |
| --- | --- |
| Roberto Firmino | 8.5 (Man of the Match) |
| Mohamed Salah | 8.2 |
| Hugo Lloris | 8.1 |
| Andrew Robertson | 7.6 |
| Son Heung-Min | 7.5 |
Liverpool are top of the table after 13 games.
Tottenham are three points behind. The team has 25 points under their belt.
The key player of Liverpool  Virgil van Dijk is injured, but the team is doing well during his absence.
On 23 November 2019, Mourinho managed his first match with Tottenham Hotspur.