Thibaut Courtois about UEFA and FIFA: 'They're against the Super League, but they just do the same'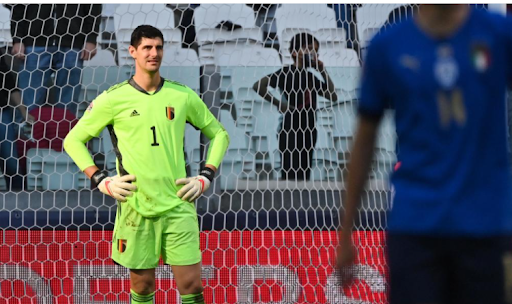 Belgian goalkeeper after conceding a goal in the Nations League match against Italy
After 2-1 defeat against Italy in the match for the Nations League bronze medals, Thibaut Courtois loudly criticized UEFA and FIFA for the endless calendar of matches and tournaments.
Recently the great streak of the Italian national team came to an end. Roberto Mancini's team was knocked out in the semifinals of the UEFA Nations League by Spain, stopping at 37 matches without defeat. But in the game for third place, the Italians seem to have started a new one.
Don`t miss out the story 👉: Italy set a new all-time unbeaten world record as they thrashed Lithuania in WC Qualifiers
The Real Madrid player in the post-match interview was not stingy with words and talked about his concerns, raising important issues for many players:
"It's just a money game, and we have to be honest about it. For UEFA, it's extra money and it's an extra game because it's on TV."

Courtois said. 
"Of course everyone wants to play, but look at how much both teams changed. If the teams had been in the final, there would have been other players playing. This just shows that we play too many games."
"Next year we have a World Cup in November, we'll have to play until the latter stages of June again – we will get injured. Nobody cares about the players. In June, after a long season, you'll have to play four games in the Nations League, you'll get two weeks holiday. That's not enough for players to continue for 12 months at the highest level. If we never say anything, it's always the same."

He continued to develop the problematics.
Don`t miss out 💥: European Super League officially announced: the new era of football? Revealing details
"They're against the Super League, but they just do the same. They put extra games, they made an extra trophy, the Conference Cup [UEFA Conference League] or whatever the name is. … It's always the same. They can be angry about teams wanting a Super League, but they don't care about the players, they just care about their pockets."

The Belgian argued about the hypocrisy of FIFA and UEFA.
Then he moved on to a topic that is quite resonant for the entire football community and concerns hosting the World Cup once every two years:
"Now you hear that they want to put a European Championship and a World Cup every year. When will we get a rest? Never. In the end, top players will get injured and injured and injured. … We are not robots. It's just more and more games, and less rest for us, and nobody cares."
France defeated Spain in the Nations League final (2-1). Goals: 1:0 – 64 Oyarzabal, 1:1 – 66 Benzema, 1:2 – 80 Mbappe.