Italy set a new all-time unbeaten world record as they thrashed Lithuania in WC Qualifiers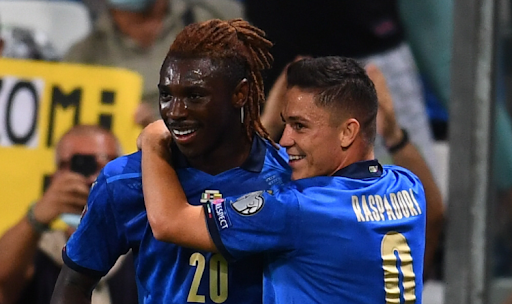 Moise Kean made a double and another youngster, Giacomo Raspadori, converted one along with providing assist: both players were born from 2000
The Italian national team defeated Lithuania (5-0) in a match of World Cup 2022 qualification. The Azzurri also set a new world record.
Roberto Mancini's team extended their unbeaten streak to 37 matches, renewing their national and world record. The last time Italy lost in September 2018 to Portugal (0-1) in the UEFA Nations League.
The previous Italian record was set between 1935 and 1939, when Italy under Vittorio Pozzo did not lose 30 consecutive matches.
The world record was set by Brazil, who did not lose for 35 matches from 1993 to 1996. Then Spain also did not lose in 35 games from 2007 to 2009.
Longest unbeaten runs:
| | |
| --- | --- |
| 36 | Italy (2018–) |
| 35 | Spain (2007–09) |
| 35 | Brazil (1993–96) |
| 31 | Argentina (1991–93) |
| 30 | France (1994–96) |
| 30 | Italy (1935–39) |
Сoach Roberto Mancini accessed the match results:
"Despite losing so many players over the last couple of days, the lads reacted well. Obviously, the opponents weren't of the highest quality, but you can't always score five or six goals, so they did well. What about our record? We're happy."
The Italian team tops the Group C table with 11 points in five games. The Swiss are in second place: they have seven points in three games.
The group winner will get a direct ticket to the final stage of World Cup 2022. The second team will play in the knockout stages.
It should be recalled, the Italian national team under Mancini won Euro 2020. In the final, the Italians beat England in a penalty shootout at London's Wembley Stadium.
The story 👉: Italy crowned champions of Euro 2020 after beating England on penalties
For the first time in their history, Italy scored 4 goals in the first 30 minutes of the match.
Roberto Mancini became tonight the third manager with the most goals with Italy (98), after Vittorio Pozzo (233) and Enzo Bearzot (115).