The Red Devils completely destroyed the Saints with a horrific score, repeating last season's storyline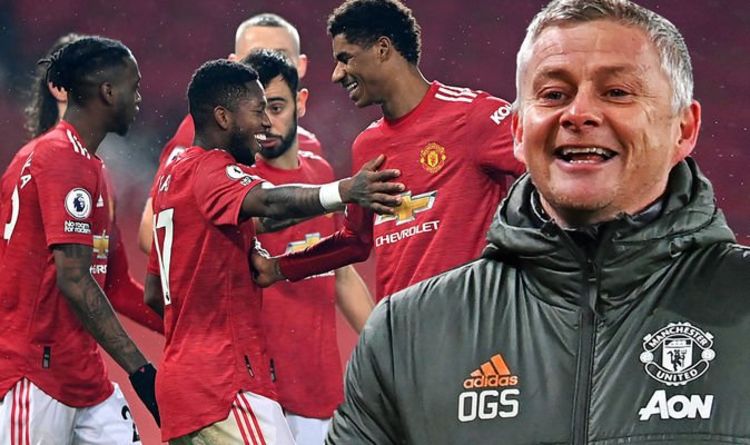 Lads from Manchester celebrating the goal and a happy coach Ole Gunnar Solskjær
Manchester United thrashed Southampton with a final score of 9-0 on Matchday 22 of the English Premier League. Bruno Fernandes was named a Man of the Match.
It is the biggest win in the history of the Premier League. MU repeated its result when it beat Ipswich with the same score in 1995, as well as the achievement of Leicester, who scored nine unanswered goals against the same Southampton in October 2019.
You can enjoy the match highlights here:
Manchester United manager Ole Gunnar Solskjaer after the game:
 "We shared the goals between the players. When the game starts like it does it's always if you can get the first goal as we have seen so many examples of 10 men closing up shop and getting a draw."
"We've been waiting for them to show the magic and it was a night for them to go and enjoy it. We've not had many times where we could just enjoy the second half. You get lots of confidence from a performance like this, scoring goals is always good for a team." 
On the first red card, he added:
"You don't see many of those tackles anymore. I'm glad Scott is well and he's got away with just a couple of bruises."
The refereeing raised questions here as well, here's what Jan Bednarek said after receiving a red card at the end of the match:
"The second sending off for them, that rule should be taken away. The other rule is the offside one when play carries on and Aaron Wan-Bissaka was hurt by it. We have called for that to be changed."

said Solskjaer after the game.
Don`t miss out 💥: Surrealistic refereeing of Man of the Match Craig Pawson helped Wolverhampton beat 9-man Arsenal.
Also, 23-year-old Marcus Rashford surpassed Eric Cantona in the scoring record and will very soon be able to score more than David Beckham (85).
Southampton manager Ralph Hasenhuttl shared his thoughts:
"It was tough when you lose a player after three minutes against such a team. It's tough 11 v 11. We tried to keep a clean sheet in the second half for as long as possible. To concede nine goals again, I can take it. We stepped up after the first one [losing 9-0 v Leicester at home last season] and will step up after the second one. The 90 minutes can be very long. The result is there and we have to live with the result again. We've had a very good season and no-one expected such an evening today."
Sir Alex Ferguson visited the match and for sure enjoyed the show:
During the 9-0 defeat to Manchester United last night, Jan Bednarek became the first player in Premier League history to be sent off, give away a penalty and score an own goal in a single match.
Bruno Fernandes scored his 10th Premier League penalty last night in just his 36th appearance, with only Andrew Johnson scoring 10 penalties in fewer appearances in Premier League history.
Luke Shaw has as many Premier League assists in the first half against Southampton as he managed in his previous 45 Premier League appearances.