Surrealistic refereeing of Man of the Match Craig Pawson helped Wolverhampton beat 9-man Arsenal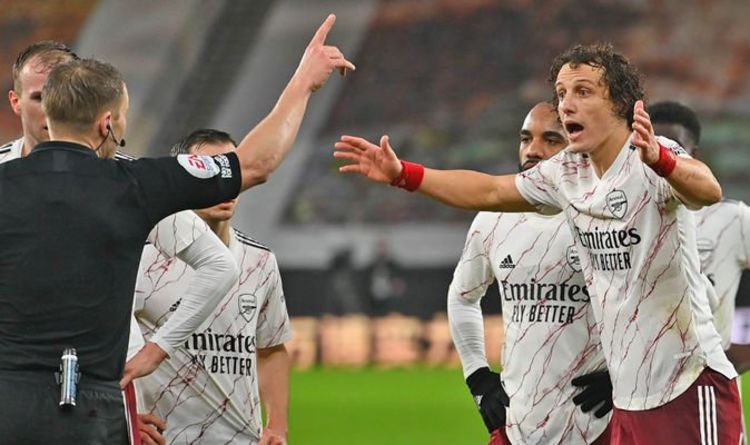 Pawson is sending off David Luiz with a straight red card after one of the weirdest moments of the match
On the 22nd tour of the English Premier League Arsenal lost away to Wolverhampton. The London club played the game with nine men after David Luiz and Bernd Leno were sent off. The final score is 2-1.
Arsenal had a great first half with many dangerous chances created from the start. One goal was canceled due to offside, Rui Patricio made some great saves as well, and finally, Nicholas Pepe scored a great goal with his right after a solo dribbling run inside the box.
But right at the end of the first half, something surrealistic happened.
Luiz fouled one-on-one Willian José, accidentally hitting him with his knee as he changed direction, the Brazilian received a direct red card without VAR (which is very controversial).
Ruben Neves converted a penalty awarded by referee Craig Pawson.
Users of Twitter have doubts about the quality of English refereeing:
The journalist Charles Watts shares his opinion:
John Terry, the legendary ex-defender of Chelsea commented:
"Never a red card! Double jeopardy… anyone who has ever played the game can see David never attempts to play the ball. He actually pulls out of the challenge. Which means penalty and no red card."
After that, at the beginning of the second half, a crazy 35-meter goal was scored by Moutinho. This will probably be a nominee for the Goal of the Month award:
Moreover, the Londoners were down to 9 men in the 72nd minute as goalkeeper Bernd Leno had played with his hand outside the box.
Reserve goalie Runar Runarsson came on in place of Thomas Partey. Arsenal and Wolves didn't manage to create any threat to the opposition goal in the last part of the meeting. The victory goes to Wolves, Arsenal are returning home with zero points.
The manager of the club on VAR:
"If they got it right and they can justify that they got it right, I put my hand up and apologise. But the only thing I'm saying is I am sitting here and I cannot see any contact and that's really frustrating because it's a big, big moment in the game."
Arteta confirms he wants to appeal Luiz's red card:
"When I am standing here I would say yes, let's go straight away because we have a big chance. But I don't know, we have to speak with legal and the club and make the decision on what's the best thing to do."
You can watch this moment in dynamics once again:
Arsenal lost in the PL for the first time in eight games. Before today's match, the Gunners had five wins and two draws in the last seven games.
Hector Bellerin`s honest assessment:
"I always say that teams are not beating us, we are losing against ourselves. It's for us to learn. Hopefully, this will be the last time. We were on such a good run, great momentum, great confidence in the team. We just need to forget this step because situations like this are not going to happen very often. We'll go on to the next one."
It is reported that both players will receive only one match disqualification.
Since Mikel Arteta's first game in charge of Arsenal on Boxing Day 2019, the Gunners have been shown nine Premier League red cards, six more than any other side.
Bernd Leno is just the second goalkeeper to be sent off in a Premier League game for Arsenal after David Seaman against West Ham in November 1993.