SC Freiburg vs Eintracht Frankfurt. Prediction and Preview. Probable Lineups, Team News, Stats and more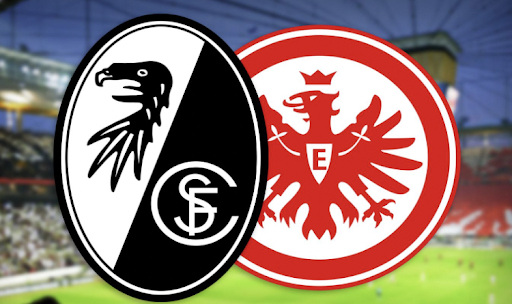 SC Freiburg will host Eintracht Frankfurt in the Bundesliga 17th-tour match at the at Europa-Park Stadium in Freiburg im Breisgau city. The fixture will take place on Thursday, January 26, beginning at 01:00 IST.
This night will bring us a top match between two very interesting teams. Before the start of the season, hardly anyone could have expected that such modest collectives would be in the top four, only five points behind the leading Bayern. Clearly, the density between second and sixth place is very substantial, but it's still a very good result for such humble sides.
Freiburg are showing very solid football throughout the 2022/2023 campaign, losing only to the mastodons of German football (RB Leipzig, Bayern Munich, Borussia Dortmund). However, the last game against VfL Wolfsburg breaks this trend; our only question is whether this 0-6 setback is an accident or the end of the endurance margin.
Eintracht, on the other hand, have not lost in official meetings for a long time, and to be more precise, they are unbeaten since October 2022. Similarly, a good streak shows and proves that Frankfurt are having a reasonably decent season.
What can we expect this night? Which team will be able to come closer to the Bavarians, who recently suffered a slip-up against 1. FC Köln? Parimatch News will tell you everything you need to know ahead of the upcoming match.
Don`t miss out 👉: 5 Indian players shining bright in their breakout Indian Super League season
SC Freiburg News & Current Form:
Before the winter break, Freiburg showed consistent football and were regarded as Bayern's main rivals.
However, their ambitions had a serious blow in the last round as Christian Streich's side, who were using a 4-2-3-1 formation, lost away to Wolfsburg 0-6. Freiburg conceded in the opening minutes and the entire game plan was consigned to the rubbish bin, the club never managed to regroup and already in the first half the question of the winner of the encounter was off the table. Streich achieved nothing through substitutions and his men looked inert. His men have managed to make only one shot on target.
"We were often just slightly too late. Wolfsburg were quicker and always there earlier, and then obviously the game developed in a way that doesn't happen with every game… Of course, the boys were also shocked with the result, we haven't experienced that before. But Wolfsburg were also very good in all areas on the day – and we were not good. The most important thing now is that the boys stay clear in their minds. There is no need for everything to be questioned on the basis of one game."

the head coach summarized.
The very fact of defeat did not embarrass much. What turned out to be surprising is the scoreline. Prior to this, throughout the season the Breisgau Brazilians have very rarely conceded more than one goal in 90 minutes, and here they conceded six goals at once. Now the team is sitting in fourth place in the standings, with 30 points. The goal difference is 25:23 – quite average indicators for Bundesliga.
The upcoming game involves a very serious and efficient scoring collective, the winners of the 2021/2022 UEFA Europa League. The Black Whites cannot afford to lose again, as a whole bunch of teams are closing in on them and not qualifying for the UEFA Champions League after the season would be a real disappointment. Now, they should definitely pick themselves up and give a good match, thereby quickly forgetting the humiliating defeat at the Volkswagen Arena.
The following facts are reassuring: Freiburg's home record this season is excellent (5 wins, 1 draw and 1 defeat) and the unbeaten streak at the Europa-Park Stadium is currently 6 matches in a row. 12 goals scored and 5 conceded. Incidentally, there is currently no team in the Bundesliga who have conceded fewer goals in their home games. There is a chance that the anger and frustration after the last match will sublimate into a momentum that will give added motivation and strength to overcome their opponents.
Eintracht Frankfurt News & Current Form:
Although Freiburg and Eintracht have the same number of points – 30 – Frankfurt tend to play more interesting football. Towards the 17th matchday, the Eagles are unbeaten in four games in a row and have climbed to second place in the standings. Oliver Glassner's men are scoring regularly, averaging 2.1 goals per game. Only Bayern are better in terms of scoring with an unattainable 50 goals in 16 games.
In the last round, Oliver Glasner's side met Schalke and won 3-0. The Eagles appeared to be performing half-heartedly, probably saving their energy for the upcoming crucial game, which basically did not stop them from winning with a thrashing score. Moreover, for the first time in the last eight meetings, the team did not concede a goal. However, don't be overly impressed – context must be given here – Schalke 04 are the worst team in Germany's top flight by absolutely every metric, dwelling at the bottom of the table with 9 points. 
The team's success is based essentially on the attacking performances of three players: Daichi Kamada (7 goals + 4 assists in 14 games), Jesper Lindström (7+3) and Randal Kolo Muani (5+11). The latter has one of the best performances in Europe, the Frenchman is currently considered Europe's top 5 assistants, surpassing even Lionel Messi and Kevin De Bruyne in terms of effectiveness (0.75 assists per 90 minutes).
The team also has a plan B upfront, the 27-year-old Rafael Borre scored a goal and assist in the last match, the Latino is ready to fight for a place in the starting line-up.
Eintracht score a lot, but the shift to the attacking area reflects negatively on the team; the defence is the weakest link of Glasner's side. Nevertheless, the away game does not deter the Eagles, as they feel very confident away (14 points in seven away games – the 2nd best result in the Bundesliga).
SC Freiburg form guide: D-W-L-W-W-L
Eintracht Frankfurt form guide: L-W-W-W-D-W
Don`t miss out 👉: Goa vs East Bengal: Preview and Prediction
SC Freiburg vs Eintracht Frankfurt Head-To-Head Record:
| | | |
| --- | --- | --- |
| SC Freiburg | Draw | Eintracht Frankfurt |
| 7 | 7 | 8 |
Вundesliga. Eintracht Frankfurt 1:2 SC Freiburg (10.04.2022);
Вundesliga. SC Freiburg 0:2 Eintracht Frankfurt (21.11.2021);
Вundesliga. Eintracht Frankfurt 3:1 SC Freiburg (22.05.2021);
Вundesliga. SC Freiburg 2:2 Eintracht Frankfurt (20.01.2021);
Вundesliga. Eintracht Frankfurt 3:3 SC Freiburg (26.05.2020).
SC Freiburg vs Eintracht Frankfurt Predicted XI:
Freiburg possible starting lineup (4-2-3-1): Flekken; Kubler, Ginter, Lienhart, Günter; Keitel, Hofler; Doan, Kyereh, Holer; Gregoritsch.
Eintracht Frankfurt possible starting lineup (3-4-2-1): Trapp; Jakic, Smolcic, N'Dicka; Knauff, Rode, Sow, Lenz; Lindstrom, Gotze; Muani.
Statistical preview of the match SC Freiburg vs Eintracht Frankfurt:
Freiburg have not lost in each of their last 10 home games.
Freiburg have scored less than 2.5 goals in 9 of the last 10 games.
Freiburg have scored in 8 of the last 9 games.
Freiburg have conceded in 8 of the last 9 Bundesliga games against Eintracht Frankfurt.
Eintracht Frankfurt have not lost in 7 of the last 8 Bundesliga away games.
Eintracht Frankfurt have scored and conceded in 6 of the last 7 Bundesliga games.
Eintracht Frankfurt have scored less than 2.5 goals in 6 of the last 7 away games.
Freiburg have won only once out of their last five head-to-head matches.
What has been said before the match:
Christian Streich, coach of SC Freiburg, said:
"We looked at a few things from the previous game… Now we have to concentrate on preparing for Frankfurt. We know what to expect. They are a top team – like Wolfsburg… Götze is a footballer who plays totally on instinct, who can read situations and knows where the space is. Lindström has brilliant agility behind Kolo Muani, who is physically very dominant."
"We have to try to go into the game with a lot of energy and conviction, but also with the necessary balance. We can play all systems. 4-2-3-1, three-man backline, 4-4-2. We'll see tomorrow what we choose. We won't stand in the back – we never do that anyway. And we won't try to just counter Frankfurt. The system doesn't win games. Behaviour wins games."
"We can't get carried away and run into situations like a headless chicken."
"We are good when everything is there. When everyone does everything to the point of total exhaustion. If we don't do that and if we don't do it with full consistency, then we are below average."
Eintracht Frankfurt's coach – Oliver Glasner – is looking forward to the upcoming match:
"It was nice to start the new year with a 3-0 win. We've analysed our performance [against Schalke] thoroughly and highlighted both the positives and negatives. We've touched on a few things in the short time we've had to train. We're travelling to Freibug with a good feeling."
"We're facing a very good team. I don't expect Freiburg to be rattled by their 6-0 defeat against Wolfsburg. They're very solid, have a lot of quality and a very experienced coach in Christian Streich, who will continue to do things his way."
"The games against Freiburg and Bayern aren't decisive at all. It's January and the first half of the season isn't even over yet. We have 30 points, which is a very good haul and one we want to build on. I'm pleased we've had a hunter in our team, which is why I've spoken to Martin Hinteregger on the phone. He's given me a few good tips (grins)."
SC Freiburg vs Eintracht Frankfurt Prediction:
The opponents are characterised by good attacking play, but at the same time insufficiently reliable defensively. The hosts have an average match total of 3 goals, while the visitors have an average of 3.7. Four of the last five head-to-head encounters between the teams have seen a total of more than 2.5, as well as an exchange of goals. These trends may be repeated this time as well.
Don`t miss out 👉: ATK Mohun Bagan signs Glan Martins on loan; Lenny Rodrigues moves to Goa
Parimatch News staff prediction:
We say: Both teams will score and the match total will be over 2.5.