Ronald Koeman is on the verge of getting sacked after a 0-3 defeat in the Champions League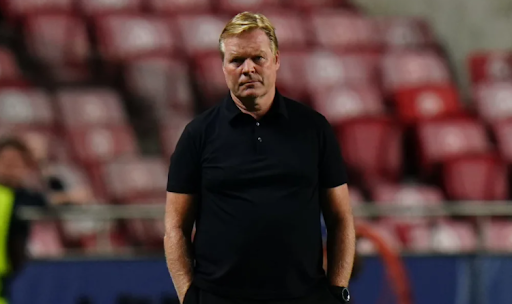 FC Barcelona have failed to score in their first two games in European competition in a single campaign for the first time in their history
Ronald Koeman will reportedly be sacked immediately if he loses his next game.
The Dutchman will continue in charge at least until the La Liga Matchday 8 game against Atlético de Madrid, which, however, he will miss due to disqualification. Perhaps the Catalan club's management need this time to negotiate with a new coach.
The specialist is under the Sword of Damocles after a string of failed matches: Ronald Koeman💥: FC Barcelona head coach calls for patience and trust
The president of the Blaugrana, Joan Laporta, сlaimed that he will not be making any hot-headed decisions after their humiliating 0-3 defeat to Benfica in the Champions League the day before.
Laporta does not want to worsen the team's mentality before a match against a major rival and still believes Barça can rebound.
Ronald Koeman after the match:
"I feel supported, very supported by my players here at Barcelona. And by the club? I don't know…I don't know what board of directors think and what they will decide about my future. It's not in my hands"
Insiders report that the board of directors are actively communicating with the two candidates, Xavi and Martinez.
While the first may lack the experience to cope with such a crisis, the second, Robert Martínez, is not available to coach the Catalan club at the moment as he is with the national team of Belgium, which is due to play next week in the UEFA Nations League. His departure is supposed to take place after the tournament, within two weeks. Also, Barcelona will have to pay for the buyout of his contract.
Andrea Pirlo is also currently on a review. He appears to be available after the termination of his latest relationship with Juventus.
And here is what the players and various experts from the world of football are saying about the situation:
"It's easy to sack the manager… the truth is we're all responsible for this situation. And it's critical situation, to be honest"

– said Sergio Busquets, one of the most experienced players in the FCB squad.
"In my opinion the solution is not to change the coach"

said Frenkie de Jong asked about Koeman's future.
"At Barça there is a war that hurts the players. I personally recommend Xavi to wait. This is not the ideal time to get to the club. He's smart he has to wait a moment"

–  Luis Suarez commented on the rumours about Xavi.
It was previously reported that the sacking and appointment of a new coach was delayed due to the deplorable financial situation of the club, with only around €13m needed to pay the Dutchman's contractual penalty and at least €2m to buy out Martinez.