Ronald Koeman: FC Barcelona head coach calls for patience and trust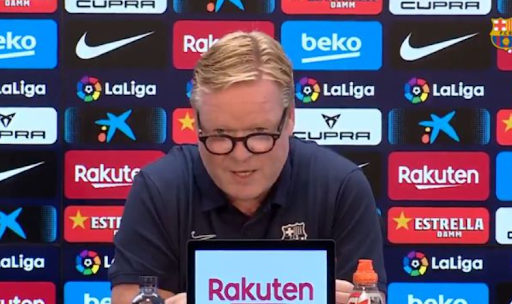 The Dutchman is under a lot of pressure at the Camp Nou
FC Barcelona head coach Ronald Koeman made a statement ahead of the Spanish league match against Cadiz. This unsanctioned act sounded like a cry for help.
The Dutchman read out a statement before leaving the press conference room without responding to questions from journalists.
Reportedly, Koeman did not coordinate such a speech with any of the management and responsible departments. It came as a surprise to them as it did to the media.
Only the Barcelona captains were made aware of Koeman's intentions a few minutes before he went to the press.
"Hello everyone, the club is with me as the coach in a situation of rebuilding. The financial situation of the club is connected to the sporting activites and vice versa. This means that we as a team have to rebuild the football team without being able to make any big financial investments, this needs time."

The specialist has hinted that times are indeed difficult for the club. 
"The young talent today could end up being the next big world stars in just a few years. In order to reconstruct this team means that young players get opportunities, like Xavi and Iniesta had in their day, but we must ask for patience. What's more, being in a high ranking in the league would be a success. This is a great footballing school for these talents. In the Champions League we can't hope for miracles. The defeat to Bayern last week has to be focused from that perspective."

The Dutchman pointed out that the focus should be on the development of young players.
"The process that we are in right now, the staff with the team, deserves unconditional support, in word and in actions. I know the press recognize this process. It's not the first time in FC Barcelona's history that this has happened. We count on your support in this difficult time. The staff and the players are very happy with the great support from the fans like we had against Granada. Visca el Barca."

the coach asked the media and fans for their unconditional support.
Koeman then stood up and left the press conference room without answering journalists' questions.
The current Catalan coach is in danger of being sacked after a series of setbacks, and every game could be decisive for the specialist.
Read more 💥: Ronald Koeman to be fired from FC Barcelona? Revealing how much it will cost
Due to the current situation, it is reported that the Barça management are working to recruit a new coach. Roberto Martinez, who works with the Belgian national team, and Xavi, who coaches Qatar's Al Sadd, are reportedly the main candidates for the replacement.