PSG Women vs Wolfsburg Women. Prediction and Preview. Probable Lineups, Team News, Stats and more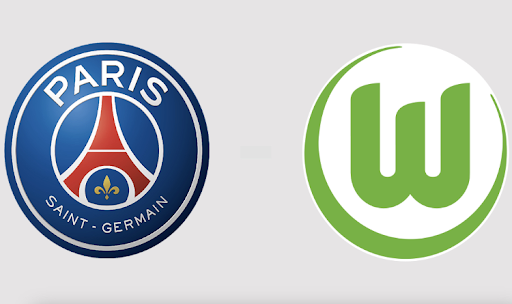 Will the PSG women's team be able to achieve what the men's team cannot?
PSG Féminines will host VfL Wolfsburg Frauen in the UEFA Women's Champions League 1/4 finals match at Parc des Princes Stadium. The fixture will take place on Thursday, March 23, beginning at 01:30 IST.

What can we expect this Thursday night? Parimatch News will tell you everything you need to know ahead of the upcoming match.
PSG Women News & Current Form:
Before traveling to Wolfsburg's Volkswagen Arena for the return fixture, PSG is set to host the German team at Parc des Princes in Paris, which has a capacity of 48,583. The winner of this matchup will then proceed to face either FC Bayern Frauen or Arsenal Women FC for a spot in the final. It's worth noting that the French women's team was given the privilege to play at this iconic stadium not too long ago. It's fantastic to witness the increasing interest in women's football, and its growth and advancement are truly exciting.
According to Kadidiatou Diani, a striker for Paris Saint-Germain, playing at the stadium is a tremendous honor.
"The fact that we are playing this great competition at the Parc des Princes is a joy for us. I hope we can welcome as many fans as possible. I remember our last match at the Parc against Real Madrid CF, the fans were shouting from start to finish. It's a really good atmosphere that gives a lot of strength and energy. It makes us want to do our best for them on the pitch."
Paris Saint-Germain are currently on a nine-game undefeated streak, with their last loss being in the Women's Champions League group stage against Chelsea FC Women (0 – 3). Interestingly, PSG Féminines are currently placed second in their group, having only secured ten points in six rounds.
Their performance in the group stage was lackluster, scoring a mere 11 goals. They seemed to struggle in creating chances and appeared to lack control, most likely due to the absence of their injured French striker, Marie-Antoinette Katoto.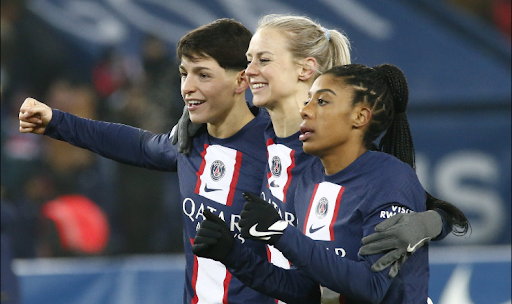 PSG Feminino have conceded six goals in the eight matches played thus far in the current season of the UEFA Women's Champions League, resulting in them being ranked as the eighth-best defense in the competition, with an average of 0.75 goals conceded per match. The players, on the other hand, have an average of 1.88 goals scored per match.
Last season, PSG Feminine lost their French championship title but managed to secure the Coupe de France Femenine trophy. The team had a remarkable journey, culminating in an 8-0 victory over FF Yzeure Allier Auvergne in the final.
This season, PSG have been given a more manageable path, leading the Parisian club to qualify for their eighth Coupe de France final. The defending champions secured a tight 1-0 victory over Thonon Evian in the Cup's semifinals, with Kheira Hamraoui scoring the decisive goal in the 60th minute to advance to the final.
The French team will be without Paulina Dudek, Barbora Votikova, and Marie-Antoinette Katoto, who are long-term absentees. Additionally, Amanda Ilestedt is expected to miss the match due to an ankle injury. In the previous match against Thonon Evian, Sarah Bouhaddi, Li Mengwen, and Oriane Jean-Francois were on the bench, but they may return to the starting lineup for the first leg.
Kadidiatou Diani, Ligue 1's top scorer and assistant this season, who has scored 25 goals, will lead the line for PSG and look to add to her tally against Wolfsburg.
"I think the goal is to win the first leg at home. However, we know that it won't be easy against a very athletic team. At this stage of the competition, there were only great teams left. Personally, I've been here for six years and this is a team we've never played against in that time. So it will be a new experience for us against this great team. It's up to us to give ourselves the resources to go and qualify,"

Diani  said.
Don`t miss out 👉: Best XI of the 2022-23 Indian Super League
Wolfsburg Women News & Current Form:
Wolfsburg is also having an impressive season, currently sitting at the top of the Frauen-Bundesliga. The team has only conceded eight goals in 15 matches played in the championship.
Although they recently suffered a rare home loss to Hoffenheim, which was their first league defeat in over a year, Wolfsburg has looked exceptional this season. Ewa Pajor, the competition's leading scorer, and Alex Popp have both contributed significantly to the team's success.
In the women's game, Lena Oberdorf is a game-changer and has been likened to Casemiro of Manchester United FC. Her exceptional strength and aggression allow her to set the tone of the game with a few early tackles. Her determined attitude is contagious and inspires her team to perform at their best.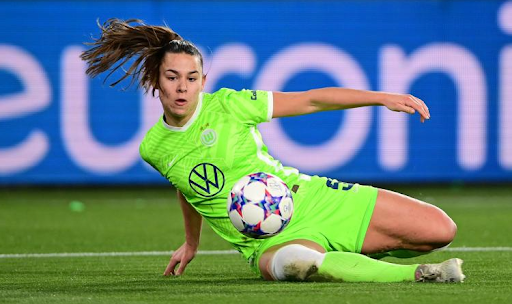 She is an outstanding player who seems to excel under pressure, particularly during significant matches. Unfortunately, she will not be available for the upcoming game due to a knee injury she sustained in a recent match.
Wolfsburg will be without Lena Oberdorf for the upcoming game, which may result in Jill Roord playing a deeper role alongside Lena Lattwein in defensive midfield. After being left out of the lineup on Friday, Lynn Wilms, Alex Popp, and Ewa Pajor are expected to return to the starting XI for the upcoming match. Ewa is currently the leading scorer for Wolfsburg in the Women's Champions League, having scored seven goals in six games.
In the Women's Champions League, the German champions secured their place in the quarterfinals by finishing at the top of Group B with 14 points from six games, having only drawn twice.
PSG have twice made it to the final of the UEFA Women's Champions League, but have yet to lift the trophy. Meanwhile, Wolfsburg, who have won the competition twice before, advanced to this season's quarterfinals after finishing top of Group B with 14 points from six games, with only two draws. Last year, Wolfsburg made it to the semi-finals of the Champions League, beating Arsenal in the quarterfinals but losing to FC Barcelona Femeni.
Wolfsburg come into the match with the fifth-best attack in the competition, having scored an average of 3.17 goals per game in their six matches this season, with a total of 19 goals. They have also conceded only five goals, for an average of 0.83 goals per game.
In their last Women's Bundesliga match, Wolfsburg secured an easy 5-0 victory over FFC Turbine Potsdam, earning all three points. During the match, Svenja Huth provided three assists, and Alexandra Popp scored two goals and provided one assist in the second half.
PSG Women form guide: W-W-W-W-W-W
Wolfsburg Women form guide: W-W-W-L-W-W
PSG Women vs Wolfsburg Women Head-To-Head Record:
| | | |
| --- | --- | --- |
| PSG Women | Draw | Wolfsburg Women |
| 1 | 0 | 1 |
April 18, 2015: Wolfsburg 0 – 2 PSF (UEFA Women's Champions League);
April 26, 2015: PSG 1 – 2 Wolfsburg (UEFA Women's Champions League).
PSG Women vs Wolfsburg Women Predicted XI:
PSG Women possible starting lineup (4-2-3-1): Bouhaddi; Li, Georgieva, De Almeida, Lawrence; Jean-Francois, Hamraoui, Geyoro; Martens, Baltimore, Diani.
Wolfsburg Women possible starting lineup (4-2-3-1): Frohms; Wilms, Hendrich, Janssen, Rauch; Lattwein, Roord; Huth, Popp, Jonsdottir; Pajor.
Statistical preview of the match PSG Women vs Wolfsburg Women:
Both teams will meet again in the UEFA Women's Champions League, marking their second encounter.
Their first meeting was in the semifinals of the tournament in 2015, with PSG emerging victorious with a 3-2 aggregate score.
In nine out of their last ten competitive games, Wolfsburg has seen at least three goals scored.
Meanwhile, PSG is undefeated in their last nine matches across various competitions, winning eight of them, including their last six in a row.
PSG has also managed to keep a clean sheet in four of their last five competitive games.
On the other hand, Wolfsburg has scored at least two goals in their previous seven away games.
Wolfsburg have scored in 17 of their last 19 Champions League quarter-final games.
What has been said before the match:
Tommy Stroot, Wolfsburg coach, about the quality of the upcoming clash:
"When you go through their team, PSG have very high individual quality. We're looking forward to a top-class game."
PSG coach, Gerard Precheur ahead of the UWCL game:
"A lot of desire and pleasure indeed. We love this stadium, it is perhaps the most beautiful lawn in the world. Therefore, it is easy to prepare in the mental approach since we know that everyone wants to be there. Where you have to be sharp is on the tactical level. We have started to disclose it to the players and we still have today's training to be a little more precise."
"Yes, as I always say. We need supporters, it's important for us. Tomorrow is an event in this magnificent stadium. I learned that we are already more than 15,000. I would like to appeal to the supporters: if we could get closer to 20,000 people tomorrow evening for this great match, that would be fantastic."

Laurina Fazer, PSG midfielder, shared her expectations about the game and the team's state:
"The most important thing I take away is the team's mentality. We stayed together. That's important because it's a competition with tough matches. I hope that we will continue in this way with the quarter-finals coming up."
"VfL Wolfsburg are not necessarily an opponent we are used to facing. It's up to us to analyze them well and to work hard in training to be as good as possible on the pitch. I hope we can do well, especially at the Parc des Princes."
"Yes, of course, because for me the Parc des Princes is one of the most beautiful stadiums, especially when it is full with our fans. We will try to give back to them and I hope we can start this new year well with this Champions League match."
"We know that the return match will be difficult away from home. The goal is to take advantage of this first game with the fans behind us to take the lead. We'll try to make it easier for ourselves at home."
PSG Women vs Wolfsburg Women Prediction:
Wolfsburg (W) represent one of the strongest female teams in the world. The Germans now top the Bundesliga standings, and in their last 29 games in all competitions, the visiting team have suffered just one defeat! In the group stage, the White-and-Greens were unbeaten, wrapping up in first place with just two draws.
PSG (W), meanwhile, have remained unbeaten in nine matches in a row, It should also be noted that the French team's productivity is quite low: PSG (W) have scored only 11 goals throughout the group stage. The Germans, in turn, can boast one of the best defenses in Europe – eight conceded goals in 15 games. Given that the Wolves have conceded only five goals in six recent games, it makes sense that the home side probably won't score much in the forthcoming contest.
Don`t miss out 👉: Top 5 foreigners of the 2022-23 Indian Super League
Parimatch News staff prediction:
We say: Wolfsburg will not lose and PSG's individual total will be less than 1.5 – Yes.