Best XI of the 2022-23 Indian Super League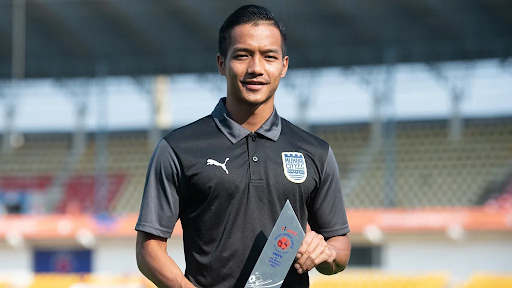 Mumbai City's Lallianzuala Chhangte won Hero of the League award
The 2022-23 Indian Super League edition saw Indian football reaching new heights, with the teams looking more polished and the competition being more cut-throat than ever before. ATK Mohun Bagan defeated Bengaluru on penalties to become first-time champions, while in terms of individuals, we also saw many first-time stars among some renowned old names.
Let us have a look at the best XI from the 2022-23 Indian Super League:
Goalkeeper: Vishal Kaith
Vishal Kaith made himself a penalty hero among the ATK Mohun Bagan supporters, especially after his sensational stop to deny Bruno Ramires in the final, but keeping that aside, his usual performances have also been top-notch for the Mariners.
Kaith won the golden glove by a country mile as he kept 12 clean sheets in 24 matches, with his nearest opponent being five clean sheets too far. Moreover, he also turned out to be a sensational shot-stopper, playing a huge part in his team's title win. The lad from Himachal Pradesh made 67 saves in 24 games.
Defenders: Asish Rai, Mehtab Singh, Sandesh Jhingan, Subhasish Bose
The second entrant from the champions on our list is Asish Rai, the right-back who had an absolutely stellar season. His positioning sense caught everyone's attention, as the Sikkimese player topped the list for interceptions with 54 interceptions in 24 matches.
Another crucial attribute of Rai's game was his industry. Known for bombing up and down the wing and covering every blade of the grass, he made a staggering 1501 touches this season – second among his team. Besides that, he also has an assist to his name.
Mehtab Singh has been a part of Mumbai City for three seasons now, but it is only this season that he emerged as among the most promising centre-backs in the country.  He played 19 matches for the Islanders and helped his team keep clean sheets in 7 of those games.
Although it is not very common for a central defender to have a great number of touches, Mehtab is an exception as he made 1385 touches, less than only Ahmed Jahouh from the Mumbai City team. Besides that, his 25 interceptions also had a role to play in Mumbai City's League Winners' Shield-winning campaign.
After a poor 2021-22 campaign with ATK Mohun Bagan, Sandesh Jhingan has rediscovered his lost form in Bengaluru colors. The veteran centre-back might now have a medal around his neck to show for it, but he can be proud of playing a crucial part in his team's journey from the doldrums to the final.
The Kerala-born defender played 22 matches for the Blues, in which Simon Grayson's team kept six clean sheets. Besides that, Jhingan also made the most interceptions by any Bengaluru player (38) and was among only the three Bengaluru players who made over 500 successful passes.
A massive reason behind ATK Mohun Bagan's success this season has been their strength on the flanks, which could not have been possible without the amazing full-back pairing of Rai and Subhasish Bose. Playing as a left-back, Bose had a superb season where he helped his team keep 11 clean sheets in the 23 matches that he played.
Known for his accuracy, Bose also made 844 successful passes, behind only Pritam Kotal in the Mariners' team. All of that being said, the best trait about the left-back was his knack for snatching possession with his brilliant tackles. The local lad from Kolkata made 39 successful tackles – the most by any player from Juan Ferrando's team.
Defensive Midfielder: Ahmed Jahouh
Irrespective of where his team ends up on the league table, Ahmed Jahouh has made it a habit to feature on the best XI lists at the end of the season. The Moroccan midfielder had yet another fantastic season, where he was seen playing the role of Mumbai City's bridge between defense and attack.
From the attacking perspective, Jahouh had five goal contributions in two goals and three assists. Besides that, he also made the most successful tackles by any Islander (49), had the most touches from his team (1538) and also made the second-highest number of successful passes (1001).
Attacking Midfielders: Lallianzuala Chhangte, Greg Stewart, Sivasakthi Narayanan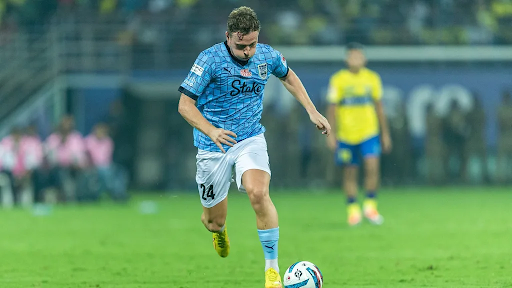 There can be no questions about Lallianzuala Chhangte winning the Hero of the League award, as the Mumbai City winger was the best Indian outfield player in this season's ISL. He scored 10 goals in 20 matches for Des Buckingham's team, while also getting six assists.
He scored two goals each against Jamshedpur, ATK Mohun Bagan, Goa, and Odisha, while also scoring one goal each against Bengaluru and Chennaiyin. The Mizo winger created a staggering 33 chances for his team and also took 51 shots, of which 29 were on target as well.
Greg Stewart took absolutely no time to settle in the Mumbai City set-up and was among the main reasons behind Buckingham's team winning the League Winners' Shield. In 18 matches, the Scotsman scored 8 goals and had 7 assists to his name.
The former Rangers player scored two goals each against Chennaiyin and Goa, while his other four goals came against Hyderabad, East Bengal, Kerala Blasters and NorthEast United. He had the most shots (62), the most shots on target (36) and created the most chances (55) by any Islander.
Sivasakthi Narayanan had been on the scoresheet for Bengaluru last season as well, but the 2022-23 edition is when he entered the same bracket as the big guns. The second Blues player on our list, he scored 6 goals and gave 3 assists this time around.
The youngster from Tamil Nadu netted braces against Chennaiyin and Goa, while also finding the back of the net against NorthEast United and Jamshedpur. Besides that, he also created 14 chances and took 28 shots, of which 11 were on target.
Strikers: Diego Mauricio, Dimitri Petratos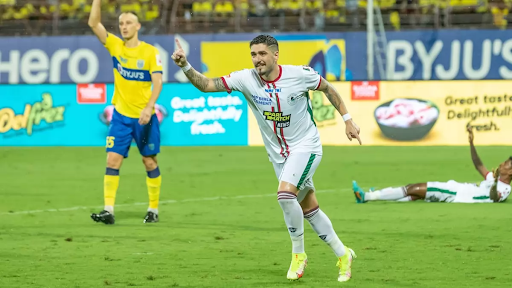 While three players were tied on 12 goals, Diego Mauricio won the Golden Boot for taking the least minutes to reach the figure. Odisha might have had another disappointing season where he failed to qualify for the semi-finals, but their Brazilian marksman was on song.
Mauricio scored two goals each against Jamshedpur, Chennaiyin, East Bengal and Mumbai City, whereas his other four goals came against Bengaluru, Goa, NorthEast United and Hyderabad. He also had four assists to his credit.
Like Mauricio, Dimitri Petratos also scored 12 goals this season, although he played more minutes. The Australian striker adjusted to the Indian playing conditions quite smoothly, before firing all cylinders for the Mariners.
Petratos had a liking for Kerala Blasters, Bengaluru, and Odisha in particular, as he scored ten goals against those three teams. Besides that, he also found the back of the net against Goa and Odisha. The former Newcastle Jets player also made the most assists (11) by any ATK Mohun Bagan player.
Best XI of 2022-23 ISL (formation: 4-1-3-2) – Vishal Kaith; Asish Rai, Mehtab Singh, Sandesh Jhingan, Subhasish Bose; Ahmed Jahouh; Lallianzuala Chhangte, Greg Stewart, Sivasakthi Narayanan; Diego Mauricio, Dimitri Petratos.