Neymar fumes 'the beautiful game is over' as Lyon star Lucas Paquetá was booked for attempting a skill move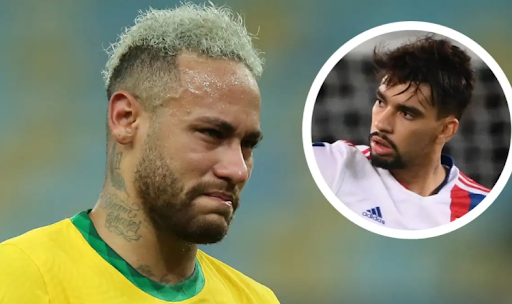 The Brazilians have always been famous for their dribbling abilities
PSG striker Neymar reacted to the yellow card shown to his compatriot Lucas Paquetá, who plays for Lyon.
The 24-year-old midfielder attempted a rainbow flick in one-on-one situation at the end of the Ligue 1 round 7 match against Troyes (3-1).
After that, the main referee Stephanie Frappart showed the Brazilian a yellow card.
Neymar stated in an Instagram story post:
"This episode is very, very sad, receiving a yellow card for a dribble..The technical gesture is a solution, no matter where it takes place and no matter what minute it is performed. The same thing happened to me last season. This year, it's happened to Paqueta. Honestly, I don't understand the reasons. The famous 'Joga Bonito' [beautiful game] is over. Enjoy while it lasts."
As there was no serious foul play on the part of the midfielder, it is most likely that he was penalized for mocking his opponent. others believe that Frappart showed the yellow card because the attacking midfielder refused to listen to her on the pitch.
Don`t miss out 💥: Ronald Koeman: FC Barcelona head coach calls for patience and trust
Stephanie Frappard became the first female referee at a men's Euro. The 37-year-old Frenchwoman worked as a reserve referee at the games.
The Brazilian national team in which Lucas Paqueta and Neymar Jr. play shoulder to shoulder lost to Argentina 1-0 in the Copa America final this summer.