MLS All-Stars vs Arsenal. Prediction and Preview. Probable Lineups, Team News, Stats and more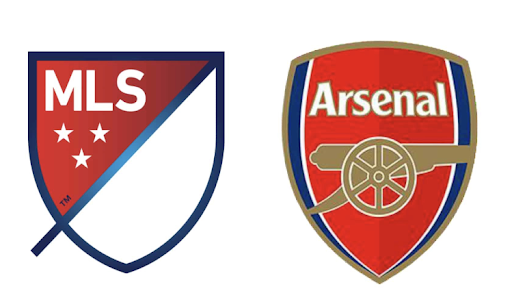 The Gunners have seriously increased their power this summer and are ready to challenge for the EPL heights again. Does the American-league squad have a chance?
MLS All-Stars will host Arsenal in the friendly pre-season match at the Audi Field Stadium, Washington, D.C. The fixture will take place on June 20, beginning at 06:00 IST.

What can we expect this Thursday night? Parimatch News will tell you everything you need to know ahead of the upcoming match.
MLS All-Stars News & Current Form:
The All-Star Game, a beloved event in American football (or soccer, as it is known), has been a cherished tradition since 1996. Initially, it showcased the top players from different conferences, but it has evolved into an exhilarating contest between the All-Star team and esteemed European and Mexican clubs.
"North America is driving a lot of the energy and a lot of the potential value of soccer on a global basis, and we believe that MLS is one of the drivers of all of that energy. All of the opportunity and energy and excitement about what's going to happen over the next number of years is going to have the whole world saying, Well, they finally got it."

says the main figure of the American football, MLS Commissioner Don Garber.
In the previous two consecutive years, the MLS side went up against a team consisting solely of Mexican championship stars and emerged triumphant on both occasions, securing a 2-1 scoreline. And now, finally, the fans will see the best XI of the country playing against really big club. And this upcoming encounter with English Premier League opponents will mark the All Stars' tenth meeting, having emerged victorious in five of the previous nine encounters. Notably, this will be their first such clash since 2016.
"We were talking to Arsenal way before Declan was available in the transfer window. It's an added benefit to have one of the best young English players to add to the drama of the All Star game. The first call was made to Josh Kroenke in saying hey this is a good idea. Let's figure out a way to have something special knowing that the game is going to be in the nation's capital."

says Don Garber.
The MLS Stars are a team that typically convenes once a year in the summer, during a break in the national championship. At present, both conferences' clubs have recently concluded their matches and are on a hiatus until the scorching summer temperatures subside. They will not resume until the end of August. While some players are enjoying a well-deserved rest, the crème de la crème has been called upon to participate in several intriguing fixtures, including a potentially thrilling encounter with Arsenal, who have been the most vibrant and surprising team of the 22/23 season.
Naturally, past results hold little value when assessing the current team's form. The lineup is in a constant state of flux, as are the tactics employed. Despite the lack of established chemistry, the team has displayed commendable creativity. Success largely hinges on the individual skills of the players, with the appointed coach aiding in establishing some link-ups. The team is currently under the guidance of Wayne Rooney, a well-known former English Premier League player and the current manager of DC United.
The All-Star squad, meticulously assembled from a pool of 28 players, underwent a rigorous selection process. Twelve players were chosen through a combination of fan, media, and player votes, while Rooney personally handpicked 14, and MLS Commissioner Don Garber added 2.
Noteworthy talents within the squad include Hani Mukhtar, Luciano Acosta, Denis Buanga, Cristian Espinoza, and Christian Benteke. The team also boasts international stars like Walker Zimmerman, Jesus Ferreira, and Jordan Morris, who are part of the US squad for the upcoming World Cup. However, Lionel Messi is ineligible to participate due to his recent move to Inter Miami.
Thiago Almada, the first MLS player to win a World Cup with Argentina, and Carlos Gil, the season's leading provider of assists, further enhance the team's strength.
The MLS All-Stars are determined to put up a valiant fight against a formidable opponent. Motivated to prove themselves amidst the talented cohort from the English Premier League, it is evident that the MLS All-Stars will be playing the second-fiddle role in this encounter. Nonetheless, the team must strive to create scoring opportunities against their opponents' resolute defense.
Arsenal News & Current Form:
Get ready for a thrilling showdown as the MLS's top eleven goes head-to-head with the most expensive team in the world. The London club's roster carries an estimated value of £1.08 billion, a staggering sum that is nearly equivalent to the total worth of all 29 team's squads in the MLS combined.
The ambitions of Arsenal become clear when we consider the club's owner, Stan Kroenke. A man with an unparalleled record of success in the NHL, NBA, and NFL, Kroenke's quest for triumph in the foggy realm of English football remains unfulfilled, with Arsenal being the exception in his portfolio of champion teams.
However, the winds of change blow fiercely at the Emirates Stadium. The era of Arsène Wenger's struggles for self-sufficiency, which left fans disheartened, has given way to the reign of Mikel Arteta, which brings a renewed sense of hope. This ambitious project has taken firm root, thanks in no small part to the significant financial infusion from KSE, headed by Josh Kroenke, the more actively involved son of the 75-year-old patriarch. Since 2019, a staggering sum of £596.95 million has been entrusted to Arteta and Edu Gaspar, empowering them to acquire 24 players (+ 4 free agents) as part of a comprehensive 5-year plan to revitalize the team.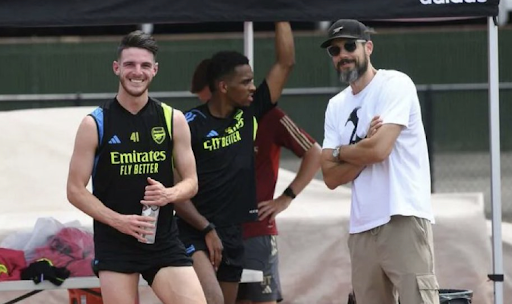 The fruits of their labor are already ripening before our eyes. Even in the 22/23 season, Arsenal, boasting the youngest squad in the league, exceeded expectations by mounting a serious challenge against Manchester City. Their competitors have taken notice, and the Gunners are no longer to be underestimated. The club's relentless drive for success is exemplified by their significant off-season spending, surpassing £174 million on transfers alone. While the acquisitions of Declan Rice, Kai Havertz, and Jurrien Timber have fortified their ranks, departures such as Granit Xhaka, Pablo Mari, and Ainsley Maitland-Niles have made way for new blood. It is widely rumored that further notable signings and strategic sales are on the horizon, provided they align with the club's favorable terms.
Having already contested two friendly matches in July, both ending in 1 – 1 draws against Watford and Nurnberg respectively, Arsenal's hunger for victory remains unquenched. Notably, during the encounter with the German team, manager Mikel Arteta made a staggering 11 substitutions in the second half, with the only goal of the match scored by Bukayo Saka in the seventh minute, courtesy of a pass from Ben White.
With anticipation mounting, Arsenal enters their upcoming match determined to secure their first triumph of the pre-season. The spotlight shines brightly on the Gunners' attacking force, as they seek to make an emphatic statement and showcase their exceptional capabilities.
Arsenal pre-season form guide: D-D
MLS All-Stars vs Arsenal Head-To-Head Record:
| | | |
| --- | --- | --- |
| MLS All-Stars | Draw | Arsenal |
| 0 | 0 | 1 |
Over the course of their history, the MLS All-Stars have competed against Premier League teams on nine occasions, emerging victorious in five matches while suffering defeat in four encounters.
30/07/05, MLS All-Stars 4 – 1 Fulham;
05/08/06, MLS All-Stars 1 – 0 Chelsea;
24/07/08, MLS All-Stars 3 – 2 West Ham United;
29/07/09, MLS All-Stars 1 – 1 Everton (Everton won 4 – 3 on penalties);
28/07/10, MLS All-Stars 2 – 5 Manchester United;
27/07/11, MLS All-Stars 0 – 4 Manchester United;
25/07/12, MLS All-Stars 3 – 2 Chelsea;
29/07/15, MLS All-Stars 2 – 1 Tottenham Hotspur;
28/07/16, MLS All-Stars 1 – 2 Arsenal.
MLS All-Stars vs Arsenal Predicted XI:
MLS All-Stars possible starting lineup (4-4-2): Burki; Hollingshead, Glesnes, Zimmerman, Tolkin; Almada, Herrera, Puig; Mukhtar, Benteke, Bouanga.
Arsenal possible starting lineup (4-3-3): Ramsdale; Timber, Saliba, Gabriel, Tierney; Jorginho, Rice, Havertz; Saka, Jesus, Martinelli.
Statistical preview of the match MLS All-Stars vs Arsenal:
Arsenal are the second highest scoring team in the EPL, averaging 2.31 goals per game over the course of the 22/23 season.
MLS All-Stars have scored and conceded in 9 of their last 10 matches.
The Londoners have also seen an exchange of goals in 10 of their 14 recent games.
MLS All Stars have won only 2 of their last six matches against English teams.
What has been said before the match:
Wayne Rooney says he won't be overthinking things before the game, noting that the encounter certainly won't look like a beach walk either:
"My main message will be: 'Go out and have fun'. I'll just put them in a shape and give some basic details, because there'll be so many changes that you can't do much more than that. But I think we'll compete. We have some really good players. They'll make it a difficult game for Arsenal."
"I thought they had a fantastic season. It was a huge step and the signings they've made have been huge to kick on and challenge City. I think Liverpool, Chelsea and hopefully Man U will be better. I think Arsenal have made some great signings and they'll compete again."

the Englishmam says commending the progress of the Londoners.
He also praised the vis-à-vis on the coaching bridge, emphasizing the importance of learning:
"I think he's done incredible to go in at Arsenal and he won the FA Cup in the first season and really pushed City last season. Still as a young coach. It's great to see. Everyone coaches in their own way. He's been fantastic. I'm sure working with Guardiola helped him. That's where you want to get to as a young coach. I'm going through the steps to try and do that where Arteta has already been through that and had probably the best training under Pep."
"Pep Guardiola has been one of the best things that has happened to English football, for the league and national team, some of the coaching has really helped them develop as players. Goes in cycles. Unfortunately it is Man City's time."
Mikel Arteta before the game:
"I'm very excited. Tomorrow's experience is going to be great. It starts tonight with all the challenges that the players have against each other and it's going to be a special, very unpredictable game. Obviously, we're going to change a lot of players as well, but it's great to be invited and to be part of this, and hopefully we can give something back to the fans here."
"Hopefully the rhythm won't be different and our rhythm will be better than theirs. That's what we are hoping and we always want to play our way, be dominant and it doesn't matter who we play against, that's the attitude that we have. It is very early in the pre-season and we know that. The teams we're going to be playing in the next few days are going to be very different. But tomorrow is going to be a challenge. The heat is going to play a part as well, the conditions, but we have to get used to it, to win and play that we want to play under any circumstances. It's a great test for us." he touches upon his view on the game.
MLS All-Stars vs Arsenal Prediction:
This forthcoming encounter should be regarded as an exquisite exhibition rather than a mere contest of prowess. Brace yourself for a riveting spectacle that promises a cornucopia of goals. Esteemed stars from the MLS will grace the pitch, poised to showcase their skills against an Arsenal side teeming with attacking intent. Such matches bear the responsibility of championing the sport and fortifying its brand, particularly in light of the imminent 2026 FIFA World Cup, which will grace the shores of the United States and Mexico. It is the open, exhilarating nature of this game, resplendent with fleeting moments of brilliance, that will serve to propagate the love for football. In essence, it extols the virtues of the beautiful game, shunning the notion of a win-at-all-costs mentality. Both teams will strive to captivate and enthrall a crowd of 20,000 ardent supporters congregated at the illustrious Auid Field Stadium. In a spirited exchange of attacks, they will relentlessly pursue the coveted goal net, promising a prodigious tally of goals. However, it is Arsenal who loom as the favorites in this encounter, given their colossal disparity in class and unyielding chemistry.
Don`t miss out 👉: Revealing The Complete 2023/24 Pre-season Schedule Of Europe's Top Clubs: All You Need To Know In One Place
Parimatch News staff prediction:
We say: Arsenal will win; both teams will score; the match total will be over 2,5 – Yes.