Manchester United vs Burnley. Prediction and Preview. Probable Lineups, Team News, Stats, and more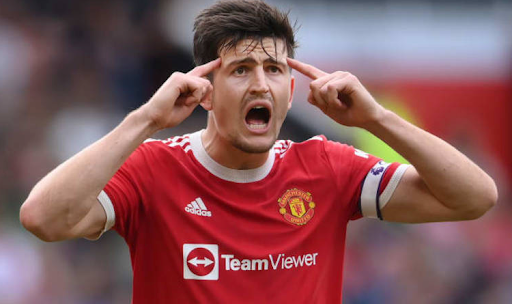 Man Utd captain Harry Maguire
Manchester United F.C. will meet with Burnley F.C. in the EFL Cup 1/8 match at the Old Trafford stadium. The fixture will take place on Thursday, December 22, beginning at 01:30 IST.
English football comes into action right after the FIFA World Cup 2022. While we have to wait for the Premier League a little bit more, the EFL League Cup сlashes will serve us as an aperitif. After a long pause, Manchester United resumes a competitive journey with a 3rd tier domestic cup knockout game against a team from a lower division. It may seem that it should be an easy walk for the lads of Eric ten Hag, however, the in-form band of Vincent Kompany aim to end the Red Devils' journey very early.
Parimatch News will tell you everything you need to know ahead of the upcoming match.
Manchester United News & Current Form:
For Manchester United, this match will be the first official one without Cristiano Ronaldo. The Red Devils are now learning to cope without their top star. All because of the interview he gave before leaving for the Mundial. In the space of six months, Cristiano's role in the team has been reduced to a minimum, partially causing a conflict between him and the head coach. All this led to the termination of his contract.
Don`t miss out 👉: Cristiano Ronaldo washes his hands and leaves the Red Devils' сamp while owners put the club up for sale
The form of MU before the match is questionable. There are reasons to be concerned: in the first game of the winter off-season, the team lost 2-4 to Cadiz. Four conceded goals from the next-to-last team in La Liga is too much even considering the personnel issues.
A few days later, MU lost to Betis, 0-1. Even though these are only friendlies, the Red Devil worrying inputs before the competitive football restart. And even before the break, Man Utd has looked sluggish at times this season. Probably, the end of December looks to be challenging for players of Erik ten Hag, and these upcoming couple of matches will define the mood in the camp for the whole winter.
Like other top clubs, Manchester United has not played an official match for over a month. The last game was on November 13 in the English Premier League against Fulham 2-1, after which some players went on holiday and the rest went to Qatar.
A total of 14 players were released from the team for various national teams for the Mundial. And of course, after such an intensive World Cup campaign, they did not have enough rest and proper training for the match. In this regard, Burnley, who came out of the break a little earlier and has already managed to get into the playing rhythm, has an advantage.
Predicting how well the players will find their momentum is difficult, but in any case, a match against such a defiant opponent in England's third-status tournament will be a natural test. Lisandro Martinez will be celebrating the title with Argentina for a long time to come, while Raphael Varane went all the way to the tournament with France and also needs a rest (especially considering he has an injury).
Antony, Marcus Rashford, Fred, Harry Maguire and others may need time to recover from their heavy defeats as well. In general, not the strongest of the squad is likely to take to the pitch, with the reserves and young players hoping to get their chance.
Besides, even the substitutes are likely to miss a not-so-important meeting in order to have enough time to recover for the Premiership. Axel Tuanzebe is on the sidelines due to his injury. Diago Dalot most likely will miss this game too. As a reminder, he got problems with his hamstring during the World Cup journey.
And a lot of the responsibility for this poor personnel situation lies largely on the management of the team. All these huge salaries, not the most reasonable enormous sums paid for average players, are edged by a strange policy of contract extensions. The case of the ex-Mancunian Ander Herrera serves as an example here, he has recently commented on how he left MU in the interview:
"It was difficult to leave United as I was expecting a contract extension offer. Now is not the best time to speak ill of anyone and I am not going to do that. However, after three seasons with the club, I expected a bit more from the club. After winning the best player of the season award according to the fans that summer, I was expecting a call from the club as they have done with other players – I was hurt by that".
The same can be applied to the previously mentioned Ronaldo, Paul Pogba. Understandably, no player should be above the club, but what kind of reassurance plan is being followed by the Glazers and Сo. in such cases?
As sources say, the management is actively searching for solutions on the winter transfer market, with Manchester United trying to lure an outstanding young player Jude Bellingham, who is currently playing for Borussia Dortmund.
We'll see in the near future, whether he agrees or not. Who knows, maybe Jude is the key to raising Old Trafford from the knees. But for now, the situation looks dire for the team of Erik ten Hag, they have to do something special to remain in contention for the League Cup. Perhaps the young lads will shine and help the team, but we shouldn't expect too much from them.
Burnley News & Current Form:
While the MU players were having fun in Qatar and having a light training camp in Spain, the Burnley players were working hard. The restart of the EFL Championship took place on 10 December, so the Clarets have already played two matches – convincingly beating Queens Park Rangers 3-0 and Middlesbrough 3-1. Thanks to these successes, Kompany's side have maintained a three-point lead over Sheffield United.
At the moment, Burnley enjoys the stay at the top of the EFL Championship table after 23 rounds, in which they have accumulated 47 points. It is very likely that we will see this team back in the Premiership the very next season.
It could even be said that the Clarets now are better than their previous version, who were eliminated from the EPL last season. The team needed a makeover and they got it. A promising young coach with interesting ideas has arrived to rescue them. Now, men coached by Vincent Kompany have a four-match winning streak with a goal difference of 12-2.
It seems the former Manchester City captain has worked hard on his team's playing style. Seems really fresh and entertaining. And this was achieved without really strong financing. In fact, the opposite can be said – all the team's stars left after the relegation and the Belgian had to build a team from what he had – young guys willing to tear and thrash. The Clarets could only afford point-to-point reinforcements, with the main signing being 25-year-old winger Benson Manuel Hedilazio (€4m).
None of this has stopped the 36-year-old coach from building and setting up a splendid system, now Burnley are simply beyond recognition. With a win over star-studded MU, they can make a very loud statement, causing EPL fans to look forward to their return to the Elite.
The Clarets have all the injured back in form, except for Scott Twine. He got injured while appearing as a late substitute against Middlesbrough. There were minor health problems for Anass Zaroury, who arrived from Morocco, but he too has been put back on his feet.
Manchester United form guide: W-L-W-W-L-L
Burnley form guide: W-L-W-W-W-W
Manchester United vs Burnley: Head-To-Head Record:
| | | |
| --- | --- | --- |
| Manchester United | Draw | Burnley F.C |
| 65 | 24 | 45 |
December 28, 2019: Manchester United 2-0 Burnley (Premier League);
January 22, 2020: Manchester United 0-2 Burnley (Premier League);
January 12, 2021: Manchester United 1-0 Burnley (Premier League);
April 18, 2021: Manchester United 3-1 Burnley (Premier League);
December 30, 2021: Manchester United 3-1 Burnley (Premier League);
February 8, 2022: Manchester United 1-1 Burnley (Premier League).
Manchester United vs Burnley F.C. Predicted XI:
Manchester United's possible starting lineup (4-2-3-1): De Gea; Wan-Bissaka, Maguire, Lindelof, Malacia; McTominay, Eriksen; Elanga, Van de Beek, Garnacho; Martia.
Burnley's possible starting lineup (4-2-3-1): Peacock-Farrell; Taylor, Harwood-Bellis, Beyer, Maatsen; Cullen, Bastien; Manuel, Brownhill, Churlinov; Barnes.
Statistical preview of the match Manchester United vs Burnley:
In the league, MU have conceded quite a lot: 20 goals in 14 games.
Burnley have won their last four games.
Burnley have only lost one of their previous 22 games.
Burnley are conceding an average of 1.40 goals per game in their last 5 games.
Burnley are scoring an average of 2.80 goals per game in their last 5 games.
Manchester United are conceding an average of 2.20 goals per game in their last 5 games.
Manchester United are scoring an average of 1.80 goals per game in their last 5 games.
What has been said before the match:
Erik ten Hag, manager of the Red Devils, said:
"We make progress. If you see we are again a really young team, they[Betis] have an experienced team, so first-half was okay, we also had some good attacks but you see there are no routines in this team".
"But we were better than in the game against Cadiz, also from the intensity, so I was quite happy with the first-half. Second-half, bad start, indisciplined and it killed us against Cadiz and now again. We really have to step up".
"When you all calculate in the end, I think we had a good week. There was a good spirit, the lads worked really good, really hard".
"The main objective was better fitness, I think we did it, we made progress there. Also, integrate some young lads, integrate them in the way of playing, in the way of intensity, so the step up with some of them I was quite happy. So that is a big win for the future".
Scott McTominay, MU midfielder, said:
"Obviously, for us, it's a very different year in terms of the World Cup and things that have been going on. Some of us have had a break and some of us have been training and some of us were at the World Cup".
"When everyone comes back, they're pretty much ready to train again and the games come really quick. For a squad, it's good to have everyone back now. We've had a lot of players who have come back".
"I think every time we've played Burnley, over the years, it's been difficult. For us, we will prepare as we normally do. We've got a lot of players coming back which we're so happy about, and I'm sure the manager will be as well".
"We've had some amazing games at Old Trafford this year, where they literally are the heartbeat of the entire place".
Vincent Kompany commented on the upcoming match:
"I think for us it gives us the chance to measure ourselves against some of the best and see how close we are. It's a game we want to perform in and improve in and measure where we're at, so we'll treat it like all the other games".
"That in itself is more exciting for me, more than the fact we're going to Old Trafford, it will be a test and we look forward to it. For me, it's going to be about discovering how close or how far we are, everything else around it will be what it is".
Manchester United vs Burnley Prediction:
The Mancunians have endured the disappointing separation with Ronaldo and now there should be a sterile atmosphere in the team that will help them produce results. But it is not certain that the Red Devils will be able to achieve their objectives against the likes of Burnley. A lot of the core players have just returned from a tough World Cup and will not be in great form. And the expected mixed non-optimal squads always need time to harmonize. Will the visitors give them time to unleash themselves? Not a sure thing.
Burnley are on the rise, leading a very competitive Championship side and scoring 46 goals in 23 games (best in the league) speaks volumes. This season, Burnley have left the field just once without a goal, and that was back in August. There's every reason to take a closer look at the underdog, who is only such on paper. In addition, there is the factor of much experienced ex-Man City Kompany, who knows what to do in games against MU.
There is also another significant aspect – motivation. The Bordeaux side will be determined to overcome a top-flight opponent, no matter how prestigious the tournament – this is a chance to prove themselves, to demonstrate that they are ready to come back. In contrast, for MU it will be difficult to tune in against a team from the Championship, even in the League Cup.
Parimatch News staff prediction:
We say: Burnley to win with a handicap (+1) – Yes.
Don`t miss out 👉: Lionel Messi finally wins FIFA World Cup despite Mbappe's hat-trick