Manchester City walk past Borussia, Madrid beat Atalanta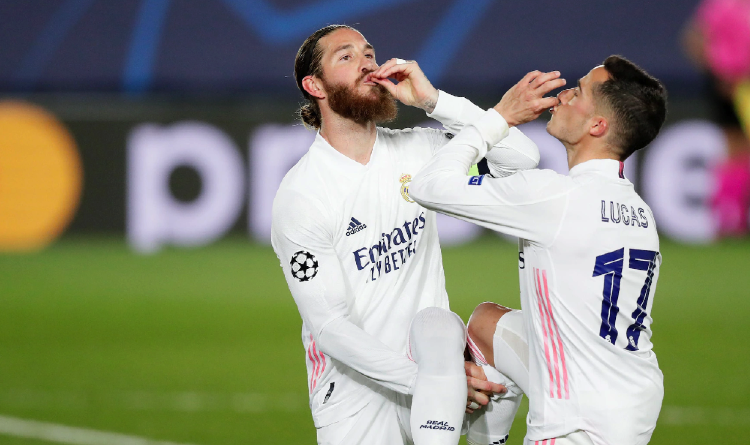 Real's Sergio Ramos and Lucas Vazquez celebrating the goal against Atalanta
The European football giants had a classy Champions League night. Atalanta and Borussia Gladbach are going home while the teams of Guardiola and Zizu are preparing for their next games – who knows, maybe one of them will win the Champions League?
It seems like Manchester City began a new winning streak
After beating Southampton and Fulham in the Premier League, they thrashed Borussia M. The British team won 2-0, the final score after both matches in Budapest is 4-0.
City opened the scoring in the 12th minute as Gündogan crossed the ball into the penalty area, Marez calmly played with Rodri and routinely rolled it to De Bruyne. The Belgian turned this attack into a miraculous goal, scoring with an elegant shot from the crossbar to the net.
Six minutes later, the side of Marco Rose conceded again. Youngster Foden accelerated from the centre of the pitch, reached the penalty area without any problems and slotted the ball into Gundogan's legs. Ilkay calmly dealt with Sommer, putting the ball into the far corner.
Manchester City manager Pep Guardiola:
"It was a good performance, we controlled the game from the beginning. Players like Phil Foden, Bernando Silva have a lot of quality, they help us a lot but everyone was so committed and we're delighted to be in the next stage." 
"We now have everybody fit. That's why we can rotate six or seven players. If you want to compete for competitions you have to be fresh. The seasons are so long, we haven't had one long week [off] since October."
Manchester City is only the third team in UEFA Champions League history to reach seven consecutive clean sheet matches, following AC Milan in 2005 and Arsenal in 2006. The Londoners hold the record with ten games.
Real Madrid vs Atalanta clash started in the way we expected
Gasperini's lads actively pressed the Madrid side, playing the ball on the flank and creating chances, one of them – an unsuccessful, but threatful shot from Gosens after a good combination.
The Italian club played bravely and it looked that they were about to score.
Real Madrid have had four shots in the opening 30 minutes against Atalanta. Three of them have been blocked.
But Italians created problems all by themselves, with Karim Benzema firing into a near-empty net to open the scoring after the mistake by the goalkeeper.
After that, Vinicius Jr. lit up. 
First, a solo run through the whole field, at the end of which he failed to score. Then, again, a good individual run at speed and an earned penalty as a result. Ramos, who had only recently returned, calmly scored with a powerful shot. It was his 20th consecutive penalty for Madrid.
Don`t miss out 💥: Benzema is 'sad' about Hazard who will miss UCL match due to an injury.
Atalanta awoke, but they had too far to go and Courtois standing in their way. As a tie it was over, even if as a game there was time for more, Muriel bending in a brilliant free-kick before Asensio ended it to ease Madrid into the quarter-finals. The final score of the match is 3-1.
Real Madrid boss Zinedine Zidane:
"I've congratulated the boys because they played a great game from start to finish against a side who ask a lot of you physically. We needed to defend well and we were able to play our own game with the ball."
"The Zapata chance aside they didn't really have a sniff. Normally they create a lot of chances but tonight they didn't; we played well and looked good going forward."
Real Madrid have progressed to their 36th quarter-final in the European Cup/Champions League – at least six more times than any other side (Bayern Munich – 30).
Among all Serie A players this season, only Cristiano Ronaldo (30) and Romelu Lukaku (25) have scored more goals across all competitions than Atalanta forward Luis Muriel (20).
Toni Kroos is only the second German outfield player to start in 100 games of the Champions League.