Manchester City vs Real Madrid. Prediction and Preview. Probable Lineups, Team News, Stats and more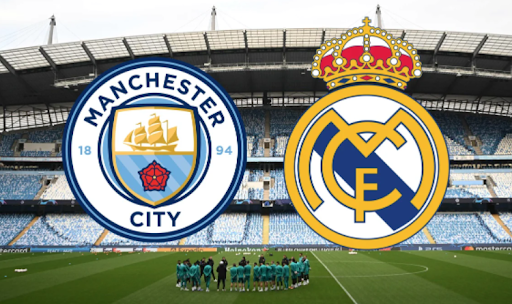 Manchester City will host Real Madrid at the Etihad Stadium in the UEFA Champions League semi-final, first leg. The match will take place on April 27, beginning at 00:30 IST.
Both clubs have worked hard to get to this stage. Real have suffered in particular against PSG and Chelsea, what is interesting – both opponents were regarded as favourites before the starting whistles. Manchester City also had a slip-up against RB Leipzig, but this did not affect the result at all. Now, for their upcoming clash, both teams approach the game fully prepared and highly motivated to win.
It's difficult to say which team is likely to win the semifinal showdown: both deserve not only to advance to the very last stage, but to win it as well, so this fight is worthy of a tournament final. On the other hand, that does not mean that the two games are going to produce a really entertaining football, with plenty of goals to be scored. Real and City have not long ago met in the semis, and that was not a fantastic spectacle to say the least. In the 2015/16 season at the Etihad, the teams did not score a single shot on target in the entire first half.
But what can we expect today? Parimatchnews will tell you everything you need to know ahead of the upcoming match.
Manchester City News & Current Form:
City's results in the Premier League are astonishing, they make almost no mistakes – and all this against the excellent Liverpool, who are just 1 point behind. The ambitios are unquenchable, with the Blues currently fighting for yet another top-flight domestic title and a good chance of clinching the European trophy.
Manchester City beat Atletico Madrid in the quarter-finals on aggregate. It was all decided by one goal, scored by Kevin De Bruyne in the home game against the Indians
Oddly enough, in Madrid, Josep Guardiola opted to play in the Atletico style, defensively. And for Diego Simeone's team, it came as a big surprise. City gave Atletico the opportunity for positional attacking, which, as we know, is not the strongest aspect of Madrid's game.
Generally speaking, it was the toughest stretch for City, which they seem to have come through with dignity.
Before the return quarter-final game, City drew with top-class Liverpool in the EPL, and after an away draw with the Mattresses, the Merseysiders took advantage of general team fatigue and a ridiculous mistake by reserve goalkeeper Zack Steffen to knock the Blues out of their FA Cup.
FA Cup Semi-Final Roundup: Liverpool keeps quadruple hopes alive by beating Manchester City while Chelsea trumps Crystal Palace
Nevertheless, having survived such an energy-consuming period – Pep's team still continue to be a major contender for two big silverwares.
After this nerve-racking, Manchester City secured two сonfident victories in the EPL to calm down. First, they beat Brighton 3-0, then they did demolished Watford 5-1. The hero of the game against the Hornets was names Gabriel Jesus, who scored 4 goals and gave 1 assist. And this perfectly syncronised with rumours of him leaving the club this summer to find himself as a starter in some ambitious team – many link the Brazilian with Arsenal which can possibly participate in UCL next season.
It should be noted that key Ruben Dias returned to the Man City squad which is a really positive news. The Portuguese defender has recovered from the knee injury that forced him to miss the games with Atletico Madrid.
However, Walker, Stones, Mendy and Cancelou are unavailable for tonight.
Real Madrid News & Current Form:
Real Madrid had two crazy matches against Chelsea in the quarter-finals. As good as Madrid were in the first game, they were just as bad in the return leg.
Los Blancos defeated Chelsea 3-1 on the road thanks to a hat-trick by the brilliant Karim Benzema, which surprised many.
Don`t miss out 👉: Real Madrid comes up clutch against Chelsea, Villarreal trumps Bayern Munich, and more…
At the Santiago Bernabeu, Chelsea were really close to a comeback, but Real Madrid managed to pull it off again. Rodrygo's goal allowed Carlo Ancelotti's side to push the game into overtime, where Benzema again stepped up to put the game into the bad.
Real proved once again that nothing is impossible in football. Their class and ability to cling to any moment to score a goal, even when playing poorly, is what defines a truly great team.
By the way, in the middle of the month, just after the return thriller with Chelsea, Madrid earned a hard-fought victory over Sevilla, making a come-back from a 0-2. The same Benzema scored the decisive goal again. What a player..
Don`t miss out 👉: Karim Benzema's strike powers Real Madrid to a late win, Barcelona suffer shock defeat to Cadiz
The Royal Club's crowning glory in La Liga is now a closed question. All energies will go to the UCL. Now Papa Carlo's squad is a very serious threat that should not be underestimated.
Casemiro, Diaz, Azar and Jovic will not be able to play.
Manchester City season form guide (all competitions): W-D-D-L-W-W
Real Madrid season form guide (all competitions): W-W-W-L-W-W
Manchester City vs Real Madrid Head-To-Head Record:
| | | |
| --- | --- | --- |
| Manchester City | Draw | Real Madrid |
| 3 | 0 | 5 |
Recent matches:
Manchester City – Real Madrid 2:1 (August 2020);
Real Madrid – Manchester City 1:2 (February 2020);
Manchester City – Real Madrid 4-1 (July 2017);
Real Madrid – Manchester City 1-0 (May 2016);
Manchester City – Real Madrid 0-0 (April 2016).
Manchester City vs Real Madrid Predicted XI:
Manchester City's predicted line-up (4-3-3): Ederson; Kyle Walker, Aymeric Laporte, Ruben Dias, Oleksandr Zinchenko; Bernardo Silva, Rodri, Kevin De Bruyne; Riyad Mahrez, Phil Foden, Raheem Sterling.
Real Madrid's predicted line-up (4-3-3): Thibaut Courtois; Dani Carvajal, Eder Militao, Nacho Fernandez, Marcelo; Toni Kroos, Eduardo Camavinga, Luka Modric; Fede Valverde, Karim Benzema, Vinicius Junior.
Statistical preview of the match Manchester City vs Real Madrid:
Real Madrid have reached the semi-finals of the world's most prestigious club tournament for the 31st time, 11 times more than their nearest pursuer. Furthermore, Los Blancos have taken the trophy 13 times – six more than the closest chaser.
Manchester City have never won the Champions League. That is now the main objective of the Sheikh and Guardiola era. They will play in the semi-finals for the third time in their history.
Guardiola reached the Champions League semi-finals for the ninth time in his coaching career, a record. The Spaniard is one semi-final ahead of José Mourinho.
Manchester City have conceded 10 goals in the current CL campaign – five more than in the 13 Champions League games last season.
Manchester City are unbeaten in 19 home Champions League games (17 wins, 2 draws). The last defeat came in the 2018/19 season at the hands of Lyon.
In the last three head-to-head meetings, the teams have exchanged goals.
The match total over 3 was fixed in three of the five recent matches played between the teams.
What has been said before the match:
"We arrive how we arrive. Different competitions, an honour to be here in a semi-final against top teams like Madrid, Barcelona, Bayern, Liverpool. They've been here many times, we have in recent years. It's an honour to be here."
"The fact they have been here many times, always I said two times in the row being in semi-finals is so difficult. Many good teams not here, one day we won't be here. So demanding, you have to be so precise. I told players enjoy this moment, training. We don't know if we'll be back in this position. Enjoy it and try to be ourselves in good moments and bad moments."
"If we have to compete with their history, we don't have any chance. Speaks for itself. We have desire to compete with them. It's a chance to improve, we want to try it. Try, suffer when we suffer, stick together. Try to attack best as possible. Same if we play Bayern or Barcelona or teams many times in this position. Before the last decade we were never here, reaching the final is always a good lesson for us."
"The fact they've changed the away goals rule means it'll be a more open tie. We'll have to play 180 minutes well. In these types of games there's a mix of happiness for being close to the final of the most important competition in the world and the concerns that come with playing such a strong team. We've had a tough draw so far, with the other teams always the favourites. I remember the press and most people said Real Madrid wouldn't go far in the Champions League. The favourites at the start of the season were Liverpool and Manchester City, plus PSG and Chelsea. But, two teams have made it who weren't expected to, Real Madrid and Villarreal. I always said we'd compete and we're going to do that tomorrow and next week. But, for Real Madrid, it's not usually a success to just reach the semi-final."
"Defending well with be an important part of the game. It's very simple. When Manchester City have the ball, you can't just watch. You have to defend and try to win it back. Maybe it's with a high, medium or low pressure. Then, when we win it back, we have to try to make the most of our quality. Maybe that's done with playing out from the part or long balls or with one-on-one duels with our quality on the wings. There's not many secrets. I think that's how it'll go tomorrow."

He talked about how his team will play in the upcoming encounter.
Manchester City vs Real Madrid Prediction:
This match belongs in the final of the tournament, but the draw has brought the teams together at this stage. We believe that the opponents are worthy of each other and are not second to each other in terms of level and experience of the individuals involved. Physical preparation and emotional condition will come to the forefront today. In addition, elementary luck could be decisive. Nevertheless, the opponents' attacking potential is very serious, while their defence cannot be called impenetrable, which we must take advantage of. In the last three head-to-head games, the teams exchanged goals, which we cannot rule out in this duel.
Parimatch News staff prediction:
We say: both teams to score and the match total lesst than 3 – Yes.