Lionel Messi is happy to raise a trophy as Barcelona thrashed Athletic Bilbao in the Copa Del Rey final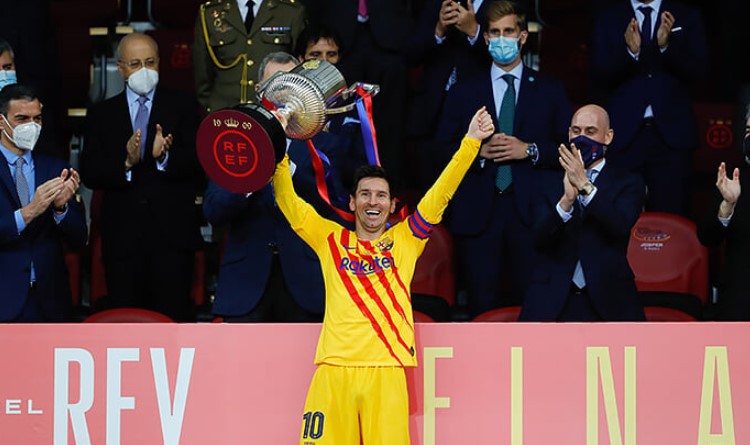 Lionel Messi has scored nine goals in Copa del Rey 10 finals for FCBarcelona, becoming the player with the most in the finals of the competition's history
In the final of the Spanish Cup 2020/21, Barcelona defeated Athletic (4-0) in Seville. Barcelona scored four goals in 12 minutes.
Barca were fruitless and frustrated in the first half and activated all accumulated energy only in the 60th minute. Frankie de Jong finished the opener and 3 minutes after that Antoine Griezmann scored the second.
Catalan captain Lionel Messi netted two times afterwards and made the score a smashing one.
One of his goals was just a true classic from Argentinian 'magician':

In addition, Ronald Koeman won the 1st trophy as Barcelona head coach. The Dutchman shared his emotions after the match:
"It's a fantastic feeling. Getting to the final was difficult, with those extra time games… We're very happy and we deserved to win at least one trophy this season. The club deserves it. It's a really important trophy for the club in a year of change. The team always had faith in winning something. It's a happy day for all Barcelona fans. It's a deserved success."
All the teammates wanted a photo with the symbol of Barcelona and the best player of our time:
Barcelona recovered over the course of the season, found stability. This crazy season began with the conflict between Messi and Josep Bartomeu and continued with the war of the former president for his position and rumors about the impending bankruptcy of the club.
Don`t miss out 💥: Did Messi's contract bring Barcelona to the verge of bankruptcy? Revealing details
Given this background information and the fact that Koeman was clearly not the most obvious candidate for the coach, the season can no longer be called a failure – regardless of whether Barcelona win La Liga or not.
As for Athletic, it is was a second Copa del Rey final defeat in two weeks: on April 3, Real Sociedad and Athletic played the Spanish-2020 Cup, the final of which was postponed for a year because of the pandemic. Athletic lost 0-1.
Copa del Rey, formerly known as Copa del Generalísimo (1939–76), is an annual knockout football competition in Spanish football, organized by the Royal Spanish Football Federation. The competition was founded in 1903, thus making it the oldest Spanish football competition. It is considered one of the most prestigious national cup trophies in the world.
Athletic vs Barca is the Copa's Final most repeated ever (ten, surpassing Athletic Club vs Real Madrid nine).
Barcelona tied with Real Madrid for the total number of trophies, after winning the Spanish Cup: each team won 92 trophies.