Ex-Barcelona's president Bartomeu arrested over 'Barcagate' scandal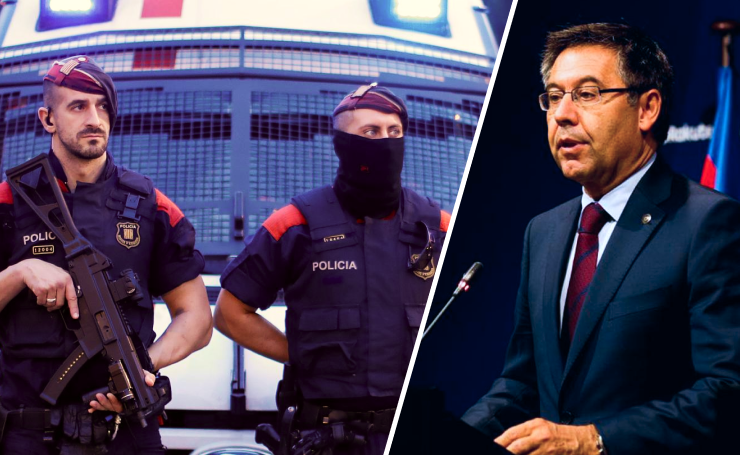 Barcelona's ex-president Josep Bartomeu has been arrested by Spanish police on Monday
On Monday, Spanish media reported on arresting Barcelona's former president Josep Bartomeu. Chief executive Oscar Grau, legal head Roman Gomez and ex-president's advisor Jaume Masferrer were also arrested.
Detaining those three was a part of a police operation that included a raid on Barcelona's offices. The club's office's financial, legal and legislation departments were the main objects of raids conducted by Mossos d'Esquadra. Previously it was revealed that law enforcement's attention was drawn in February 2020, which saw a scandal known as 'Barcagate'.
"FC Barcelona have offered up their full collaboration to the legal and police authorities to help make clear facts which are subject to investigation. 
The information and documentation requested by the judicial police force relate strictly to the facts relative to this case. 
FC Barcelona express its utmost respect for the judicial process in place and for the principle of presumed innocence for the people affected within the remit of this investigation."
Last year, it was claimed that Bartomeu – holding the position of a president – hired I3 Ventures agency to publicly discredit Lionel Messi, Josep Guardiola, Gerar Pique and other Blaugrana players. The campaign also denigrated the images of the club's personnel.
The 58-year-old denied involvement. In July, Barcelona informed about the results of the audit in their official statement:
The conclusions of the audit report of the firm PwC are that in the hiring by the Club of various services related to the monitoring and analysis of networks, no defamatory campaign was commissioned against anyone, and there was no corrupt conduct.
Barcelona received huge criticism following the scandal. Many – including the club's other ex-president – have encouraged Bartomeu to leave the club.
In October, Bartomeu resigned as well the club's entire board.
Bartomeu is also considered to be the one who published Lionel Messi's salary. In January, it was revealed that the Argentine earned more than 500M over four years.