Leo Messi sets another impressive international record in World Cup qualifier victory over Uruguay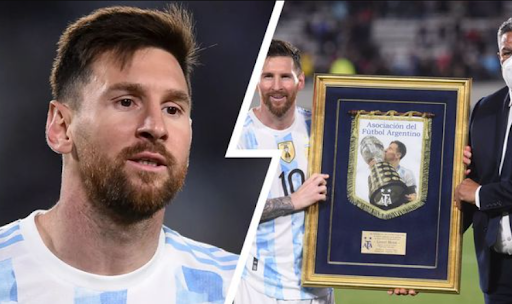 The PSG star was honored with the CONMEBOL award by the president of the Argentine Football Association AFA, Claudio Tapia
The first goal, and subsequently the winning goal, was scored by 34-year-old Lionel Messi, for whom the goal was the 80th goal in the history of appearances for the national team.
He is the first footballer in South America, who conquered this mark. The second result was achieved by Pele – 77 goals for the Brazilian national team. Also, the 34-year-old Argentine became only the fifth player in the world to score 80 goals for the national team. The other four are Cristiano Ronaldo (Portugal, 112 goals), Ali Daei (Iran, 109), Mokhtar Dahari (Malaysia, 89) and Ferenc Puskás (Hungary, 84).
Don`t miss out 💥: Ali Daei and Brazilian football legend Pele congratulated Cristiano Ronaldo on his recent achievement
Moreover, this goal was the sixth in the current WC qualification, the player levelled with the Brazilian national team forward Neymar Jr. Bolivian forward Marcelo Moreno tops the list with eight goals.
"How wonderful to enjoy such moments in life! A great win! Thanks again for how you make me feel. See you on Thursday,"

– Messi wrote on his Instagram.
Argentina will play Peru at home on Friday night.
Paris Saint-Germain forward had a total of 45 shots on goal and created 27 chances for his team – more than any other player in this WC Qualifiers. The player seems to be in good shape.
Don`t miss out 💥: Venezuelan defender almost ended Lionel Messi's career in the 2022 World Cup qualifying match