Leicester City storm back to sink Man Utd 4-2 in thriller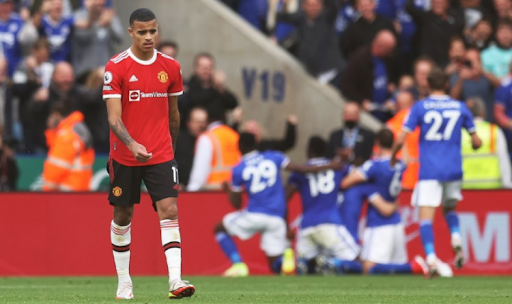 Mason Greenwood disappointed as Leicester take the lead. He is United's second-highest scorer in the league with 4 goals in 7 games this season
On Saturday, Leicester crushed Manchester City at home (4-2) handily, snapping their 29-match unbeaten streak. This defeat was the third for Ole Gunnar Solskjær in the last five matches.
It started quietly for MU as Mason Greenwood opened the scoring with a powerful left-footed shot from outside the box into the far top corner. There was no chance of getting the ball to Kasper Schmeichel. Leicester equalized 10 minutes after due to an error by the Manchester defenders.
After that, the scoring lull lasted until the 78th minute. Suddenly, a Leicester corner was followed by a series of ricochets after which Çaglar Seyunçü tapped in.
The most exhilarating interval of the match then began. First, substitute Marcus Rashford fired past Schmeichel in a one-on-one situation.
But then, immediately after the ball was played from the centre of the pitch, prolific Jamie Vardy managed to put his team back into the lead.
The final score was set by Leicester's Zambian striker Patson Daka: after a corner, he found the ball on the far post and rolled it into the net.
Goals: 0:1 – 19 Greenwood, 1:1 – 31 Thielemans, 2:1 – 78 Sejunju, 2:2 – 82 Rashford, 3:2 – 83 Vardy, 4:2 – 90 Daka.
Now another problem is clear: United have the worst defensive record of any team in the top half of the league, having conceded 10 goals in eight games so far. And that's despite the fact that they have spent quite heavily in the recent transfer windows. The latest purchase was Raphael Varane from Real Madrid.
Don`t miss out 💥: Raphaël Varane is close to joining Man Utd for a fee around €50 million
Harry Maguire, world`s most expensive defender, became the worst player in the match with a score of 5.5 – it was his mistakes that led to at least two goals.
Ole Gunnar Solskjaer spoke on the match results:
"We didn't deserve a point today. I wouldn't say it was maturity, it was focus in the key moments. Two set pieces, one goal 10 seconds after we equalise, these are goals that should not happen. We weren't good enough at second balls and 50-50s, the sort of things you need to do to win football matches. The best player was David and he conceded four goals."
Brendan Rodgers accessed the game:
"I thought we started well, then we came back into the game and showed a great mentality. In the second half, it was about reinforcing that aggression in our game, that is when we are at our best. We were excellent at creating opportunities going forward and we could have had more."
The Red Devils have a number of tough games ahead of them: Atalanta in the Champions League, followed by Liverpool, Chelsea, Arsenal, Tottenham and the Manchester derby. How many matches can Solskjaer's side win?
Don`t miss out 💥: Premier League winning manager Claudio Ranieri joins Watford
It was Manchester United's first Premier League away defeat since January 2020, when they lost 0-2 to Liverpool at Anfield.
Manchester United have managed to keep only one clean sheet in their last 19 games in all competitions.
Jadon Sancho has not yet made a single impact in 10 games since his transfer this summer.