Haaland's magnificent performance helped Borussia get an important victory against RB Leipzig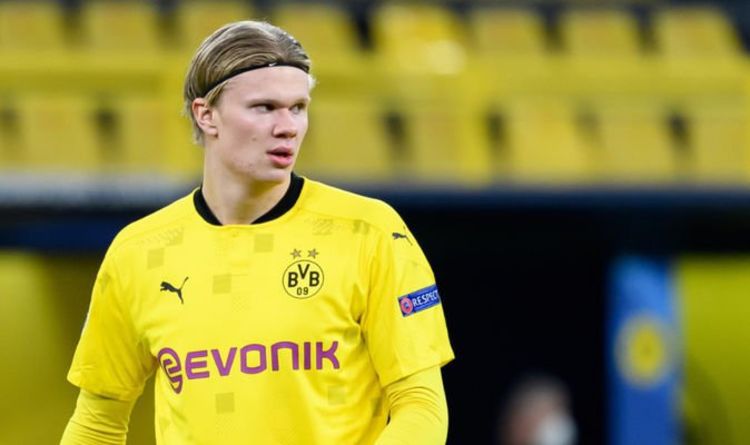 20-year-old attacker in the traditional yellow home kit of Borussia
Erling Haaland missed the entire December because of a muscle injury and showed how much he missed playing football gaining the Man of the Match award. He returned a week ago against Wolfsburg (not scoring), and on Saturday he had fun against Leipzig, which lost for the first time in 10 games.  
The first half was tough for Borussia at the Red Bull Arena.
Sancho scored an opener at the beginning of the second half, and then young star Haaland did the double. Leipzig answered with just one goal late in the game, 1-3.
The beauty of the match was Haaland's first goal. In this very attack, every action of the Borussia players was superb. The chemistry:
Still, the match was marred by an injury of the core senior of BVB Axel Witsel.
"Unfortunate news,"

the club confirmed in a statement on social media. 
"Axel Witsel suffered a torn Achilles tendon during yesterday's match and will be out for an extended period of time. We all wish Axel a speedy and successful recovery."
However, it is highly likely that he will miss the rest of the season, with reports in Witsel's home nation suggesting that he may be a doubt for the rescheduled Euro 2020 tournament which is due to start on June 11. 31-year-old was expected to play a major role in the national team as Belgium seek to win the European competition.
Edin Terzic after the match:
"We knew this was going to be an extremely important game for us. Nothing is decided in Week 15, but now we know the direction we need to go. We only took the first step. We had 112 inaccurate passes, 110 of them I think were in the first half. We got rid of that, and then rewarded ourselves with three beautiful goals. That ease, that magic, we've been missing for a long time. And we miss the fans. Usually they always sing when we are on the field: "Forward, Dortmund! Fight and win!". This is our motto, which we took as a basis. It does not always work like that, but today it worked perfectly. And we want to go steadily forward week after week."
Julian Nagelsmann:
"We played really well in the first half. But at certain moments we lacked depth. And from the 35th minute Dortmund started to play much better. In the second half we no longer had the same structure and we had big problems. Then we just started to lose the ball too much, and Dortmund took advantage of those losses and scored beautiful goals."
It is interesting that Julian Nagelsmann has always been called a possible coach of Borussia. Especially after Lucien Favre's dismissal. His personal statistics against Dortmund are not impressive, Julian won only 1 of his 9 games in the Bundesliga against the black and yellow team.
🔥 Don't miss out: Lucien Favre has been sacked from Borussia Dortmund. Who will replace him?
Borussia remained fourth in the table (28 points), but came close to third-ranked Bayer (29) and second-ranked RB Leipzig (31), five points behind first-ranked Bayern.
Next tour Borussia Dortmund will host 1. FSV Mainz 05 while RB Leipzig meets Wolfsburg at the Volkswagen Arena.
Haaland scored 25 goals in his first 25 games in the Bundesliga and set a tournament record. The previous record belonged to former Hamburg forward Uwe Seeler, who had 23 goals in 25 games, followed by former Nuremberg player Marek Mintal (21 goals).
The Bulls have played their last four Bundesliga with zero сonceded goals. Nagelsmann's RB Leipzig could have the longest clean sheet streak, but the team from Dortmund crushed these dreams.
Julian Nagelsmann continues to be thwarted by Borussia, who have now won their last three games in all competitions.