European Golden Shoe 2020-21: Lewandowski wins prize thanks to 41 Bundesliga goals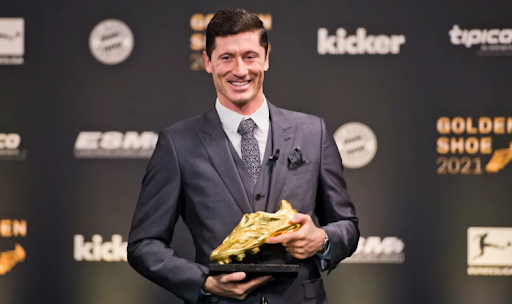 Robert with the Golden Shoe award
Bayern Munich forward Robert Lewandowski was awarded the Golden Boot 2020/2021.
The Polish national team player scored a sensational 41 goals in 29 Bundesliga games last season and won the European Top Scorer Award for the first time in his career.
The 33-year-old striker managed to break the record set by legendary Gerd Müller for most goals scored in a single campaign in Germany's top flight. Back then, in the 1971-72 season, the German scored 40 goals. Moreover, the player managed to beat former Barcelona superstar Lionel Messi by 11 points.
Portugal's Cristiano Ronaldo came third with 29 goals, Andre Silva (28 goals) came fourth and young talents Erling Haaland and Kylian Mbappe (27 goals each) finished fifth on the shortlist.
The moment of awarding:
"I would like to thank my family, teammates, coaches and the entire FC Bayern team. Winning the title would not be possible without your support. In sport, just like in life, what matters is respect for others, collaboration and fair play no matter what you do. I would like to dedicate this award to all of you who have been by my side. I am extremely proud of what we have achieved together as a team. Thank you!"

said the player on his Instagram.
Don`t miss out 💥: Ronald Koeman to be fired from FC Barcelona? Revealing how much it will cost
Gerd Müller, a legend in the history of world football, died at the age of 75 in August 2021.
The Bayern Munich striker has made a good start to the season, scoring seven goals in five games so far. Erling Halahand, who is ranked in the top 5 for the golden boot, goes shoulder to shoulder with Pole, also scoring 7.