English Premier League club owners' approval ratings: who is the most hated and who is the most supported?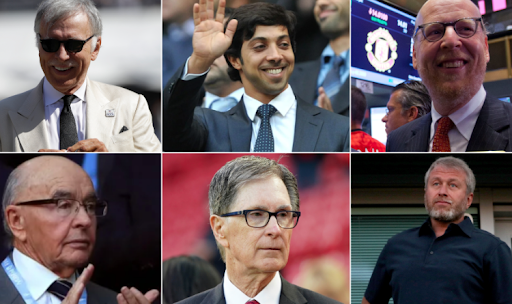 A major British newspaper carried out a survey: how fans of EPL clubs feel about the owners of their favorite teams. Just one question: 'do you like them or not?' Journalists polled more than 100,000 fans and this is what came out of it.
| | | |
| --- | --- | --- |
| Club | Owner | Approval rating |
| Brentford | Matthew Benham, 53, British | 98.8% |
| Leeds United | Andrea Radrizzani, 47, Italian | 98.3% |
| Aston Villa | Nassef Sawiris, 61, Egyptian; and Wes Edens, 60, American | 98.3% |
| Brighton & Hove Albion F.C. | Tony Bloom, 52, British | 98% |
| Leicester City | Srivaddhanaprabha family, headed by Aiyawatt, 36, Thai | 97.9% |
| Crystal Palace | Steve Parish, 56, British | 95.7% |
| Chelsea | Roman Abramovich, 55, Russian | 92.5% |
| Wolves | Fosun, headed by Guo Guangchang, 55, Chinese | 92.4% |
| Man City | Sheik Mansour, 51, UAE | 90.5% |
| Liverpool | FSG headed by John Henry, 72, American | 88.6% |
| Norwich | Delia Smith, 80, British | 83% |
| Tottenham | ENIC, majority owned by Joe Lewis, 85, British | 76.3% |
| Watford | Gino Pozzo, 56, Italian | 69.8% |
| Burnley | Alan Pace (chairman), 54, American | 69.8% |
| Southampton | Dragan Solak, 57, Serb | 47.4% |
| Arsenal | Stan Kroenke, 74, American | 30.3% |
| West Ham | David Sullivan and David Gold, 73 & 85, British. | 15.1% |
| Everton | Farhad Moshiri, 66, British Iranian | 14.2% |
| Newcastle | Saudi Arabian Public Investment fund | 10.9% |
| Man United | The Glazer family, led by Joel, 54, American | 4.04% |
Who has the most consensus with the fans?
Brentford's statistical geek tops the list, with Abramovich, Sheikh Mansour and Liverpool bosses being the most trusted.
The best approval rating goes to Brentford boss Matthew Benham. Quite expected, because with him the club reached the English top division for the first time since 1947.
Benham is by no means the richest in the company of other owners of EPL, but a true fan of the club and a savvy strategist. He graduated from Oxford, worked as a banker and made a fortune in smart betting. He loves advanced statistics and Moneyball. Has successfully combined football with mathematics. 
Roman Abramovich surpasses his colleagues from the top clubs. Under Abramovich, Chelsea became a top club, collected more trophies than in the entire previous history. According to the publication, the only complaints: high ticket prices and delays with the reconstruction of Stamford Bridge.
Manchester City and Liverpool are very close not only in the league standings but even in this ranking. Here we see the opposing stories: Sheikh Mansour is criticized for his wealth origins and deceptive moves with the FFP (yes, even his own fans), while FSG is berated for lack of communication with fans and stinginess in spending on the transfer budget.
Don`t miss out 👉: Financial fair play (FFP) overhaul and expected impact of the new rules: revealing details
There are many mid-table teams in the top half: Leeds, Aston Villa, Brighton, Leicester, Crystal Palace. The main reason for optimism is the stable and confident positions in the league.
Tony Bloom of Brighton is praised for his organizational structure (the club has a very successful scouting system), Steve Parish of Palace – for the excellent academy, everything is clear with Leicester – under Srivadhanaprabha's family the team has created a fairy tale and won the EPL.
Who's disliked?
4.04% approval for the Glazers, lots of complaints from Newcastle and Arsenal fans.
Don`t miss out 👉: Who will be the next Manchester United manager? Introducing the latest info about the main contenders
Man United fans hate the Glazer family with only 4.04% approval. A generalized fan opinion:
"The club is rotten from top to bottom. It's no longer a soccer team, but a money-making tool. Bad decisions on specific players, coaching choices and overall strategy. Huge amounts of money are being siphoned out of the club."
Curiously, the owners of almost all Premiership teams in the last 10 years are in the top 10. The exception is Manchester United. The Glazers have been disliked before, but the failures of recent years have finally turned fans against them. 
Arsenal's Stan Kroenke is an example of how a wealthy owner is not always the guarantor of a generous investment. He ranks fifth among Premier League bosses by fortune, but the London club doesn't feel much of that.
It's too early to be surprised by Newcastle's poor performance – the fans were primarily evaluating the work of Mike Ashley, who was sincerely hated for his stinginess and strange strategic decisions. Perhaps without the money from Saudi Arabia, the percentage would have been even lower. The situation should be better from now on.
There was another ownership change this season, with Serbian Dragan Solak acquiring Southampton. Gao Zhisheng's (the previous owner) performance evaluation is a rare case where fans' opinions are almost divided.
A promising story is the arrival of the Czech Daniel Ketinski to the West Ham shareholders, the Eastern European billionaire will buy a majority package in 2023. Now he already has 27 percent and fans are very much looking forward to that moment.