De Ligt's red card for handball decided the outcome of the match – the Czechs sensationally advancing to the next round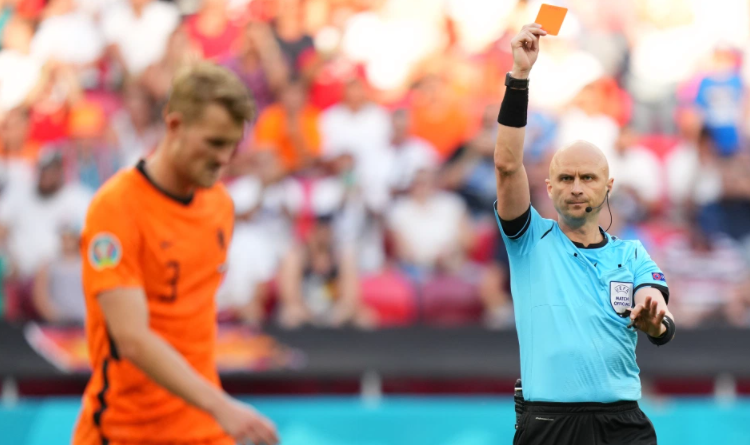 The Netherlands have been shown four red cards at the EUROs, with two coming against Czechoslovakia (both in 1976) and two against the Czech Republic (2004, 2020)
The Netherlands lost to the Czech Republic (0-2) in Budapest in the Euro 2020 1/8 finals.
At the start, Frank De Boer's team were pushing to score, but the Czech defence was solid always managing to neutralize the threat.
And then, in the second half, the real drama happened: in the 55th minute, the Russian official sent off Matthijs de Ligt for intentional handball. Sergey Karasyov initially dished out a yellow card to the Juventus defender before being referred to the pitchside monitor by VAR, where he then overturned his original decision to the straight red card.
In the 68th minute, Czech midfielder Tomáš Holeš opened the scoring, and then forward Patrik Schick netted in the 80th.
Former Netherlands midfielder Nigel de Jong after the match:
"There was no belief after the first half, it was gone. There was no belief to go forward and win the game. There was a lack of belief, intensity, character and we lacked a proper leader."
The Czech Republic will face Denmark in the quarter-final, the match will be held in Baku on the 2nd of July.
Don`t miss out 💥:  Goal of the Day: spectacular 50m halfway-line stunner helped the Czech Republic smash Scotland
The Netherlands played 89 games at the EURO and World Cup combined. Today's game is the only one in which they failed to record a shot on target.
For the second time in the 21st century, the Dutch were eliminated in the first round of the Euros play-offs after claiming three wins in their group. The last time it happened at UEFA EURO 2008, the Netherlands made it to the quarter-finals before losing to Russia (3-1).