Goal of the Day: spectacular 50m halfway-line stunner helped the Czech Republic smash Scotland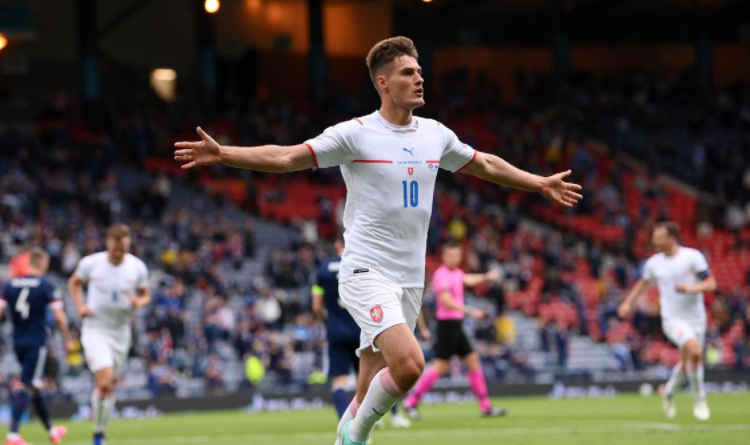 Patrik Schick became the hero of the day: not only of Group D but of the whole Euro 2020
The Bundesliga striker scored in the first half, but it was just to warm up for the second. No one ever expected: but maybe we saw the most beautiful goal of the tournament.
In the next half, the Scots started attacking massively to find an equalizer, but the Czechs organized a fast counterattack – after a blocked shot the ball accidentally bounced to the center circle right to the no.10 Schick`s on pace, and he suddenly decided to 'fire the boom':
This shot was absolutely terrific – the ball bounced right down over the scruff of goalie David Marshall.
The distance to the goal was about 45.5 meters. Thus, Schick's goal became the most distant goal of the Euro since at least 1980 (since this year, up-to-date statistics have been kept).
Fans were exhilarated in euphoria from what they saw, which led to many creative memes. Here's how social media played up the goal that literally hammered the goalkeeper into the net.
A 25-years-old attacker admitted that he had been planning such a shot from the very beginning:
"During the game I was watching where the goalkeeper was standing in case such a situation occurred. Then when it came, I just checked he was out of his goal and sent it there."
Patrick Schick also added that his team is not going to stop at this victory:
"We have to approach the next two games against Croatia and England with the same teamwork and energy. We must put even more into those two games. I believe we will do well."
As a result, thanks to a double by Schick, the Czech national team picked up the most important points to get out of group D. The Scots' return to the big tournaments after 23 years has been unsuccessful so far.
The xG (expected goal) impact danger was between 0.01 and 0.04.
Schick has been involved in 10 goals in his last nine international matches.
At 36 years and 101 days, goalkeeper Marshall became the second oldest player to appear for Scotland at a major tournament