Australia vs Denmark. Prediction and Preview. Probable Lineups, Team News, Stats, and more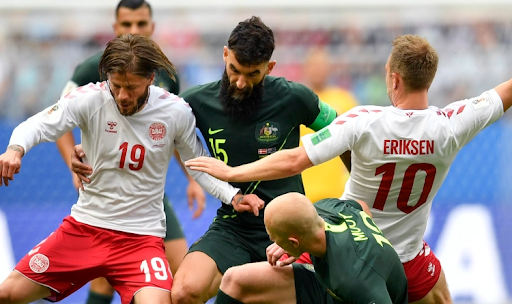 Australia will meet with Denmark in the FIFA World Cup 2022 third group-stage match at the Al Janoub Stadium. The fixture will take place on Wednesday, November 30, beginning at 20:30 IST.
The Australia-Denmark match could decide the second World Cup play-off participant from Group D. In the quartet, France have already secured a place in the 1/8 finals while three remaining teams are going to compete for the second spot.
The Vikings need only a win to get through to the next round, while a draw is satisfactory for the Aussies.
Last year's Euro bronze medallists are in a hopeless situation: a goalless draw against Tunisia and a dramatic defeat by France leaves the Danes with just one point before the final round – anything other than a win will automatically send Kasper Hjulmand's team home.
Australia, on the other hand, are coming into their final group stage match in a good mood as they followed their devastating defeat by France with a minimal victory over Tunisia, which allowed them to move ahead of the Vikings in the group standings.
Parimatchnews will tell you everything you need to know ahead of the upcoming match.
Don`t miss out 👉: Veterans of football at the 2022 FIFA World Cup: revealing the most senior players of the tournament
Australia News & Current Form:
As expected, the lads from a faraway continent, who represent a fairly in-age squad (avg. age – 27.9 years old; 10th highest) without many notable stars, are having a tough time at the World Cup. Australia started the сampaign with a shock 4-1 defeat to reigning trophy holders France, althouth the Yellow and Greens managed to open the scoring.
In the second game, they needed only one result to have any hope of progressing out of the group – a victory. And the competition to win 3 points was not beyond their grasp – they were set to meet Tunisia. Luckily for their fans, the Socceroos were able to quickly score an opener fast, as they did against France. And Graham Arnold knew perfectly that the Reds are much lesser in calibre then previous opponent, their attack is not packed with footballing superstars likewise Les Bleus. The Yellow-Green took advantage of it, playing shutdown defensively to preserve the score until the final whistle. Now Mathew Ryan and Co. are second in their group with three points — and that's a serious claim to advance to the playoffs, they just need to avoid slipping up in the upcoming match against the Danes.
"We didn't come here just to be at the World Cup, we want to try and do something special and go as far as we can".

Said Craig Goodwin after a match with Tunisia.
Such a narrow victory could be seen as a triumph for the Aussies as they took all three points for the first time in their last seven World Cup matches.
Now, they have a chance to reach ⅛ final, and to do so they should get at least a draw against Denmark. A draw gets Australia right into the playoffs if France wins against Tunisia (which is quite predictable). But in case of another tournament sensation, where Tunisia will manage to snatch points with the draw result in the parallel meeting, the Africans are likely to go ahead because they have a better goal difference.
Taking a glance at the timeline, for the Aussies, it's only their fifth appearance at the World Cups. And previously, the team's best achievement was reaching the 1/8 finals in 2006, where they lost 0-1 to eventual tournament winner Italy. Do Socceroos have ambitions to break their own national record? The upcoming match will bring us all the answers.
Nathaniel Atkinson, the team's defender, will not be able to help his team as he has an ankle injury while Martin Boyle has undergone an ACL surgery, so he will miss future games.
Denmark News & Current Form:
Denmark, in turn, has been a disappointment so far, with almost all analysts claiming the Scandinavians would finish second in the group before the start of the tournament. However, as things stand, the Vikings go into the closing group stage round with just one point under the belt.
The Danes drew 0-0 with Tunisia in the first game. A 0-0 draw against Tunisia, where they should have taken three points, is already a wake-up call. If only the Red and White had been unlucky, but the Africans looked just as strong, if not stronger, than their opponents. Australia, on the other hand, managed to beat Tunisia…
In the second game, Denmark faced France, whom the Danes had beaten twice in the UEFA Nations League. The world champions won, snatching victory in the final minutes. The first half ended without goals. Mbappe opened the scoring in the second half, with the French leading for 7 minutes. Denmark successfully converted a corner-kick and Andreas Christensen sent the ball into the net. With 4 minutes left, Kylian Mbappé sealed the win for France.
Now Denmark has one point at the tournament and third place in Group D. The Scandinavians have not lost their chances of qualifying from the group. The Vikings can only win, but even that will not guarantee second place. If Tunisia beats France, there will be a goal difference to consider. So far, Denmark is ahead by one goal. So it is important for the Danes to win by more goals than Tunisia.
Despite the gap between the countries in the FIFA rankings of as much as 28 positions, it will be incredibly difficult for the Danes to meet the bare minimum target at the World Cup. A first World Cup victory in 12 years was hugely encouraging for the Aussies, and the closeness of the play-offs will serve as an additional motivating factor. As their game against Tunisia showed, these guys are patient and can take the points in a hurry.
It's also the 5th Mundial for the Danish team. And only once have they failed to get out of the group. Their best achievement is the quarterfinals in 1998.
Recall that Denmark was excellent at the European Championship 2020, reaching the semifinals and losing to England only in extra time.
Denmark lost midfielder Thomas Delaney in the first match of the group. The others are ready to play in the tournament's decider.
Australia form guide: W-W-W-W-L-W
Denmark form guide: L-W-L-W-D-L
Australia vs Denmark: Head-To-Head Record:
February 6, 2007: Australia 1-3 Denmark (International Friendly);
June 1, 2010: Australia 1-0 Denmark (International Friendly);
June 2, 2012: Australia 0-2 Denmark (International Friendly);
June 21, 2018: Australia 1-1 Denmark (FIFA World Cup).
The teams have met four times on the international stage, including the World Cup in Russia. In friendly matches, Denmark had two 2-0 and 3-1 wins, while Australia won 1-0. In 2018, the teams played in the group stage and the match ended in a 1-1 draw. Jedinak scored for Australia, while Eriksen scored for Denmark.
At UEFA EURO 2020, Denmark managed to secure a group-stage exit in the last round of the group stage. The Danes have improved substantially in the last five years. There are more and more players from Denmark in the top leagues.
Australia vs Denmark Predicted XI:
Australia's possible starting lineup (4-4-2): Ryan, Karacic, Souttar, Rowles, Behich, Leckie, Irvine, Mooy, McGree, Goodwin, Duke.
Denmark's possible starting lineup (3-4-2-1): Schmeichel, Andersen, Kjaer, Christensen, Kristensen, Hojbjerg, Eriksen, Maehle, Skov Olsen, Dolberg, Damsgaard.
Statistical preview of the match Australia vs Denmark:
Australia's First XI average age 29.0 yrs.
Denmark's First XI average age 27.9 yrs.
Australia did not win the 2014 and 2018 World Cups;
Australia scores in 5 of 6 matches;
Australia conceded in 9 out of 10 matches at the World Cup.
Denmark is winless in five matches at the World Cup: a defeat and four draws;
Denmark concedes in 7 of 10 matches;
Denmark scores in 8 out of 10 official matches.
The Australians, in the second round, claimed their first World Cup win in their last three competitions. The previous one was in 2010.
The Danes have faced the world champions three times this year, twice in the Nations Cup and lost during the World Cup in Qatar.
Denmark is on the 10th place in FIFA ranking.
Australia is on 38th place in FIFA ranking.
What has been said before the match:
"I have never coached to draw in my life so we're not going to do that. Again, it's about going out and being on the front foot like we were for 30 minutes against France and I feel for 60 minutes against Tunisia [we did that].
"That is the message I have been driving to the boys, with the review yesterday, step by step, and I don't know how people are taking me saying France was a friendly but you know, that's what I mean, is the improvement, and 30 minutes against France was great, so 30 per cent to 60 per cent against Tunisia, now it's time for 90 per cent or 100 per cent against Denmark, and making sure we remove any sloppy mistakes."
"The more you change too much, the more confusion you put in the brain – and when people are confused, what do they do? The energy goes away and you make mistakes".
"We've been doing something for four and a half years. The players know exactly what to do, and what my expectations are. I don't think changing the wheel in one day is going to do anything tactically great, but what it will be doing is putting confusion in players' brains and once you do that then you're not going to get the best out of them."
"If we spend too much time, and we don't have much time, but if we spend a day or two just focusing on Denmark then we're doing the wrong thing in my opinion".
"It's more about getting ourselves ready mentally and tactically, giving the right messages to the players. That is having that belief in what we do. Lifting the energy, which is great. The boys are in great spirits".
"And the focus, that is ourselves… We can't control what they do. We can help control, but we can't control everything. What we can do is get ourselves ready."
Danish coach, Kasper Hjulmand, said:
"The best way is to stay 100% focused on our work, we prepared as usual. We will play with our identity, our philosophy, and we will see how it works. It's only the last ten or fifteen minutes where we may change depending on the result".
"I expect a very collective, very solid team, it relies a lot on its unity, a bit like us. It is well organized, it attacks together, it defends together. The players stick to the plan. We know them, we played them four years ago in Russia and we had a draw (1-1)".
"Australia also knows that it's dangerous to wait, they won't know if a draw will suffice (to qualify). I am sure of it: they will try to put pressure on us, to attack. And as in all matches, each team will have its highlights".
"Players are used to these situations, yes. They know how to prepare for big matches, whether in selection or with their clubs. But we don't discuss this pressure, we train, we prepare as usual, with the desire that everyone plays their role. The World Cup, these are great emotions because the selections are the pinnacle. You realize how important it is for players, for people around the world. That's the beauty of football. So you have to take advantage of those moments".
Australia vs Denmark Prediction:
The Australians unexpectedly beat Tunisia and are now well placed to clinch the second play-off spot in Group D of the World Cup 2022. However, their performance proved to be anything but convincing. Of course, they are a team with character, it has always been characteristic of Australians. But they do not have any outstanding personalities who can make a difference, as compared to what they used to have. The absence of any bright leaders could let Socceroos down if the match does not go according to Arnold's planned scenario. It has to be admitted that it was rather Tunisia who completely failed and lost the last match, the Yellow Greens only played at a sufficient level. In their game against Denmark, a draw will be fine, but they will need to perform at a much better level; otherwise, a team full of huge stars could crush the Aussies in any given stretch of the match.
The Danes, meanwhile, need to pull themselves together. They played below their potential in the first leg and had a tough time holding back Kylian Mbappe against France. Now, however, it's becoming an all-or-nothing situation for the Scandinavians. Now there are no options left – they need to beat Australia. The Danish team, with their full complement of top-class European players, can surely do it. Hjulmand has better manpower in every lineup than his counterpart. They just need to get in the right frame of mind, identify their opponents' weak points and hit them methodically. The execution class should be enough. We have already seen what the Danish national team is capable of in the last couple of years. In this case, Christian Ericsson and Co. should beat the Australians, and if not, there is nothing to do in the playoffs.
Parimatch News staff prediction:
We say: Denmark will not lose ant the match total will be less than 3.5 – Yes.
Don`t miss out 👉: Mumbai City vs Goa: Preview and Prediction