Arsenal vs Barcelona. Prediction and Preview. Probable Lineups, Team News, Stats and more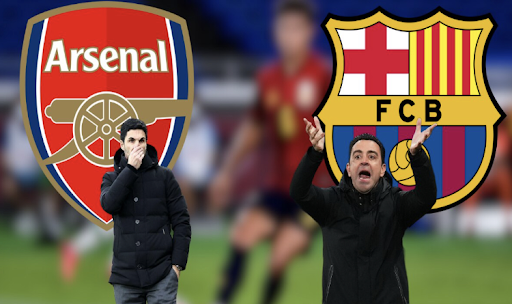 Should we expect plenty of goals in this meeting of dominant clubs?
Arsenal FC will host FC Barcelona in the friendly pre-season match at SoFi Stadium, Los Angeles. The fixture will take place on July 27, beginning at 8:00 a.m. IST.
What can we expect this Thursday? Parimatch News will tell you everything you need to know ahead of the upcoming match.
Arsenal News & Current Form:
Arsenal has demonstrated remarkable productivity during this offseason, primarily evident in their endeavors within the transfer market. The club's management has orchestrated a highly focused campaign aimed at fortifying the squad, achieving the noteworthy feat of securing all their coveted transfer targets well before the commencement of the friendly matches. It is heartening to witness the Gunners' leadership exhibiting a visionary approach, placing their faith in progress and nurturing the development of promising, youthful talents.
As the forthcoming English Premier League and UEFA Champions League seasons loom on the horizon, Arteta finds himself confronted with an arduous task – that of meticulously preparing the team and assimilating the newly acquired players into the fold. The previous season saw Arsenal tantalizingly close to claiming the championship, only to falter towards the end, permitting Manchester City to seize the opportunity and overtake them.
"We created this. We did so well. Unfortunately, we didn't win the Premier League, which was our main target, but at least we get there, fighting with one of, if not the best team in the world. We fought till the end, so I think he will be the same. Now I think people believe more in us because of the work we put in on the pitch last year was top. Then obviously everyone here wants to continue and to increase the level."

reflects Gabriel Jesus.
Presently, the team's emphasis rests on effectively integrating the likes of Declan Rice, the highly-regarded CDM heralded as the pivotal element within Arteta's tactical jigsaw. Indeed, the Spaniard's entire blueprint hinges on the seamless integration of this footballing maestro, without whom the prospects of success may be compromised.
"The energy's so good. Honestly, from the first moment that I walked through the training ground doors, it was not only the manager, all of the staff, their mindset and mentality is just about winning. From the physios to the chefs, to the analysts, everyone behind the scenes, it's all on that focus of being the best you can be pushing yourself every day to become better, a better person and a better player. And I think Mikel, I think that's exactly how he is. As well as a football coach, psychologically, he's amazing and he really makes you wanna play for him, which is a massive reason why I've come to Arsenal."

Rice describes his arrival.
In addition to the fitness and form questions, the Gunners aspire to inject a degree of unpredictability and versatility into their playing style, drawing inspiration from their esteemed rivals, Manchester City, and the fruitful trajectory that such an approach has yielded. This transformation, however, demands time and concerted effort.
"Even before I was feeling like this, the gap was not that big. Obviously, they have been together for years and this made a difference. They have been winning for years and that made a difference also. But since day one when I arrived here, I believed we can fight, we can win. Unfortunately, we didn't win [last season] but I think we will win, for sure."

explains ex-Man City Brazilian striker.
"I believe sometimes at the end of the season, we were a little bit nervous as a team. They were not nervous because normally they win, so that made a difference. I think this year we will have more experience and it will be different."

he adds.
Thus far, Arsenal's pre-season preparations have yielded a performance that is neither entirely convincing nor disconcerting. Over the course of four friendly encounters, the Londoners have recorded a solitary victory, accompanied by two draws and a lone defeat. Particularly exasperating must have been the setback at the hands of their arch-rivals, Manchester United, who masterfully capitalized on defensive errors to emerge triumphant with a 2:0 scoreline, later clinching victory in a penalty shootout.
The head coach, Mikel Arteta, has exhibited a propensity for experimentation, diligently testing the newly acquired talents while endeavouring to discern the most seamless fit within the tactical framework. It is worth noting that Arsenal has registered a mere two victories in their last seven matches across all competitions. Furthermore, an intriguing facet lies in the fact that the team, under the current stewardship of the Spaniard, has suffered defeat in each of their last four encounters with this particular adversary.
While victory may not always be the immediate goal in these encounters, the matches do serve as a litmus test to gauge areas that demand urgent improvement and identify the facets of their footballing philosophy that may be slipping away. Confronting opponents of such formidable caliber during these test matches affords teams the invaluable opportunity to expedite their developmental trajectory.
In summation, Arsenal's comprehensive preparations ahead of the upcoming season demonstrate commendable dedication, strategic foresight, and an unwavering commitment to nurturing an evolved and triumphant footballing ensemble. The journey towards excellence may prove arduous, yet the North London club remains resolute, aspiring to scale new heights in the face of formidable competition.
"It's time now. Arsenal under Mikel have won Community Shields, FA Cups, but I think now at this club, it's a massive club, it's constant pressure of delivering titles and it's been such a long time now since Arsenal won a Premier League. Last year was so close, I feel like we're better off now this year learning from that experience. So, I think that's definitely a target."

Declan Rice reveals. 
"And of course, you're in the Champions League and you go in the Champions League to win it. You don't go in just to take part."
"I think once all of that clicks, once we get those first couple of games under our belt and things start to flow, I really believe in this squad. I believe in the manager and of course with me as well. I just want to improve, want to learn, want to get better, want to understand how the manager wants to play. I want to understand the others and how they play. I'm sure once all that comes together, I'll feel exactly how I want to feel in terms of why I came to Arsenal to improve. So just hoping it's a successful season, but time will tell."

The Englishman rounds up.
Don`t miss out 👉: Revealing The Complete 2023/24 Pre-season Schedule Of Europe's Top Clubs: All You Need To Know In One Place
Barcelona News & Current Form:
Despite securing the La Liga title, the previous season cannot be unequivocally heralded as an unmitigated triumph for the Blaugrana. Although they displayed dominance within their domestic league, their performance in European competitions left much to be desired, and a painful loss in the Spanish Cup to arch-rivals Real Madrid added salt to their wounds. Nevertheless, the artful amalgamation of attacking prowess and defensive solidity under the astute guidance of head coach Xavi has unequivocally garnered trust from the club's management.
The prevailing trend in contemporary football underscores the ascendancy of young coaches with a profound affinity for their club's DNA. For Barcelona, this strategic choice transcends mere fashion; rather, it embodies an organic pursuit of cultivating a distinct footballing identity inspired by the indelible principles of Johan Cruyff's iconic "total football."
Indeed, as a former Barcelona midfielder, now at the helm as coach, Xavi Hernandez grapples with the daunting challenge of managing the team amidst stringent financial constraints and limited resources. In response, the Catalans have diligently undertaken a payroll purge, bidding farewell to high-earning players, including Samuel Umtiti, Jordi Alba, Sergio Busquets, and Antoine Griezmann. Notably, the latter trio joined forces with Lionel Messi at Inter Miami, while Antoine Griezmann's departure reaped a substantial transfer fee – a timely boost to the club's financial standing. Additionally, Pablo Torre embarked on a temporary loan spell with Girona FC.
Necessitated by financial exigencies, Barcelona's transfer strategy deftly blends youthful promise with seasoned talents, poised on the cusp of their careers' twilight. Amidst these circumstances, a pronounced emphasis on securing free agents and conducting cost-effective signings becomes paramount. In a recent announcement, Xavi revealed the acquisition of Oriol Romeu, whose seasoned presence at 31 years old is anticipated to wield a significant impact in the forthcoming season. Another notable addition, Ilkay Gundogan, a free agent adorned with an illustrious spell at treble-winning Manchester City, brings invaluable experience to Barcelona's ambitious quest in the UCL.
"I didn't make the decision 100% until after the Champions League final… Once the game was over and we won, you naturally start to think about your future and you decide."

said Gundo about the hardships of accepting new challenges.
"We never talked about that with Guardiola."

says the German midfielder about whether he spoke to Pep Guardiola before leaving.
"I mean he always talks about Barça but not just with me, with everyone, the press…with the best words possible to describe this place. He loves Barça a lot, it's his team, he is from here and he is Catalan. He is very proud of what he did here and what has happened since he left the Club. I know he still watches Barça a lot, maybe all the games and I am sure he will now that I am here. He is in love with this Club.".
The Spanish club's pivotal signing then spoke about whether he sees an easy adaptation in the new camp, touching on the goals he has set for himself in the coming campaign:
"It's a similar school of thinking, a similar type of training. I guess the sessions will be similar to the ones we had at Manchester City. At the end of the day, Barça play a similar style of football. I am here to adapt as quickly as I can because that's when you can really show what you are capable of doing and your performances improve on the field. I will use the few weeks we have before the first official game to get myself ready as best I can."

he said on adaptation.
"The best thing would be to repeat what happened last year in the league and do better in the Champions League. That is what we are aiming for, that is the objective. We will start to work on it from day one and I am sure that the potential is there, we just need to show it on the field."

shares Gundogan about goals and hopes.
Furthermore, the club fortified its defensive ranks with the acquisition of Iñigo Martinez, who was secured for free as well. However, Barcelona's transfer activities show no signs of abating, with persistent rumours surrounding a potential move for Manchester City's maestro playmaker, Bernardo Silva.
In the realm of pre-season preparations, Barcelona's involvement was limited to a solitary friendly fixture against Japanese outfit Vissel Kobe, culminating in a comfortable 2-0 victory.
However, their anticipated encounter with Juventus FC was thwarted by an unforeseen obstacle, as Xavi's charges succumbed to food poisoning, rendering them unable to take the field.
As the momentous campaign looms, Barcelona's distinctive style, marked by an abundance of passes (averaging 581 per game in the 22/23 season, second-highest in La Liga) and a commanding ball possession rate (averaging 64.4% in the 22/23 season, the league's best), is set to be showcased in any case.
"It will be a Champions League-type match, and it will help us gauge ourselves"

attacker Balde states.
Their formidable offensive display, averaging 1.84 goals per game in the previous campaign, coupled with an impregnable defense conceding a mere 0.52 goals per game, standing as Europe's best, foreshadows a formidable force.
Given Barcelona's storied tenacity and offensive flair, the expectation of finding the net once or twice against even formidable opposition, particularly considering recent defensive vulnerabilities in their opponents' friendlies, is far from unwarranted. With bated breath, the footballing world eagerly awaits another enthralling chapter in the illustrious legacy of the Blaugrana, intently observing their journey through the upcoming season.
Don`t miss out 👉: Revealing The Complete Guide for FIFA Women's World Cup 2023: All You Need To Know In One Place
Arsenal form guide: D-D-W-L
Barcelona form guide: W
Arsenal vs Barcelona Head-To-Head Record:
August 4, 2019: Arsenal 1 – 2 Barcelona (Trofeo Joan Gamper);
March 16, 2016: Barcelona 3 – 1 Arsenal (UEFA Champions League);
February 23, 2016: Arsenal 0 – 2 Barcelona (UEFA Champions League);
March 8, 2011: Barcelona 3 – 1 Arsenal (UEFA Champions League);
February 16, 2011: Arsenal 2 – 1 Barcelona (UEFA Champions League).
Arsenal vs Barcelona Predicted XI:
Arsenal possible starting lineup (4-3-3): Ramsdale; Timber, Saliba, Kiwior, Tierney; Partey, Odegaard, Trossard; Saka, Jesus, Martinelli.
Barcelona possible starting lineup (4-3-3): Ter Stegen; R. Araujo, Garcia, Martinez, Alonso; Roberto, Romeu, Pedri; Raphinha, Lewandowski, Gavi.
Statistical preview of the match Arsenal vs Barcelona:
Arsenal have seen 3 or more goals scored in total in 68% of their games in the last EPL. The Spaniards had 53% of such games in their respective championship.
10 of the 11 head-to-head meetings between the teams have seen goals exchanged;
Three of Arsenal's last five matches have seen goals scored in each half;
No draws have been recorded in the 10 most recent matches involving Barcelona;
Barcelona have won their last four matches against Arsenal;
Five previous head-to-head encounters have seen a combined 1st half total of less than 1.5;
Arsenal have suffered one defeat in their last five games;
Barcelona have suffered four defeats in their last ten games.
What has been said before the match:
"I think it will be a very competitive match. The DNA of Barcelona is always to have the ball and have it back as quick as possible. I know Xavi very well and I'm sure he will be trying to do that and the same as we want."

previews Mikel Arteta. 
"There is the hunger and as well I think there is belief, that we have grown a lot as a team. There is that belief around them that we can take the game, we can take our options to a different level, into a very challenging and promising season that we have ahead of us."

The gaffer spoke enthusiastically.
"I am happy to be here again for another pre-season. We have a great team and we want to compete in every competition. I think we need to take it step by step and not get ahead of ourselves, remember the journey. We'll fight for the Champions League"

the defender Ronald Araujo assured.
One of the team's top stars, Robert Lewandowski (who recently was chosen as on of the 4 captains) shared his thoughts on last season and how he sees the preparations for the next campaign:
"The biggest regret we can have from last season is the Champions League…I think we were unlucky… Now, we have the obligation to be ready for any kind of scenario. I hope it will be much better for us in Europe and of course to keep it the same way in La Liga"

reaffirmed Lewa in the recent interview.
"But, for now, step by step. That's what I'd tell people to expect from Barcelona,"

he concluded.
"I have known Ilkay for a long time. When I spoke to him, he had not decided on his future yet. I asked and he was still having doubts. We spoke about our players and everything around the club. About the city, the life there. I hope I made it easier to understand what it means to play for this club. He knows I spoke from my heart."

Lewa talked about convincing his ex-BVB teammate.
"After the World Cup, we struggled to play well offensively. I'm not talking about winning games but about creating chances and scoring goals as a team. Improving that is a huge challenge. We have to prepare better and find solutions within the structure of the team. This is our next step forward. It's something we have to improve soon and should be the main focus of pre-season games." he touched upon his vision in the off-season.
"Gündoğan gives us experience. He's a fantastic footballer and I think it will be easy for him to adapt. I'm extremely happy to have a player like him on our team"

Andre ter Stegen expressed his feelings about the newcomer.
Arsenal vs Barcelona Prediction:
Dawn breaks, beckoning fans to rise early in anticipation of a riveting encounter. Arteta's charges have been steadily honing their skills, as the adept coach strategically incorporates new talents into the squad while deftly allotting roles among them. With the resounding echoes of four friendly matches behind them, the team is poised to ascend to a more commanding form.
Contrastingly, Barça's last foray onto the hallowed pitch transpired solely on 6th June. The Catalans may exude an air of inertness, bereft of their customary fervor, particularly in light of the recent setbacks stemming from a series of unfortunate mishaps that led to the cancellation of their match against Juventus of Turin. Uncertainty shrouds the team's preparedness as they approach this fixture, compounded by the additional challenges of climatic variations and potential jetlag.
Given the sub-optimal fitness of the Catalans, combined with the congenial nature of the friendly match, the Londoners appear poised to gain the upper hand. Yet, scoring plentiful goals against the best defense in Europe will prove to be no simple task, even in the absence of the esteemed General of Defense, Sergio Busquets.
Don`t miss out 👉: 4 Overseas ISL Transfers You Might Have Missed Last Week
Parimatch News staff prediction:
We say: Arsenal will not lose and the match total will be less than 3,5 – Yes.