AS Monaco Esports and Gambit Esports Partner up to Form New Fortnite and Dota 2 Teams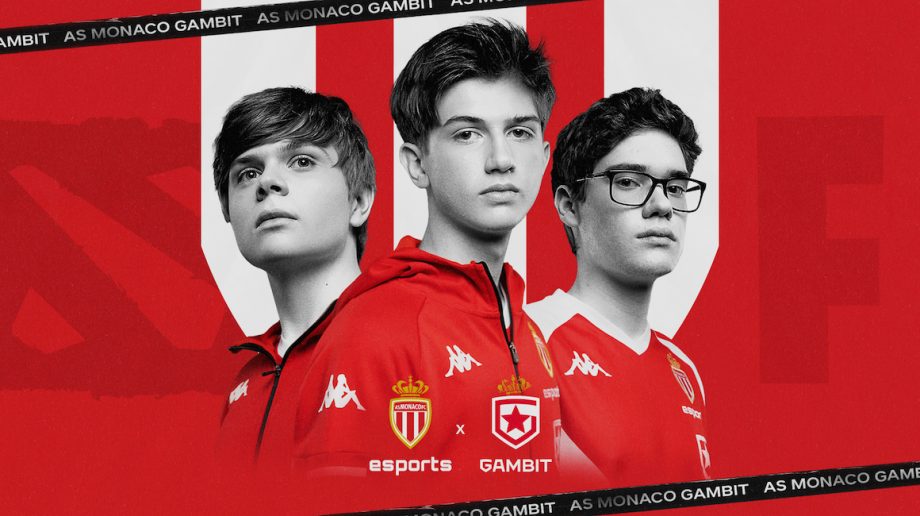 Prominent French Ligue 1 football side's eSports subsidiary AS Monaco Esports has announced its partnership deal with Russian eSports giants, Gambit Esports. The merged team will be called AS Monaco Gambit and it will be promoting its professional gamers to compete in the pro Dota 2 and Fortnite circuits for now, at the international stage.
Gambit Esports' parent organization Mobile TeleSystems, which is known better as MTS, is a leading Russian company in the telecommunication and digital media sectors. With this deal, they are hoping to expand their portfolio and divulge into the fast-growing eSports scene even more.
The newly formed eSports unity will see eight players in total joining the franchise, with 3 of them on Epic's shooter title "Fortnite" and the other 5 on Valve's online battle arena game "Dota 2". These players will also be accompanied by a support staff of four people in total. They will all wear the customized version of the famous diagonal jersey of AS Monaco. The Fortnite team already features two of the most successful players in the Russian Fortnite circuit — Ilya "Toose" Chernishov and Mark "letw1k3" Danilov.
AS Monaco's Vice President and CEO, Oleg Petrov, spoke out about his delight with the deal, by saying:
"We are delighted to launch this partnership with Gambit Esports. The creation of our joint team, AS Monaco Gambit, allows us to take a new step in this sector by joining forces with a reference on the international Esports scene. Esports is a very fast-growing market and an important pillar of our digital development."
With this supposedly lucrative deal, AS Monaco has now become the very first football side in the world to put its foot into the competitive Fortnite circuit, a significant eSports discipline which has seen its player base grow from only hundreds to millions of gamers from all over the world, in just a couple of years.
AS Monaco Gambit will make its first appearance in the competitive Fortnite domain with the FNCS Chapter 2 season 5, which is scheduled for February 11, 2021. A couple of days later, on February 14, it will also make its debut in Dota 2, with the ESL One CIS Online season 1: Upper Division competition. Additionally, the partnership has also opened several doors for joint ventures, with the merged organization already planning fan involvement at the highest level whenever the world health situation eases off. There will also be a stream of co-branded products and merchandise that will soon hit the online space, along with the numerous MTS shops in greater Russia.
Oleg Petrov also talked about diversity in his statement:
"This orientation responds to a twofold objective: to enable us to diversify our activities by addressing a different, young and highly connected audience, while supporting the club's internationalization strategy by developing our presence in key territories."
At present, most of the major football and other traditional sports teams and franchises are delving into the burgeoning eSports atmosphere. AS Monaco, though, was one of the first football sides in France and in the whole world to embark on such an adventure, back in 2016. But after their first involvement in the global eSports stage, they've never looked back, with such eSports collaborations coming one after another.
The royal colors of Monaco has been represented in several games and has also ruled the Pro Evolution Soccer (PES) circuit. Under PES's banner, AS Monaco Esports has won two consecutive eFootball.Pro titles since last July. The competition featured the biggest names in the footballing world, including Bayern Munich, Juventus, and the mighty FC Barcelona. This season, though, their operations will not be limited to football-related eSports games such as PES and FIFA, but also cover the newest entries Fortnite and Dota2.
Head of the Esports Department at MTS, Irina Semyonova, was also vocal about her excitement with the deal. She stated:
"The partnership with AS Monaco will allow us to offer a unique experience to football and sports fans. With the creation of the AS Monaco Gambit team, we become the first Russian Esports club to establish a relationship with a foreign team. This is a great opportunity to develop our activities."
Mobile TeleSystems (MTS) first came into the eSports scene back in 2018, when they acquired the rights of Gambit Esports, which was one of most successful and established eSports franchises in Europe, even back then. Gambit Esports is, at present, represented in six different eSports disciplines –
Gambit Esports' eSports teams have continuously come out with flying colors in the regional and global championships, along with winning the silver and bronze medals in the most renowned international eSports competitions.