West Indies lose advantage after two early wickets before the end of day 1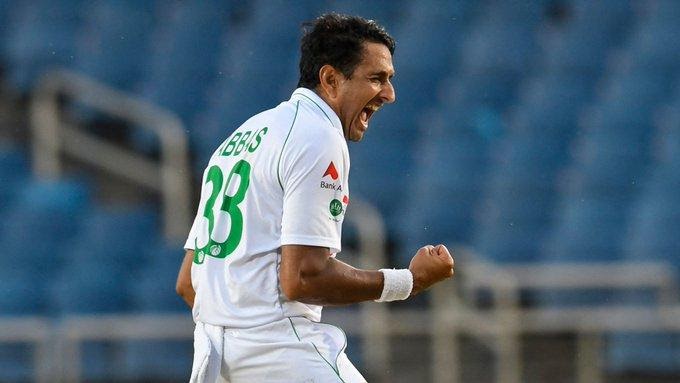 ICC/ Twitter
West Indies dominated in the last session of day 1 at Sabina Park on Thursday to bowl out Pakistan on 217 before Muhammad Abbas struck back fiercely to get two quick wickets in Kieran Powell Nkrumah Bonner.
Day one's play at Sabina Park showed a lot of twists and thrills as West Indies did a great comeback in the last session to break a remarkable partnership between Fawad Alam and Faheem Ashraf and got 5 wickets to bowl out Pakistan on 217.
Pakistan on the other hand struck back to demolish the hard work to West Indies bowlers after Muhammad Abbas got two quick wickets of Kieran Powell and Nkrumah Bonner to leave West Indies on 2/2 at stumps, Day 1.
The only reason that Pakistan crossed 200 plus is just because of Fawad Alam, who kept West Indian bowlers busy with a handy 56 runs after his team got stuck at 123/5 at one stage.
Fawad alongside Faheem build a crucial 85 runs stand to give Pakistan something to defend. The partnership moved on with a quick pace and anything pitching outside off was being played.
Pakistan was looking in great touch as they would cross 300 plus but Faheem got dismissed on a mix-up after scoring a quick 44. West Indies got the resilient breakthrough they were looking for. Alam too fell after scoring his half-century and Pakistan lost the last 5 wickets for just 31 runs.
The second session saw a lot of twists after six reviews being taken in 32 overs after Lunch as West Indies opted to bowl first.
Earlier, rain interruption caused an immediate stop of play as a result only 17 overs were bowled in that session. West Indies continued right from where they left and this time they were right on the track.
Following the same line and length from the morning session, In the first over, Azhar Ali was given out in a caught behind but a quick decision to review saved his life after the ultra edge showed nothing with the bat.
He joined Babar Azam to add an important 47 runs to steady the ship. Azhar was in danger once again after he was given out leg-before in a seamer. He reviewed the decision once again to find out the ball going over the stumps.
Jason Holder did not stop and he reviewed once again after him on a leg-before who was saved by the umpire's decision who gave him not-out, the ball was having an outside impact despite the ball hitting stumps.
The veteran batsmen survived his fourth LBW call when the ball completely missed the leg-stumps. However, luck favored Azhar Ali for the fifth time Jayden Seales forced an inside edge off his bat when he tried to play the away seamer.
Pakistan, just like in the first session, lost two quick wickets in successive overs as Kemar Roach took an inside edge of Babar on a sharply bowled in-seamer. He was initially given as not out but after reviewing, an inside edge was found off Babar's bat while he was playing on 30.
Seales then called an lbw off Mohammad Rizwan in a leg-before but the impact found outside off and saved the batsman with no signs of spin.
Rizwan, however, lost his wicket in an unfortunate way while flicking a straight delivery into the hands of Roston Chase standing at square leg to give a soft dismissal. This ended a 33 runs stand with Fawad.
Fawad then joins the tail to add as much as he can and ultimately, Pakistan bundles out on 217.
Brief scores: Pakistan217 (Babar Azam 30, Fawad Alam 56, Faheem Ashraf 44; Kemar Roach 2-47, Jayden Seales 3-70, Jason Holder 3-26)lead West Indies 2/2 (Mohammad Abbas 2-0) by 215 runs.